If you're trying to preserve or keep some stuff in the refrigerator for an extended time, you'll need to be extra cautious by keeping the doors of the refrigerator out of reach of kids playing around or near the refrigerator.
Pets are not exempted from these precautions either; the answer is a refrigerator lock. You might not realize how critical a refrigerator door lock is until you come across a chain of similar mishaps.
So when it comes to using a powerful electrical appliance like a refrigerator, the safety of children should always come first. For the same reason, every refrigerator within the reach of children needs a refrigerator child lock.
When purchasing a refrigerator, the refrigerator door lock should be a top priority, especially if you have toddlers or small children at home. Some refrigerator locks include built-in alarms that sound when the doors are left open for an extended period of time.
When a child is playing with the refrigerator or the door is left open, you can tell. Since keeping the door open lowers internal temperatures, such an alert allows for energy savings.
You won't have to worry about your kids eating ice cream without your permission or spilling drinks in the refrigerator if you put a refrigerator lock on the door.
We'll get straight to the point in this article and tell you about the top four refrigerator locks available in the market! Below is a helpful and comprehensive guide on selecting and purchasing a refrigerator door lock, as well as a helpful FAQ section.
Let's begin.
Checklist for Purchasing a Refrigerator Lock
Before moving on to the top refrigerator locks that we tried and tested, we would like to walk you through the important things to consider while choosing a refrigerator lock.
Sole Purpose for buying a Refrigerator lock:
Before just going for any refrigerator lock that you find, it is important to realize the reason for purchasing a lock. Is it to secure medications at a medical clinic? Or is it just to keep your child and pet from opening the refrigerator? When you know your intruders, it becomes easy for you to choose a refrigerator lock with required specifications.
Type of Refrigerator Lock:
Once you know the security purpose of getting a refrigerator lock, choose the type that suits you. For example, if you are looking for a child refrigerator lock, button strap locks are ideal for you. On the other hand, if you are looking for a strong and durable lock for commercial purposes, you can go for padlock refrigerator door lock.
Another factor that many people look for while purchasing a refrigerator lock is the price. It is always better to invest some extra bucks in a high-quality and durable lock for your refrigerator for enhanced security.
Common Types of Refrigerator Locks:
Refrigerator locks are available in many styles on the market. You should make your decision based on your needs and the sort of refrigerator you have. A few people need it to keep the contents of their refrigerator safe from other adults, while others buy it to keep it secure from children.
So, all you have to do now is figure out what kind of locks you want in order to make a good buy. The following are the most popular varieties on the market:
Button Strap Lock:
With the connected strap, this one can keep any normal refrigerator door shut. Once you've installed it on the side and front doors, no one will be able to open them unless you press the release button. When the door is closed, the latch automatically locks. The plate will come out with numerous pulls, and you will need to replace it with a new one. Nonetheless, such locks have a minimum lifespan of around 6 months.
When to choose a button strap lock?

It's ideal for babies and children. It is ideal for small children, however, it is not particularly durable.

Padlock:
This lock is suitable for all ages, from toddlers to children to adults. A padlock with two metal attachments is used in this kind. The padlock comes with a couple of different keys, but you can only use the one that came with it to unlock it. Be assured that, despite the refrigerator locks little size (padlock), it can't be opened with powerful pulls.
When to choose a padlock?

As this design is the most durable, it is suggested by professionals for keeping medicines and other items safe in the refrigerator.
Clip Strap Refrigerator Lock:
This model is ideal for a French or side-by-side refrigerator. This one is for you if you have a refrigerator like this. These locks have a combination lock and a flexible strap. You must wrap the strap around both handles before entering your combination code. Because you are the only one who knows the combination code, you are the only one who can unlock it. The codes can be reset at any time.
When to Choose a Clip Strap Lock?

This lock type is suitable to prevent your pet or child from getting to the items in refrigerator but it is not as durable as the other too types. Moreover, it is common for a clip strap refrigerator lock to come off easily.
Which Type of Refrigerator Lock Should I Choose?
Although hard padlocks for extra security are available, most refrigerator lock manufacturers are focusing their efforts on baby items that prevent children from accessing the refrigerator door. The multifunctional strap, which can be used to seal practically any object from a baby, is still one of the greatest to date.
Cabinets, toilet seats, and refrigerators may all be baby-proofed. They've shown to be durable, effective, cost-efficient, and simple to install on any door or handle. The majority of parents have complete faith in refrigerator door Locks. It becomes strong after installation, and you may get on with your job without worrying about the refrigerator.
French door stays refrigerators may also be locked, which is one of the reasons they are categorized as multifunctional.
Installation Steps of Refrigerator Door Locks:
There are numerous reasons why you should have a refrigerator door lock installed on your refrigerator or freezer. Parents don't want their curious children getting too close to the fridge.
A housemate living with you and reliant on your foodstuffs can be kept off them by putting the items in your refrigerator and locking it. A teenager can be kept away from using alcoholic drinks. All of these factors should compel you to pay close attention to properly installing a lock on your refrigerator.
Some refrigerator locks involve drilling a hole in the refrigerator; these lock types are not recommended for a parent to purchase. You might risk damaging or electrocuting yourself by delving into a vital cooling component of the refrigerator.
Steps#1: Clean your Refrigerator:
When putting refrigerator locks, cleanliness comes first; every component of the refrigerator, including the front and sides, should be cleaned. It is in this section that the lock will be applied. This component should be cleaned by scrubbing thoroughly with alcohol on a rag to remove any dirt or stains that have built up over time.
If your fridge hardware is difficult to clean or the stain is difficult to remove, a Clorox magic eraser can assist. Cleaning the refrigerator first is important for the lock you're installing to survive as long as possible. Any refrigerator door lock that has been applied to a refrigerator that hasn't been cleaned won't survive long.
Step#2: Attach the Lock Hinges:
Allow the surface to dry after successfully cleaning the side and door of the refrigerator, and then install the lock hinges to both ends. This should ideally be done on the top shelf of the refrigerator. The majority of these refrigerator locks come with adhesives that are powerful enough to keep doors in place for a long time.
Make sure you apply a lot of pressure to both ends so the lock hinges survive a long time. Allowing the glue to sit for a few minutes aids the hinges in settling. After that, apply hard tugs on the fridge lock to make sure it's in the right place.
Step#3: Select and Apply Your Favorite Refrigerator Lock
Whatever lock you select, will help decide how secure and safe your refrigerator is. You're on the right track if you want padlocks with code entry, but you'll need to change your code after each listing so that your roommates and coworkers can't guess what your regular code is.
Padlocks that don't have codes have keys and can't be opened without one; you have sole access to your refrigerator. Your children cannot obtain access to the key unless they feed off of your negligence. You're now protected from intruders or the kids playing around once you've given your refrigerator an appropriate refrigerator door lock.
The Top 4 Refrigerator Locks: Detailed Reviews
We thoroughly investigated each option before deciding on the top four refrigerator locks. You should do the same if you want to discover a refrigerator door lock on your own. A lock should, at the very least:
Have a good, reasonable replacement warranty
Should be sturdy and long-lasting
Should have easy installation
Should be reusable
Look for reviews on Walmart, Home Depot, and other third-party websites. Do not rely solely on Amazon.
Check out our buyers guide below for a complete list of items to look for.
1. TONYHONEY Refrigerator Lock with Digital Password: Best refrigerator door lock with digital password
Price: $20.99
Brand: TONYHONEY
Availability: Amazon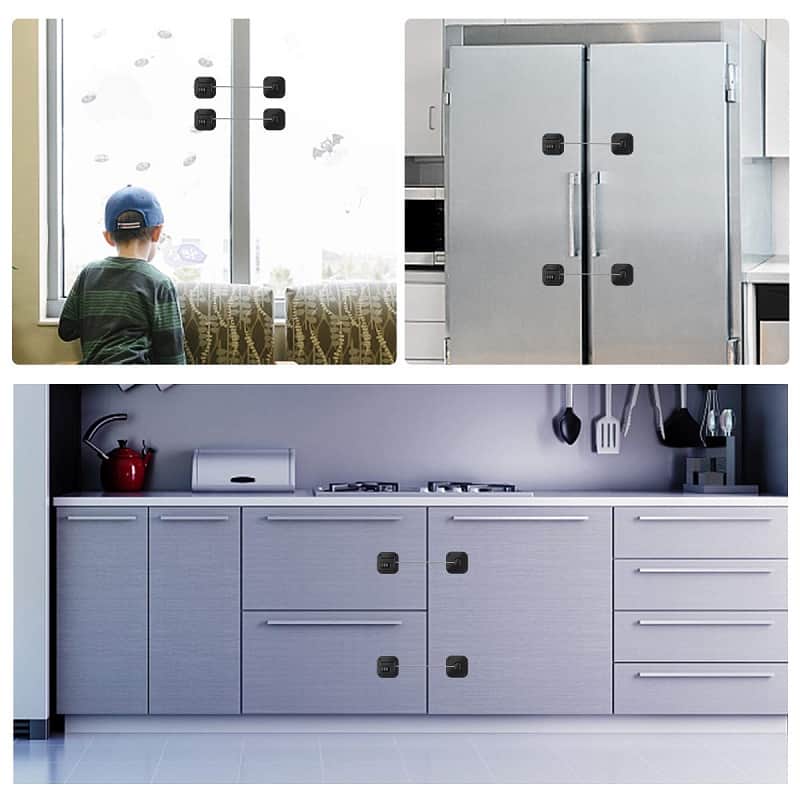 If you are sick of lost keys then this one's for you. You no longer have to be concerned about misplacing the keys. With this one there is no need to look for keys around the home with our refrigerator door lock, saving you effort and time. Just enter a password and remember it. This refrigerator door lock is not bound to be used with freezers and refrigerators only, it can also be used as a cabinet lock, printer tray lock, oven lock, and tool chest lock. It can even be used on side-by-side refrigerators, freezers, and drawers. You don't need to drill any holes or screw anything into the refrigerator; simply stick the 3M adhesive on it. The Refrigerator Lock will immediately adhere to the refrigerator.
Why it's so great: The refrigerator lock has a digital password lock which saves from the hustle of handling the keys; it's multi-functional; hand insulating adhesive that is scratch-proof and made of a stainless material that is rust-proof and wear-resistant.
Package Includes 2 x Digital Password Locks, 1 x User Manual, and 3M's adhesive tape.
2. Computer Security Products Refrigerator Lock: Best refrigerator door lock for all kind of refrigerators
Price: $
Brand: Computer Security Products
Availability: Walmart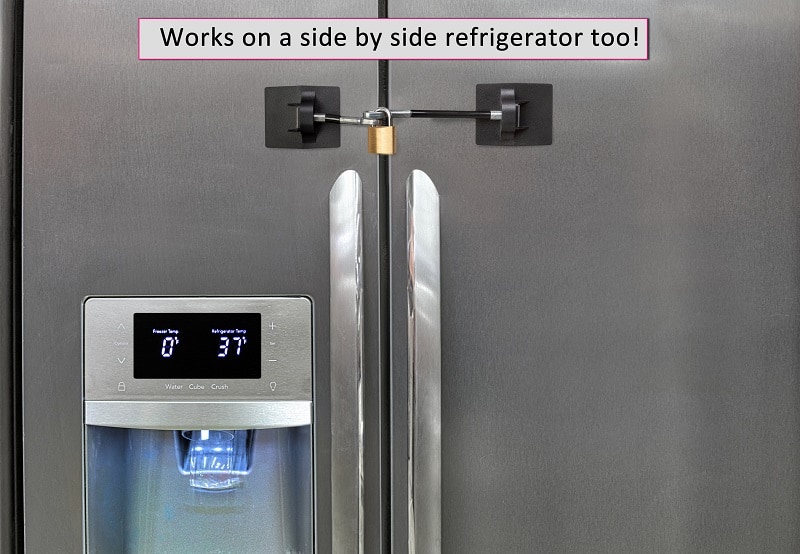 This padlock-equipped refrigerator door lock is ideal for securing prescription medications and other delicate things. We found it as a great security option for schools, hospitals, and even at home. The plates included in the refrigerator lock kit may be used to limit access to any door or cabinet, as well as to comply with HIPAA and other privacy laws.
You can install this lock easily without the need for drilling. It may be installed without the need for drilling. The metal used to produce the cables is robust enough to be used in airplanes. Rust and abrasion are protected with a vinyl covering. The plates are held in place by a 3M adhesive that is extremely strong and prevents tampering. The black finish conceals the device and allows it to mix perfectly with the exterior of almost all refrigerators.
Why it's so great: The refrigerator lock can be installed easily without the need of drilling; whether in offices, schools, hospitals, or homes, it works well on refrigerators; 3M's finest VHB adhesive tape is used.
Package Includes Steel aircraft cables black vinyl coated to 5/16″, 3M's finest VHB adhesive tape, two black 2.5″ x 3″ plates, a keyed brass padlock, and an easy-to-follow installation instructions manual.
3. MUIN Highly Secured Refrigerator Lock with Key: Best multipurpose refrigerator door lock
Price: $14.95
Brand: MUIN Store
Availability: Amazon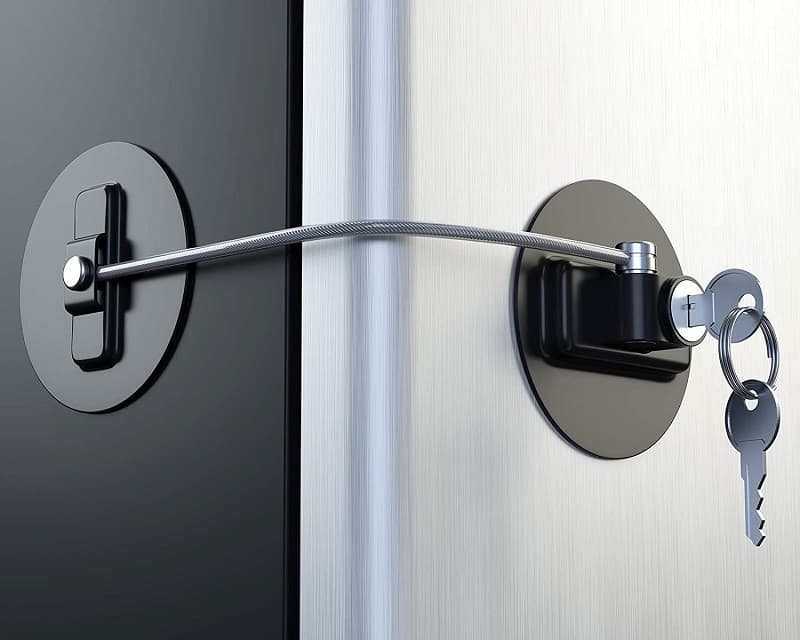 This refrigerator door lock is not only child-proof, but it can also secure wine cellars, paper trays, single file drawers, health care products, and cabinets, and we think it a must-have lock in your house. This lock is made with very durable 3M's finest VHB adhesive tape, making it ideal for securing sensitive things in your refrigerators, such as prescribed medication, alcohol, and other forbidden substances, from children's hands.
Our Refrigerator Lock comes with an easy-to-follow installation guide that eliminates the need for drilling. When you apply this lock for the mini refrigerator in the proper method, it will instantly stick to your fridge. This refrigerator lock comes with a key and is made out of heavy-duty 3.2″ x 3.2″ metal plates with steel aircraft vinyl-covered cables, which sets it apart from other locks.
Why it's so great: The refrigerator lock has a heavy-duty construction (3.2″ x 3.2″ Metal Plates); its multi-functionality; can be operated with only one hand; there's no need to buy a padlock and comes with keys.
Package Includes 2 x Metal plate Locks, Keys, 3M's VHB adhesive tape, and an installation guide.
4. Munchkin Xtraguard Dual Locking Multi-Use Latch: Best refrigerator lock for kids
Price: $8.99
Brand: Munchkin Store
Availability: Amazon
If you're searching for a refrigerator door lock to keep your baby or child from opening the fridge door, we think this is the one you should get. Cabinets, drawers, appliances, toilet seats, and more are all secured with the Xtraguard Dual Locking Multi-Use Latch. This convenient set of two latches has a dual-button release mechanism that makes it difficult for children to open.
When not in use, you can simply release and rotate out of the way, then press back to secure. This flexible strap can also be used to latch around corners. The provided adhesive dissolves readily without harming surfaces, and installation is quick and easy.
Why it's so great: The refrigerator lock provides latching around corners because of the flexible strap; it's simple to install using the given adhesive, and it won't damage your furniture; it can also be removed easily; tamper resistance and double locking protection are provided by a double layer of security.
Package Includes: Munchkin Xtraguard Dual Locking Multi-Use Latch x 2
Refrigerator Lock: More FAQs
Is it possible to secure your refrigerator with a lock?
Yes, you certainly can! Refrigerators can be conveniently locked using a variety of childproofing locks found on the internet and in local shops. We've compiled a list of the finest refrigerator locks available on Amazon for you to peruse and select from!
How do you lock a refrigerator that is located outside?
Outside refrigerators are a little more difficult to secure since most child refrigerator locks aren't effective at keeping robbers out. For this, use a more complex lock. To ensure that no one can cut it without using large and noisy gear, use chains and locks.
How can a refrigerator door be child-proofed?
Children and small kids are naturally curious and like sticking their hands into places where they shouldn't be. Several fantastic firms have produced a lot of clever refrigerator child locks for children for this reason. We've compiled a list of the greatest refrigerator lock designs available.
What is the average cost of a refrigerator lock?
Refrigerator locks normally cost between $9 and $20. Refrigerator locks in larger packs are frequently more expensive. But it doesn't get much more costly than this for a single lock.
How can I keep my child away from the refrigerator?
Shiny things and confined spaces attract the curiosity of children. They'll try just about everything to get their hands on it! As a result, it's essential to use one of these 4 Amazon locks to secure your refrigerator.
Is it possible to get a refrigerator lock with a key?
Refrigerator locks with keys are available to purchase. The keys are often provided with locks, allowing you to lock and unlock your refrigerator at any time. Make certain, though, that you never misplace your keys! If you have a propensity of misplacing stuff (as most of us do), purchasing a simple push lock or a code lock will make things easier for you.
Is it possible to acquire a refrigerator lock for an adult with dementia?
Yes, the same children's locks that come with codes may be used for dementia-stricken adults. However, it's preferable not to employ a push-lock because adults can generally reach them and pushing doesn't need much concentration. If you want to keep a dementia-affected adult safe, you should utilize a key lock or a code lock.
Conclusion
You can rest easy with the finest refrigerator locks on the market. If you have toddlers or small children, or if you share a room with someone, they are a blessing. Not all of them are trustworthy enough to keep your refrigerator secure. So, make sure you pick one that meets your needs and is capable of keeping your belongings secure.