One of the best decisions that I made in my life was to buy a video doorbell. Technology has come a long way, and the emergence of smart home devices has made life extremely easy for people around the globe.
I was fed up with porch pirates stealing my packages and honestly, a bit scared too whenever I had to open the door. Instead of having to peek through a window before opening the door every time someone rang the bell, a video doorbell allows you to view a live feed from your mobile phone or any other connected device before opening the door.
The best part? You don't even have to get up to open the door if you connect it with your security system. Now, even if I'm out of the house, I always know whenever someone's at the door, or if a package has been left for me.
And, it's not just me. Amazon claimed that a pilot program for video doorbells by the LAPD in 2015 reduced burglaries in the neighborhood by about 55 percent. It's not much of a crime fighter, sure, but it's definitely a deterrent.
Now, video doorbells are available in two variants: ones with subscriptions and others without. Subscription-based doorbells require you to pay a monthly fee in return for cloud storage, and additional monitoring features. However, if you don't want to pay a recurring fee and just want a video doorbell that you can connect with your home network, there are plenty available.
The Need for Video Doorbells Without Subscription – Why Buy One?
The technological landscape is rapidly changing as home devices and security systems become increasingly integrated with each other. Investing in a video doorbell without subscription is an excellent idea for several reasons.
Improved Security
The main purpose of a video doorbell is to improve your security standards. Gone are the days when people hired greeters for such purposes. Video doorbells allow you to see who's outside before you open the door. As I said before, one of its greatest advantages is that it records everything. This acts as a major deterrent for potential burglars.
They are Affordable
In this guide, we are only going to talk about video doorbells without subscription, so it's a one-time investment. There are several companies which offer additional upgrades if you choose a specific plan, but all the bells on this list work out of the box without requiring any kind of additional upgrade.
Peace of Mind
This is definitely the most important reason in my opinion. With a constant video feed, you can always check what's going on outside your house, talk to someone who's outside, and you can even manipulate the locks if it's connected to your security system.
The Top 7 Video Doorbells without Subscription
Now, without further ado, here are our top 7 picks for video doorbells that don't require a subscription.
1. August Doorbell Cam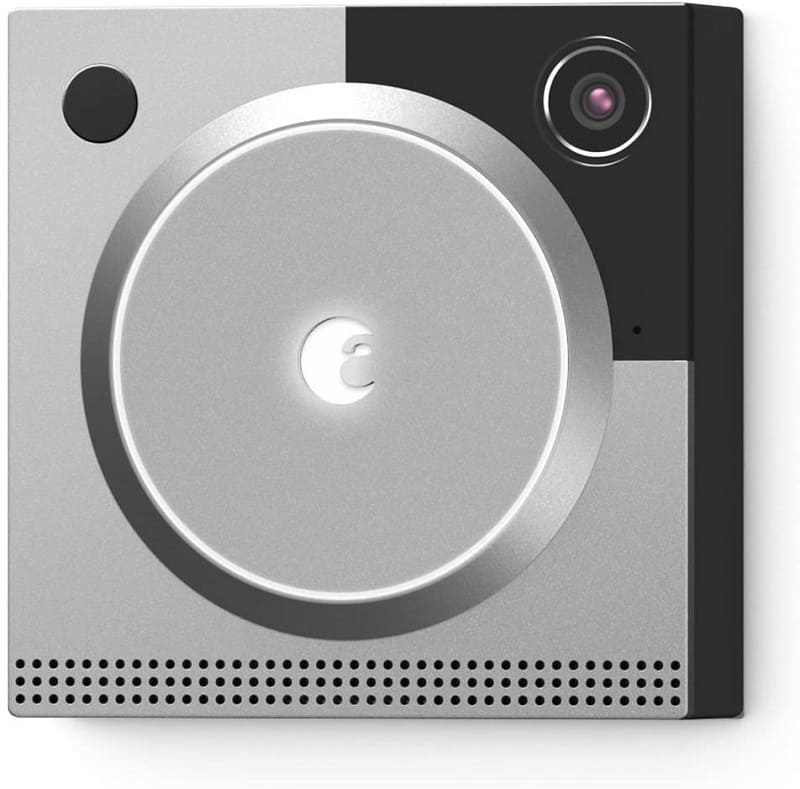 August is a household name in the smart locks industry, and in 2019, they released their Smart Doorbell Cam. It's completely wireless (rechargeable battery) and available in a range of colors. This video doorbell is compatible with Siri, Alexa, and other smart home systems since it integrates with August Smart Locks.
Product Features
It uses the company's proprietary smart feature HindSense for several seconds before the motion detection system sets off. It automatically starts recording whenever movement is detected outside your property.
Underneath the camera, there's an infrared floodlight that invisibility illuminates subjects as soon as movement is detected. You can also use the August View in order to stream the feed live, though without the subscription, you can only view 5 seconds of motion-activated video. The video is also capped at 24 hours – unless you buy a monthly package.
Pros
Integrates with the August Smart Lock Pro
Built-in floodlight
Retroactive motion event recording
Compatible with Smart Assistants
HD video
Two-way communication
Cons
Customer support is poor
The design is a bit bulky
2. Remobell S WiFi Video Doorbell Camera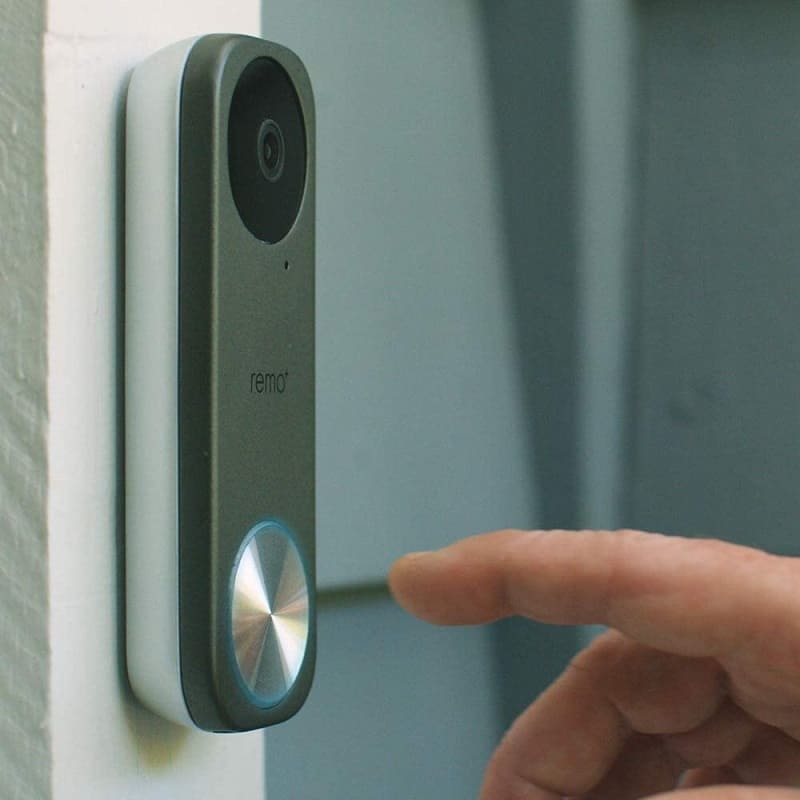 Remobell originally released its first variant in 2017, and in 2019, they release the Remobell S. This one's slimmer than its predecessor and features free cloud recording, support for voice commands via Google Home or Amazon Alexa, and can connect with other smart home devices via IFTTT.
You can simply connect it using doorbell wiring, so it's pretty simple to set up.
Product Features
The Remobell S has a sharp 1,536 x 1,536 pixel camera with a 180% FoV. That's pretty phenomenal for such a thin device, andi it'll definitely allow you to keep a look at what's going on outside your house. It also offers three days of looping cloud storage at no extra charge, but you'll have to pay more for additional storage.
It uses the Remobell + app that's available on both iOS and Android, and gives you a complete log of all recent activities; calls, rings, and motion events. It also shows video thumbnails of recorded events.
You can set up Motion Zones, choose a Chime type, and configure Night Mode. Like the August, this one can also connect to other smart home devices via IFTTT applets.
Pros
Wide angle lens
Motion detection
Easy to install
IFTTT support
Two-way audio support
App notifications are very fast
Cons
Needs a wired connection
All video is in fisheye
3. Eufy Security Video Doorbell 2k – Wired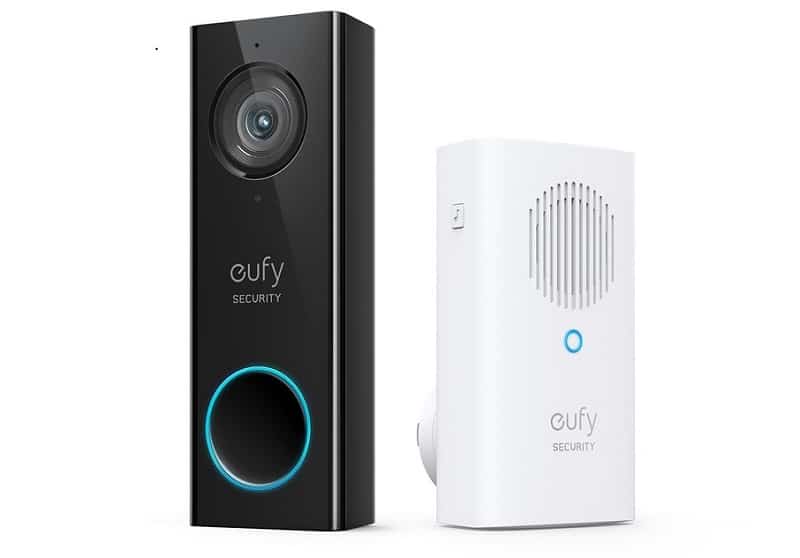 The Eufy Security Video Doorbell 2k offers fantastic bang for your buck, and is one of the best video doorbells without subscription in the market right now. While big brands like Nest and Ring have dominated this landscape, companies like Eufy are shaking things up and introducing more affordable variants with no monthly fees.
The best part? The Eufy Security Video Doorbell 2K gives you all of the features that you want including human detection, customizable motion zones, two way audio, and a decent amount of storage.
You can either choose a wired version or one that comes with a rechargeable battery and it connects over 2.4 GHz WiFi, so the connection's pretty stable.
Product Features
Compared to other sleek and svelte options on this list, the Eufy Security Video Doorbell 2K is quite big. It has a sizeable lens, with sensors up and below. There's a button with a LED ring at the bottom, so it's impossible to miss. However, you can't buy any customizable coverings or faceplates for it.
Along with the device, you will get a HomeBase, which is the camera hub. Plug it into your router and it'll automatically pick up the doorbell. Then, you just need to install the EufySecurity app and hook up the live video. You can also connect it to your traditional doorbell wiring if you want.
The lens has a 160 degree field of view, and there's also an infrared camera for night view.
Pros
Durable construction
Clear, wide-angle view
Configurable motion detection
Fast response times
Affordable when compared with other alternatives
Cons
Audio is a bit shaky
Wireless connection often suffers
4. UOKIER WiFi Doorbell Camera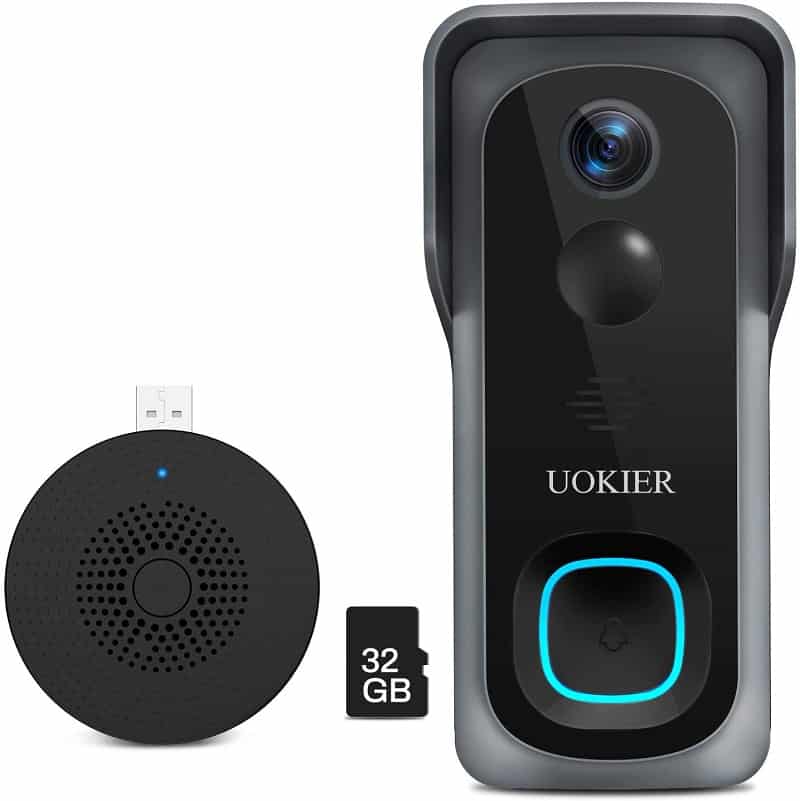 The UOKIER WiFi Doorbell Camera has a real-time video recording feed that immediately springs to life when activity is detected. UOKIER might not be a pretty big name in the video doorbell industry, but this is one of their best offerings.
You can configure the device to send an alert to your phone or your tablet via the companion app. Since this video doorbell without subscription doesn't require any cloud storage, you will have to install a memory card.
Product Features
The UOKIER Wifi Doorbell Camera has a stellar 1080p camera that records sharp and clear video. It also features an upgraded motion sensor that is activated by human movement only, thus reducing the chances of false alarms triggering on your phone.
That's not all; the device is fully weatherproof and comes with a cover for protection. It also has two-way audio connectivity and comes with a rechargeable battery. The company also offers a cloud storage option, though if you don't want a subscription, the included 32 GB card should give you three to five days of rolling storage.
Pros
Smart motion detection
Weather-resistant (IP 65) and durable construction
Sub-account management options
Indoor chimes
Comes with a name card
Cons
Support is non-existent
The app is sometimes buggy
Poor battery life – lasts up to 5 days.
5. WUUK Video Doorbell with Chime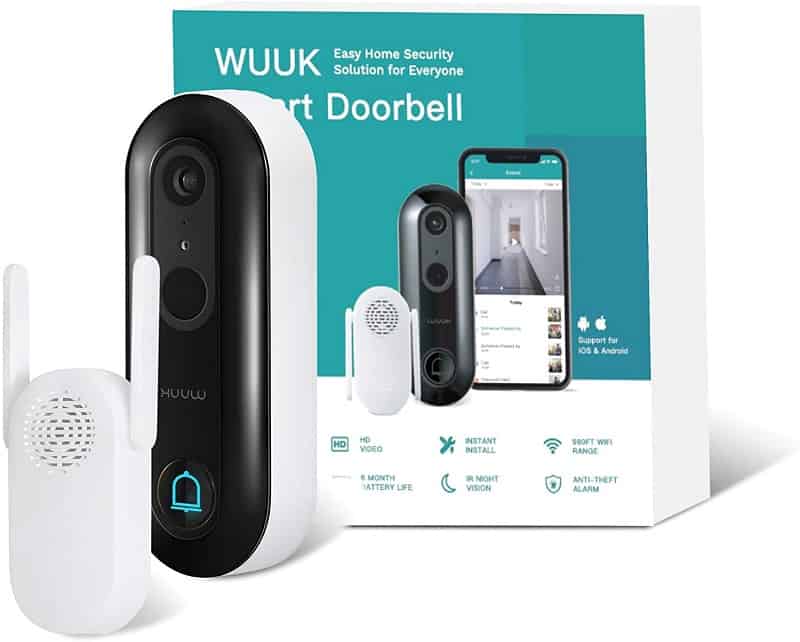 The WUUK video doorbell with Chime is a smart doorbell by WUUK. It's received quite a bit of positive press over the past year, thanks mainly to its low price when compared with other bells like Ring 2 and Nest Hello.
It's incredibly easy to install (the bell ships with double-sided tape) so it'll hardly take 60 seconds at most to fix it. It's also one of the most affordable bells on the market, and the company even offers a cloud storage option for recording video of the last 48 hours.
It has a 162 degree FoV, which is fairly standard, and offers prerecorded quick responses and timed alerts. It even has a nifty voice gender modifier that you can use to change your voice. So, if you are leaving your kid alone at home, this bell will have them talking to people at the door like an adult!
Product Features
The WUUK video doorbell has 16 feet of night vision range, and offers clear live audio and video. That's not all; it can work in -20 degrees C all the way up to 50 degrees C, so environmental problems shouldn't be a concern. There's even a built-in 980 feet WiFi amplifier and an instant camera wakeup time.
It records video in HDR with 4:3 aspect ratio, so you can see people head to toe. These are subtle quality-of-life improvements that most people will definitely appreciate.
Pros
No monthly cost
Highly sensitive motion detection
Night video is excellent
Battery life is decent and can be charged via USB
 Cons
Battery needs to be replaced after a few months
Loses connection intermittently
Intercom audio is poor
6. SkyBell HD WiFi Video Doorbell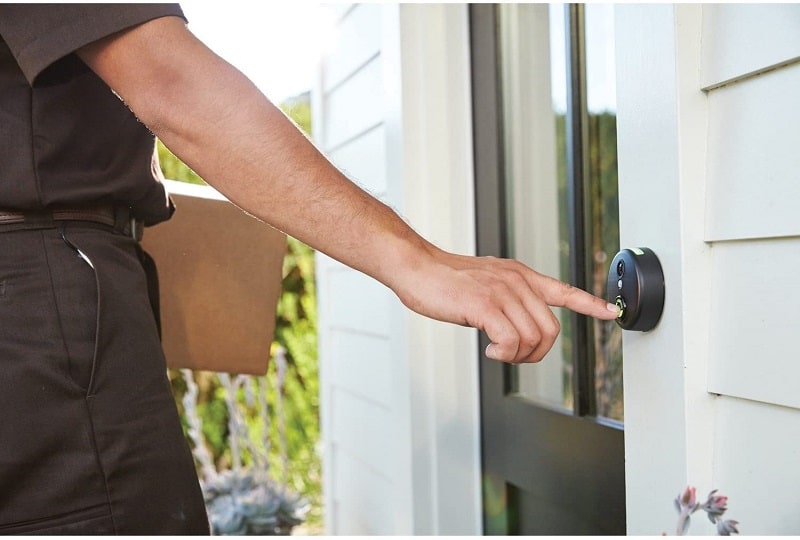 One look at the SkyBell HD video doorbell is enough to tell you that this isn't like other doorbells in the market. Instead of a rectangular shape, the company decided to go with a rounded appearance. And, it works.
This thing looks great, and you definitely won't mind hanging it besides your door. It doesn't just excel in looks however; the SkyBell HD works like a charm too. It supports Amazon Alexa voice commands and was even voted by CNET as the Best Video Doorbell in 2016, 2017, and 2018.
Product Features
The SkyBell HD uses a passive infrared sensor that can detect motion and instantly start recording. Installation is pretty simple; you get a mounting plate that you need to hook up, and the SkyBell goes in it smoothly. Once you hook it up, just download the mobile app, and you can easily create an account and log in.
The SkyBell HD camera is one of the best in the market. You can choose video quality up to 1080p (though it uses more storage). However, this feature isn't available in most others, and is actually quite useful for people with limited WiFi volume and coverage.
Pros
480p, 720p, and 1080p video recording selection
LED color can be changed
Constant app updates
Integrates with Nest and Alexa
Sensitivity for motion detection can be set
Cons
Motion detection could be better
Cloud recording deletes automatically after 7 videos
7. Ring Video Doorbell 3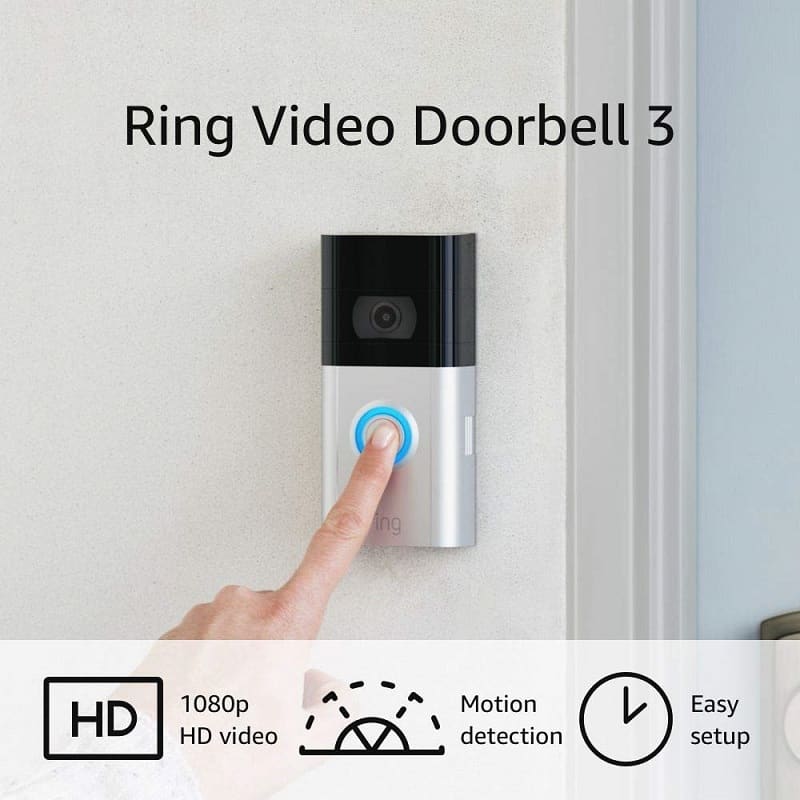 Finally, there's the Ring Video Doorbell 3. Ring is arguably one of the biggest names on this list, with a majority of US households now opting for the Ring. In 2020, the company sold 1.4 million units, which is similar to the combined sales of SkyBell, Nest, Remo+, and Vivint.
If you want to play it safe and want a video doorbell that's been tried and tested and won several Editor's Choice awards, the Ring is an excellent option. It integrates exceptionally well with Amazon Alexa and offers 1080p HD video that you can view from your PC, tablet, or phone.
Product Features
The Ring Video Doorbell 3 is powered by a rechargeable battery, or you can always hook it up to the existing doorbell wiring in your house. While it works without a subscription, you can always buy the Ring Protect Plan that offers 60 days of video footage.
The app is also incredibly intuitive, giving you access to an array of security and privacy features. The battery works for up to six months and also records Pre-Roll footage to figure out what happened before motion events. The alerts are also timely, as you'd expect from Amazon.
Without a subscription, the Ring Video Doorbell 3 gives you live footage and real-time notifications. But, like most of Ring's infrastructure, you need a subscription to make the most out of it.
Pros
Integrates with other Amazon devices
Long-lasting battery
Fantastic video feed
5 GHz compatibility
Cons
There's no free storage
No human detection
High price compared to other alternatives
A Comprehensive Buying Guide for Video Doorbells Without Subscription
Now that we have discussed the best video doorbells without subscription, you may want to figure out which one best serves your needs. Here are a few important factors to consider before you make a decision.
Resolution and Camera Quality
The quality of the camera is extremely important. Some low-cost cameras have a video quality that turns grainy over time. Try to invest in a product that provides a reliable HDR video setup and a 1080p resolution.
Night Vision Feature
This one's a no-brainer; buy a video doorbell that features decent night vision using an infrared camera.
Field of View
The field of view is important because it shows you the surroundings as well. Most bells have a 160 degree FoV, which is more than decent. However, there are some with a 180 degree FoV using a wide angle lens. This allows you to see more around the area.
Sensors
Depending on the price range, many video doorbells come with a range of sensors that are designed to improve video detection and performance.
Motion detectors – These are activated when motion is detected. They allow the video to automatically turn on when someone is at your doorstep. The battery is conserved otherwise. The sensitivity of the motion detectors is adjustable in some devices, especially if you don't want to be alerted every single time there's even the slightest of movement.
Face Detection Sensors – These sensors can be programmed to automatically unlock the doors based on the data saved of the person's facial features. These sensors are never 100% accurate because of lighting levels or other factors such as wearing glasses or makeup.
Cost
How much does the bell cost? You need to make a decision depending on your budget. Since we are comparing video doorbells without subscription, recurring costs aren't going to be a problem. But the upfront cost is still a big factor. Ideally, prices start from around $80 and can go up to $200.
Voice Commands
Voice Commands is a new and interactive feature that allows Google Nest or Alexa to answer the door for you, stream the video when activated, and even greet visitors with pre-defined messages. This is an added feature and can be turned off if not required.
These are some main features that you need to consider when buying a video doorbell without subscription. But, is it really worth the money? Let's compare the pros and cons!
Benefits and Drawbacks of Investing in a Video Doorbell without Subscriptions
Although the benefits of video doorbells surpass their drawbacks, this section comprehensively discusses the pros and cons of replacing your traditional doorbells and installing a smart video doorbell.
Benefits
You can have 24/7 video surveillance footage from anywhere in the world.
These video doorbells are compatible with other smart gadgets like Google Nest or Alexa.
Video doorbells are an added feature to your security system and can be integrated with cameras and linked up with security alarms to deter burglars.
The app support with video doorbells lets you to share access with multiple people using sub-accounts.
These video doorbells are also incredibly easy to install.
Drawbacks
The high price might put some people off.
Errors or malfunctions with connectivity can render the bell ineffective, essentially turning it into a traditional doorbell until you fix the problem.
It increases your internet consumption dramatically, so that's something that you have to consider as well.
Video Doorbells Without Subscription:More FAQs
Are there any hidden charges?
Most video doorbell without subscription don't have any hidden charge. You just pay an upfront fee, and that's it to start using it. However, almost all the companies offer additional services like cloud storage for an extra, recurring charge.
If the device is battery operated, how long will it take to charge, and how long with the battery last?
This primarily depends on the battery capacity and the technology incorporated by the company. In most cases however, battery-operated video doorbells are going to last anywhere between 3-6 months.
Are all video doorbells without subscriptions compatible with all mobile models?
Usually, devices come with support for Android and iOS operating systems. Accompanying mobile apps are available for these two platforms. In some cases, web apps are also available for live streaming online. You can always check the manufacturer's product page to find out support options. Most low-cost video doorbells usually have apps for Android only.
Are video doorbells easy to install or will I require professional help?
If the video doorbells are battery or solar powered, they usually won't require any help from experts. However, if it is a wired device, the video doorbell can be hooked up with the existing doorbell wiring. Battery powered video doorbells come with panels and clips so that consumers can read the instructions and install the doorbells themselves in under 30 minutes. For wired ones, you may need to call an electrician.