Self-care is important regardless of how old we are. However, as people get older, they face more difficulties while caring for themselves and their needs. Chronic conditions like arthritis and osteoarthritis can make it difficult with fulfilling even the most mundane needs, some of which include clipping toenails regularly.
Luckily, various companies work around the clock to design products that will make a life for seniors easier. There are numerous self-care products, and some of them include toenail clippers that were designed specifically for the elderly.
In this article, we're going to talk about the best toenail clippers for seniors, and what is the best way to use them without injuring themselves. As mentioned before, there are various manufacturers and they design their products using their internal standards and technologies. That's why not every toenail clipper is the same.
Quick Summary Before We Start
Best Overall: SZQHT Ultra Wide Jaw Opening Nail Clipper – With wide jaws, and versatile use, SZQHT nail clipper will make a nice addition to your cosmetics collection.
Runner Up: Norchan Large Nail Clippers Set – This runner up set is ideal for clipping, trimming and tidying up neglected and thick nails.
Best Budget: SANJINFON 3 in 1 Nail Clipper – It's an all-in-one machine that will save your nails, but also help you save an extra buck in your wallet. The rotating mechanism is also suitable for people who struggle with reaching their toes.
Many manufacturers make their toenail clippers so that they'd be appropriate for older people with chronic conditions. A 2009 study shows that if left untreated diabetes can cause thick and yellow nails.
Also, onychomycosis, a fungal infection that affects 10% of the general population, is 20% more prominent in people who are older than 60 years. Additionally, 50% of the affected are older than 70, according to American Family Physician.
Some manufacturers design different types of toenail clippers that can help users who are facing different conditions. For example, people with diabetes may suffer from nerve damage that prevents them from feeling different things like heat, cold, or pain, so those ergonomic clippers are designed to prevent injuries that won't be noticed immediately.
At the same time, some toe clippers are designed with a smart grip feature that allows people who have arthritis to bend sufficiently to hold the device properly and care for their toenails.
Why are these devices designed if there are caregivers who provide care for their users? Most seniors are self-aware enough to lead prospective lives and take care of themselves, but if they live alone, toenail clippers for seniors will make their job a lot easier, and allow them to tidy upon themselves.
Things to Consider When Shopping For Best Toenail Clippers For Seniors
As we mentioned above, toenail clippers come in various designs, which may confuse people when they visit a store or online shop for the first time. Here, we'll help you recognize different types of toenail clippers and the features that may come with them.
While some feature may not be the one that works for you, perhaps some other shape or design will allow you to clip your toenails effortlessly. Dive into this buying guide with us, and learn more about shopping for the right toenail clipper for you or your beloved elderly person.
Type of Blade
Let's start with the most important features to have before looking at other features that concern the ergonomics, grip, and other aspects of looking at the toenail clipper.
The type of blade is super-important for the elderly. On one note, you want to ensure that your blade is super-sharp and won't leave your nails hanging, cause jabs, or potentially injure the skin surrounding the nail. There's no way to estimate how sharp the blade is, but looking at the product picture and label may help you estimate the sharpness. Of course, if you're in a physical store, looking for the toenail clipper becomes much easier.
On the other hand, you want a blade that is well-protected. If the blade is too sharp, there's a chance that you could injure yourself or cut too much of your nail which would leave the inner side of your toe exposed and painful on the barefoot.
There are two main types of blades:
Curved blade
Slanted blade
Curved blades are the best for cutting thick and large nails because they are designed to mimic the looks of your nails. Slanted blades are used to cut the hangnails, and whatever gets under and irritates your toes.
Width
Different toenail clippers come with different types of jaws, and it's important to know what jaw suits you the best for your toenails. Some toenails are thicker and wider, while some are thinner. It depends on your biological sex, as well as potential chronic conditions that determine the thickness of your nails.
With that in mind, if you're unsure whether you need a wider or thinner jaw, always compare the size to your thumb toenail, and see whether that certain width would be appropriate for your nail. Of course, you can take any width, but that just makes the whole process of choosing the toenail clipper and using it more difficult, unnecessarily.
The largest jaws are around 3 inches wide, which is just enough to allow you to place your nail inside properly without any additional headache. A smaller jaw is also good, but you can end up pinching your nail and clipping more than you wanted. That also gives the potential risk of hurting the skin surrounding your nail, which could make walking and wearing socks more uncomfortable.
The Grip
When it comes to ergonomics, the grip is super-important. You don't want to use a nail clipper that is small and it keeps falling off your hand. Always look at the ergonomic features that the toenail clipper could offer so that you can easily and swiftly remove the nails from your toes.
Using the toenail clipper with a larger grip handle could be problematic if you have smaller hands. That's why it's always important to look at the handle and see what could work for you the best.
Durability
Toenail clippers usually aren't ridiculously expensive, but you still don't want to buy a toenail clipper every year or every few months. The best manufacturers will always use medical-grade stainless steel to manufacture the best toenail clippers.
Stainless steel is durable, it doesn't rust and even after some use and abuse, it can still handle large, thick, and ingrown nails without a problem. Some low-budget options are not made of stainless steel which can make the whole choice a lot more difficult and potentially cause injuries caused by the rusted-out blade.
Extra Safety Features
If your toenail clipper is quite sharp, we recommend buying a storage box that will help you keep it away. Seniors have a habit of leaving objects in their bed or some other place that can make the device in reach of younger, or reach for an injury. To avoid sitting, or hitting yourself on the blade, always go with a foldable toenail clipper that can cover the blades, or get a small storage box where you can store it conveniently.
Material
When it comes to getting your toenail clipper there's not much to discuss, or to make too big of a mistake. If you plan to maintain and clean your clipper regularly without worrying about rust, you should consider steel. Medical grade stainless steel is the best option for taking care of thick and ingrown fungus nails. Always make sure that they're medical-grade so that you don't have to worry about unwanted infections.
Jaw Width
Jaw width is also an important feature to consider if you have thick nails. The jaws can open anywhere from 12 to 17 inches. If your nails grow to be thick, it'd be best to choose the clippers that have a wide opening.
Rubberized Handle
If your hand typically shakes or you have difficulties reaching out for your nails, it's good to search for toenail clippers that come with a rubberized handle. That way, you won't have to worry about the clipper slipping or dropping out of your hand. The friction is stronger, there's no slipping and you'll just have an easier time holding it together.
7 Best Toenail Clippers For Seniors: Detailed Reviews
After discussing the most common features seen on the best toenail clippers for seniors, let's take a look at the best products we found and reviewed for you to make use out of them. Keep reading!
Best Overall: SZQHT Ultra Wide Jaw Opening Nail Clipper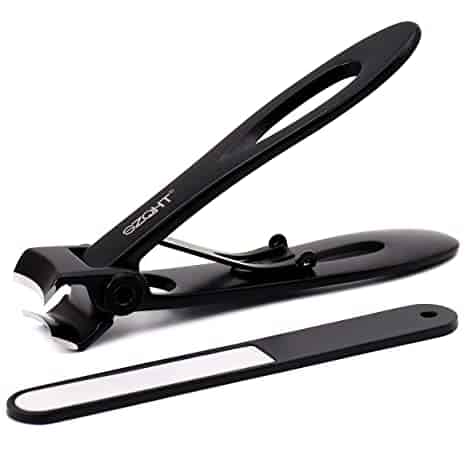 Type: Curved blade
Material: Medical-grade stainless steel
Jaw Width: 15mm
This is one of the best options if you're looking for a versatile and durable toenail clipper that can last for several years, and take care of the most persistent ingrown nails and those thick too. We liked it as our top choice because it's also versatile enough to support a file that will help you style your nails once that you're done.
As we said before, the SZQHT toenail clipper can take care of even the thickest nails. Various hormonal changes that undergo in the human body causes nails, particularly toenails to become thicker over time. It's also important to note that the nails tend to ingrown in the skin, as a result of various conditions.
It's good for people who have skin nerve damage from diabetes, but also damaged skin caused by a fungus, paronychia, and aging in general. The jaw is quite versatile too, as you can spread it and open it for up to 15mm. Given it's extremely sharp, it can easily shred through a thick and plaque-covered nail, regardless of how long it is.
It's made out of stainless steel, so the quality of the jaw won't curve or decay over time due to corrosion. The comfortable grip also allows people to hold the cutter easily and position themselves how it suits them while they maintain their nails.
Even though the emphasis of this toenail clipper is towards the older generation, it can be used on both men and women, as well as pets that need their nails regularly trimmed. Just make sure to clean it regularly and properly, to extend its lifespan, and hygiene conditions for seamless trimming.
Editor's notes: The toenail clipper is extremely sharp, so handle with care and watch out to not cut yourself. If your nails are too ingrown and hard to access, try using a blade that is slanted.
Runner Up: Norchan Large Nail Clippers Set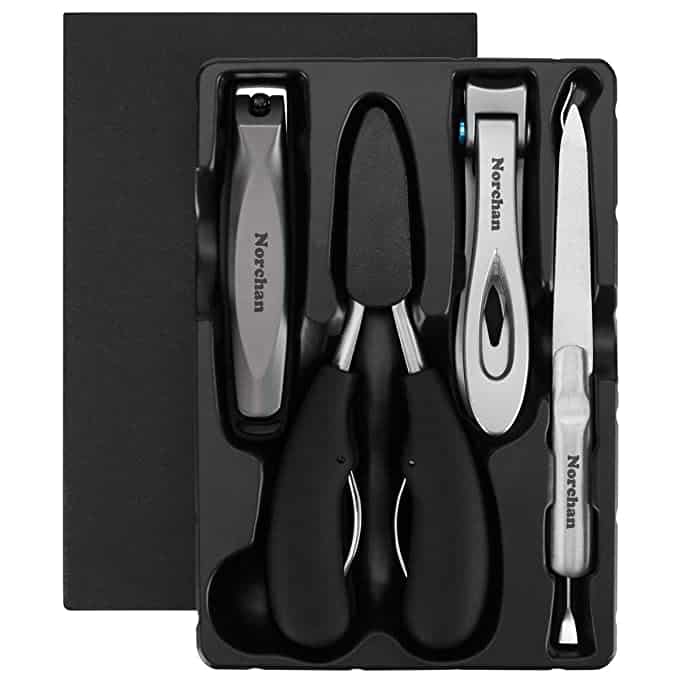 Type: Curved blade
Material: Medical-grade stainless steel
Jaw Width: 16mm
If your nails on toes need more maintenance and tidying up, chances are that one type of nail clipper won't work. That's why we found this medically approved set that will help you take care of both larger and smaller toenails. It also comes with a file and a slanted blade option to take care of those persistent and annoying ingrown nails that not only look ugly but don't give you peace a day around.
Thanks to this set, you'll be able to cut your nails, trim them, and shape them just the way you want. The blades are made of medical-grade stainless steel that will last for a long time and can withstand a lengthy beating. Blades go through various nail thickness, polishing, and other obstacles to make your nails perfect, but these won't decay in quality over time.
The stainless steel is also quite sturdy and durable, so you don't have to worry about them suddenly breaking, thanks to the fracture-resistant technology. The steel is made of high-density formula. One-click is all you need to bring your nails to perfection.
The jaws can open up to 16 mm, which gives a lot of space to inconveniently shaped nails, as well as those that are too sharp, thick, and surrounded by debris and plaque. Lastly, if you're not satisfied with the quality of the clipper, you can return it within 365 days and get your money back. If it breaks during the estimated time, you can choose between having it replaced or getting your money back.
Editor's notes: Just like the aforementioned product, Norchan toenail clippers are extremely sharp, so be careful not to get yourself cut.
Best Budget: SANJINFON 3 in 1 Nail Clipper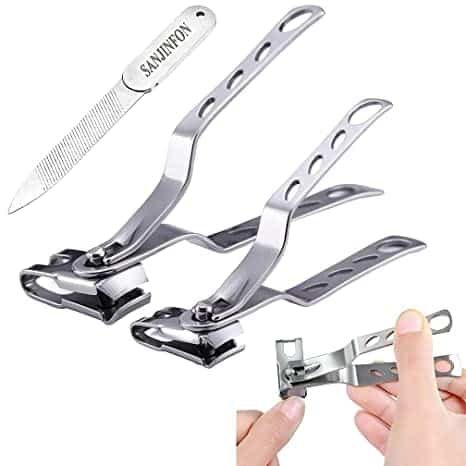 Type: Curved blade
Material: Medical-grade stainless steel
Jaw Width: 12.7mm
Toenail clippers usually aren't too expensive, but if you still want to save an extra buck, you should check the SANJINFON 3 in 1 Nail Clipper that will exceed all your expectations. It won't only save your money, but also space in the drawer as it comes with a rotating ability to replace both fingernail clippers and toenail clippers in one.
It has a super-long handle, which makes trimming nails more convenient for people who can't bend too hard due to their weight or a chronic condition like arthritis. This toenail clipper will make it convenient to use no matter where you are, and thanks to its 360-degree rotating body, you'll be able to move it wherever you want and rotate it according to your needs regardless of your position.
It is suitable for thick nails, loaded with plaque and dirt, that can be cut with ease. People with fungi infection and ingrown nails can also benefit from using this toenail clipper. The jaw is 0.2-inches wide, so you can use it on really thick nails without any problem.
Finally, you'll be able to keep it for a long time thanks to stainless steel construction. It's durable and won't rust, even if you wash it regularly to clean off the fungi and bacteria from cutting your sensitive nails. It can even work on acrylic nails if you're too lazy to go to the salon to remove them, but they're most recommended to elderly men and women who struggle with doing their nails.
Editor's notes: Not recommended for people with brittle nails as it could cause injuries. The rotation angle is hard to adjust. The metallic grip may slip to some people despite it being long.
Best For Thick Nails: GUANGJU Wide Jaw Opening Nail Clippers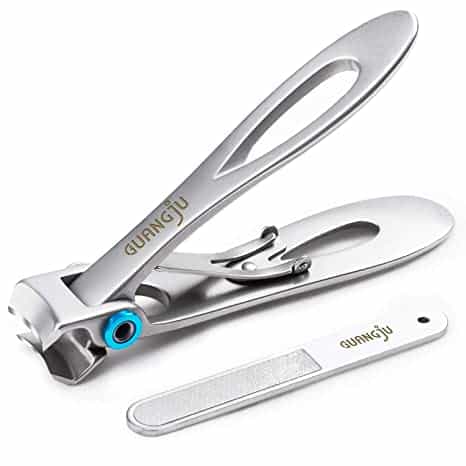 Type: Curved blade
Material: Medical-grade stainless steel
Jaw Width: 16.5mm
As people get older, they may encounter different conditions that can set them off track. As a result, those conditions may cause ingrown nails, thick nails, fungus infections, and more. That's why we picked Guangju wide jaw opening nail clippers that support up to 16.5mm jaw opening that can help with taking care of thick nails, as well as the ingrown nails.
And, don't think that this nail clipper is weak. Its width is only reinforced by incredibly sharp blades that can cut through pretty much anything. They are made out of medical-grade stainless steel. Since it won't corrode, or succumb to the damage caused by thick and wide nails, you can rest assured that it will last you for many years to come.
Many nail clippers lose their overall shape after a while and don't feel as sharp as they were once they were taken. You don't have to worry about Guangju toenail clippers. Even after cutting polished and damaged nails for years, they'll continue working as expected.
It's also worth mentioning that there's a smart lever design that we think is more advanced than other toenail clippers. It will allow you to get the wanted result without too much pressure. It also won't slip out of your nail. The special magnet at the tail will keep the jaws in the proper position, so it won't slip off your nail if it's harder to clip.
Editor's notes: It's not designed to be used on brittle nails, and should be avoided if you have small toes, and with that nails.
Best Rotating Toenail Clipper: Steinder Toenail Clipper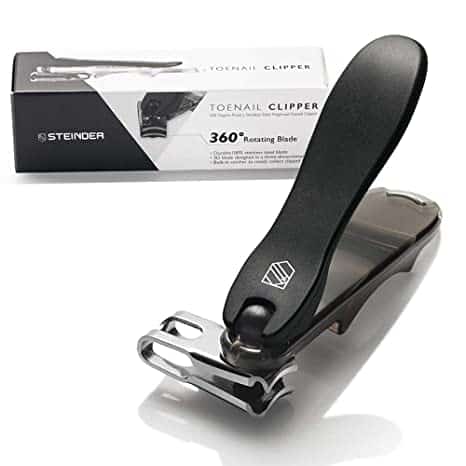 Type: Curved blade
Material: Medical-grade stainless steel
Jaw Width: NA
Heavier people, as well as those who are facing problems with diabetes, arthritis, and other health conditions, can face difficulties trimming their nails unless someone helps them. Cutting the ingrown nails is even more difficult with ordinary clippers.
That's why we found Steinder's rotating toenail clipper that won't leave you fighting for the air while you're clipping your nails. Instead, it will become an effortless and comfortable routine that will allow you to keep your nails trimmed, clean and tidy, 100% free of an uncomfortable position.
We also looked for an option that won't just rotate, but also come with a comfortable curved blade that gives a tight grip to your toenails and clips them without giving them too much pain, or pressure on your palms and fingers.
Also, the rotating head by 360 degrees lets you position the jaws so that your nails would keep their unique and tidy shape after you cut your nails. You don't have to give it extra cuts or filing to keep it in perfect shape. Instead, your clipper will do it for you.
The blade is made out of stainless steel. It's dense, powerful, and quick, so you won't have to press multiple times. It's perfect for ingrown nails, fungal infections, and generally thick nails.
Editor's notes: They may take a long time getting used to if you didn't use this type of clippers before. Once you get a hang of it, you'll become inseparable!
Best For Large Nails: Kaasage Toenail Clippers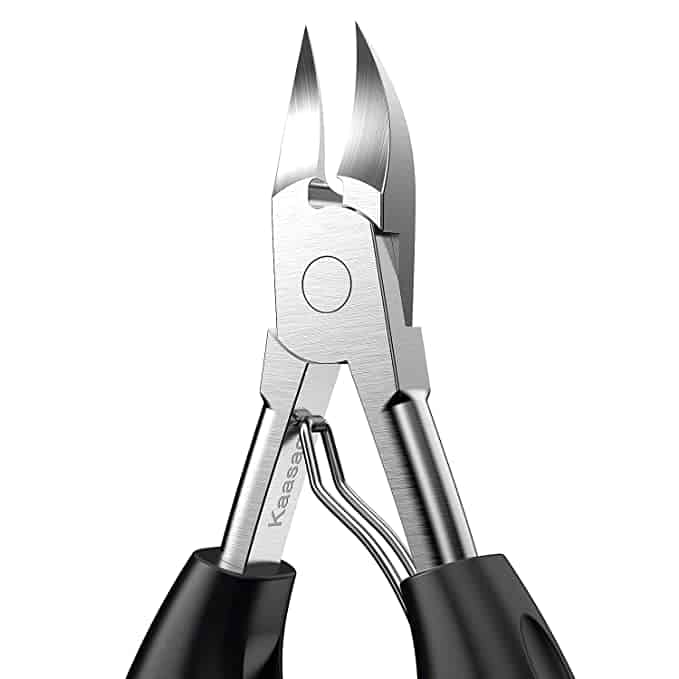 Type: Slanted blade
Material: Medical grade steel
Jaw Width: 20
Whether you're looking for a large clipper that won't slip out of your hands, or you want to keep your large nails under control, rest assured that you'll be satisfied with Kaasage large nail clipper.
We don't know from where to start. Thanks to its large, yet ergonomic robust build, you can grip it however you want. It won't cause blisters on your hands. More importantly, thanks to the non-slip grip technology, you won't have to worry about it falling out.
It's also quite versatile and adjustable to the shape of the nail, so besides cutting your toenails, it can also effectively take care of ingrown nails on both toes and fingers. The nail clipper blades are symmetrical, and more importantly, sharpened enough to last you for several years.
The blades are made out of durable and high-density steel that won't rust easily. Instead, it'll perform seamlessly, and cut even the most persistent thick nails and ingrown. What we also like is that it comes with a 365-day money-back guarantee. If it breaks, the company will either swap it or give you the money back. It also comes with a great lifetime warranty.
Editor's notes: It may take some time to get used to it. Some people may find it too long.
Best for Ingrown Toenails: Kohm WHS-800 Toenail Clippers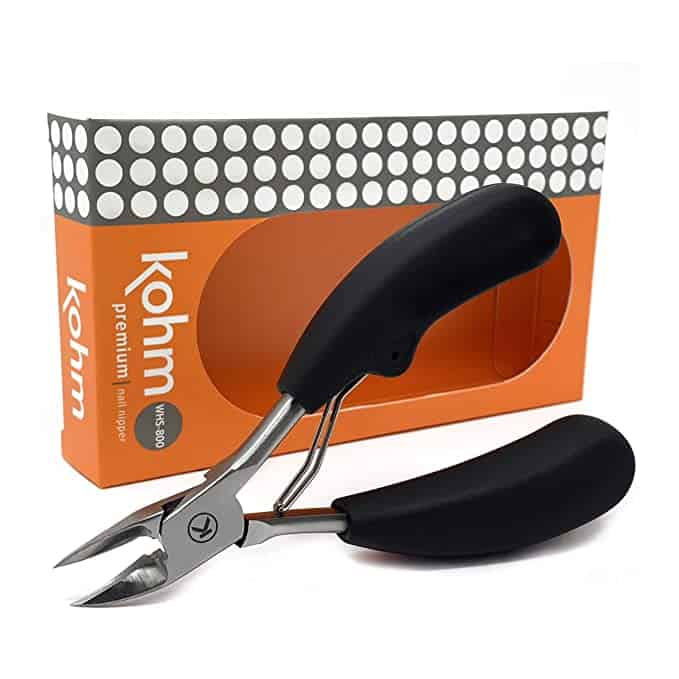 Type: Slanted blade
Material: Medical grade stainless steel
Jaw Width: 25mm
Sharp, wide jaws are exactly what you need to take care of and tidy up ingrown nails, as well as thick and dehydrated nails caused by fungal infections. Other conditions may also cause irregular growth of nails, which is why this toenail clipper is ideal.
With a 5-inch anti-slip grip handle, you won't have to worry about the clipper slipping through your fingers. Instead, you can clip your nails with the breeze, and not worry about anything else. The blades are over 1-inch wide and thanks to the medical-grade stainless steel, they'll be easy to clean, maintain and last for many years.
The clipper is also designed to be suitable for people who are both left and right-handed.
Editor's notes: They're sharp so cutting small parts of your ingrown nails could cause unwanted bleeding.