We all know the importance of proper physical activity. Staying active does not only keep us in shape by strengthening our bones, muscles, and strength. They also help us remain mindful and nourish our mental health. As we grow older, our power, both physical and mental, changes. With age, bones and muscles weaken, and as the body gets tired it also gets chronic conditions that are hard to keep at bay. That's why light exercising is always a welcome addition to your home.
You may not always be at the top of your strength to go in a walk or gym. Additionally, if you feel uncomfortable going to the gym, the home exercise bike is exactly what you need. Even at old age, you can get an exercising bike that will help you maintain optimal physical activity, without getting too tired in the process.
Best Recumbent Bikes for Seniors: Quick summary
We know that exercising can be quite difficult for older people, especially because most of the basic exercise bikes are designed to make the user stand instead of sitting comfortably. The standing bikes now have a replacement for the seniors that will make their exercising sessions more comfortable and simply seamless. They're called recumbent bikes for seniors.
In this article, we'll share the reviews of the best recumbent bikes for seniors. We made sure to carefully research and offer options that will satisfy all your needs, starting from comfort and design, to fit, weight capacity, and a carefully designed user interface that is suitable for people who have difficulties seeing and wearing glasses while exercising.
There are numerous benefits of using recumbent bikes and exercise in general for seniors. Multiple studies show that they improve circulation and help live with chronic conditions like arthritis, according to one of the studies. Another study shows that with combined healthy diet and indoor cycling, you can also improve your weight.
Things to Consider When Shopping For The Best Recumbent Bikes
We ensured to review only the equipment that will make exercising an actually fun pastime activity. But, before that, we must ensure that you know everything that good recumbent bikes should have to meet the requirements and needs of seniors. If you consider the things below, choosing the right recumbent bike will be even easier.
Ease Of Installation
Depending on the manufacturer you go with, you will see that recumbent bikes can be easier to install than the standing exercise bikes, but not always. What's for sure is that you'll always have to do a little work to set it up.
Some manufacturers will offer the opportunity to assemble the bike for you once they deliver it for an additional cost. However, if that's not the case, you'll have to assemble it on your own. Make sure to read the manual carefully and consult with someone who knows how to assemble it in case you struggle while assembling it.
Some services offer service and maintenance of exercise equipment, meaning that you could address your assembling issue to them and have them help you assemble it to the fullest. All in all, don't attempt anything on your own if you're inexperienced.
There are probably instructions online, as well as YouTube videos which could make the assembling easier if you've got the basics covered.
Do: Ask for help with assembling or watch the manual or YouTube videos if you're experienced with assembling hardware.

Avoid: Trying to assemble the hard and heavy parts by yourself if you have a condition that slows your movement.
Seat Design
Seat design is one of the most important features to consider when shopping for recumbent bikes. The recumbent seat is the exact highlight and trademark on these bikes because it makes the pressure on the joints and calves much easier as opposed to the standing exercise bikes.
This is especially beneficial to people who have problems with the lumbar back area and the sciatic nerve, as well as extra pressure on joints caused by arthritis which is one of the worst conditions for the elderly. Poorly designed seats, or inadequate choices for your physique and posture could result in even more discomfort while exercising than the standing bike would cause you.
There are those with more ergonomic design, while there are also those that have larger cushions. You may notice that those with larger cushions are less customizable to your needs, which is good for people who won't spend a significant amount of time setting up the perfect seat.
The more ergonomic design may be more suitable for people who constantly have the need to adjust and customize the design of their recumbent bike to make better results and have more effective exercises.
Do: Choose a ventilated and padded design that is coated with a breathable material.

Avoid: Going for the 100% foam design of seat because it may make you feel hot, especially if you're prone to excessive sweating.
Stability
When shopping for the exercise bike, as an elderly, it's important to find the most stable option you can consider. Being physically involved and active often makes our body wobble, especially if we get carried away and increase the resistance of the bike, and speed up to no limit.
However, in a situation of weakness, it could be possible to hurt a joint, back, or simply fall out of the bike. That's why you should look for a firm and stable upright seat that will keep your back fixed and prevent abrupt movement of your lumbar area.
In the same way, a stable recumbent bike should come with armrests that increase the level of stability when sitting and moving fast. Using armrests on your bike can also prove beneficial when you need something to grab on or to rest from circling it all the time.
Do: Choose an option that comes with comfortable and well-spaced armrests that will allow you to exercise peacefully and have an easy access to your heartrate sensor.

Avoid: Don't go for options without the armrests because lack of them will make for less stability. Also go with a more cushioned version if you have a problem with keeping balance.
Portability
As people grow older, they may face difficulties moving super-difficult objects in their apartment or house. That's due to their chronic conditions, as well as the fact that the bones and muscles weakened too much to carry heavy objects around.
If you plan to keep your recumbent bike in one room or area and not move it from there, that's great. However, in case you need to use space constantly, you'll need a more portable bike.
There are two types of portability to look after in a bike. The first one is foldable. Foldable bikes may have a smaller weight capacity and may require you to use extra strength and knowledge of assembling and disassembling.
A rather better option is the exercise bike that comes with wheels that you can brake and fix in one position when you don't need to move the bike. The choice is yours!
Do: Go for the bike that comes with wheels or some other mechanism that allows you to easily transport the bike from one room to another.

Avoid: Don't try to pick the bike on your own and carry it around, especially if your joints are affected by arthritis.
Weight Limit
In the process of shopping for the best recumbent bike, the weight limit is also a factor that you will want to consider. Some more portable options may have a smaller weight limit. Given that these exercise bikes are put in a recumbent position, the effect of your weight on them will be bigger.
That said, you will want to choose an option that has an appropriate weight limit for you. Even if you weigh less than the max weight, the bike could still look unstable if you're close to that limit.
Do: Go for an option that is proportional to your weight.

Avoid: Going above the weight limit of a device. Even though it can carry your weight, it will still become unstable over some time and have a shorter lifespan.
Screen & UI
The screen control should also be intuitive for people who have problems with sight and don't see so well. The user interface of the device should be positioned so to establish the maximal performance and familiarity with the design so that even elderly people can use these controls with top intuition.
Many people aren't comfortable with exercising with their glasses on. Even if you are positioned in a comfortable sitting position, chances are that you will still sweat and struggle to wear glasses if you sweat.
That said, make sure to go for the bigger screen, and if adjustable, make sure to set your controls to be large so that you can perfectly see the progress you've made and how much time it passed since you started exercising.
Do: Go for the larger screen with well-highlighted and visible letters.

Avoid: Going for the smaller screen especially if you don't wear glasses when exercising.
Type
There are two main types of recumbent bikes that you want to consider:
Electrical recumbent bike
Magnetic recumbent bike
If you want to get the most out of your exercising routine and sessions, you should opt for an electrical recumbent bike because it allows you to set different options, resistance levels, and its firmware is usually richer in features. It's also more versatile in the sense that you can change the settings of the bike without stopping the progress you made within one workout.
Magnetic recumbent bikes are easier to use because they require less maintenance. How does it work? It has magnets that are positioned on each side of the flywheel. Those magnets change the resistance levels to accommodate your needs per workout. Unfortunately, that means that you'd have to quit exercising in case you aren't satisfied with the resistance setting you set in order to readjust it.
Also, we can't say that magnetic recumbent bikes are completely free of electrical power. The screen and workout panel that allows you to adjust the workout still should require batteries or some other form of power source to work.
Resistance
Seniors usually prefer light-paced workout sessions that will help them stay in shape and not spend too much energy and potentially get sore muscles and joints. But, having different resistance settings is always welcome if you'd like to give yourself a challenge that will provide more for you out of your workout. This kind of investment is always welcome to see in the better recumbent bikes.
Do: If you don't feel like challenging yourself, don't go for the option that has too many exercise profiles.

Avoid: Setting the exercise resistance too high and above your capabilities because you risk the strain.
Extras
Some more premium recumbent bikes are more feature-rich. Some models come with several USB ports, that will allow you to charge your phone or some other device if you're using an electrical device. Also, some other models come with Bluetooth so that you can stream the music from your phone and distract yourself while exercising. Lastly, some recumbent bikes could even include an MP3 player for maximal luxury.
Best Recumbent Bikes for Seniors
Now that we highlighted all the important features that seniors should consider when buying a recumbent bike, let's dig into the reviews and see which options could suit you the best.
Best Overall: Marcy Recumbent Exercise Bike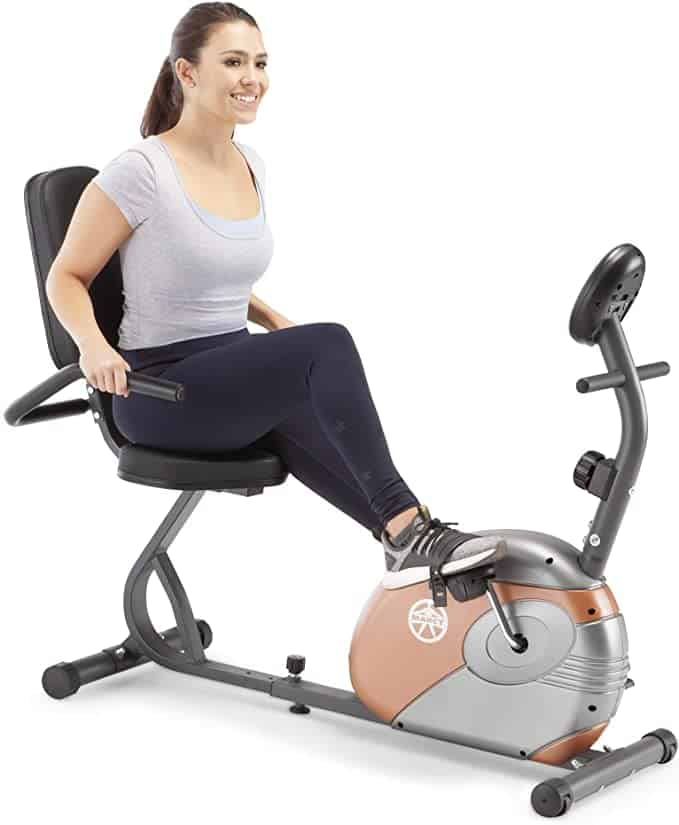 Resistance type: Magnetic
Weight limit: 300 lbs
Resistance levels: 8
Warranty: 2 years
Marcy's Recumbent exercise bike offers everything a decent magnetic-powered recumbent bike should offer to people looking to light up through some simple exercises. Don't worry, it will also encourage you to challenge yourself with exciting challenges and exercises, thanks to the 8 resistance levels that are powered through magnets in the flywheel.
It's made out of heavy-duty sturdy materials that allow it to even exceed the maximal weight limit of 300 lbs by a significant amount. It's also worth saying that it's silent and follows a step-through design, which means that even though it features heavy construction, it's still portable enough to move thanks to the wheels on its bottom.
It also has a large computer screen that will make the reading process effortless. You can easily schedule different workout sessions and be surprised by the visibility and clarity of the screen that promptly informs you about the progress you're making during the exercise routine. We also noticed well-thought-of knob controls that can simulate riding a bicycle on different terrains, often those that are rougher than others.
Lastly, we love the padded seat that will add to the comfort level. You don't have to worry about the sciatic nerve being triggered or feeling extra back pain, this option offers everything you will need for seamless exercising that will have positive effects on your weight and cardiovascular health, without compromising your comfort.
Editor's notes: While we're pleased with the 90 day trial period in which you can test the device and whether it suits your needs, there is only a 2-year warranty that some may consider being not as good a deal as some other options.
Runner Up: Pooboo Recumbent Exercise Bike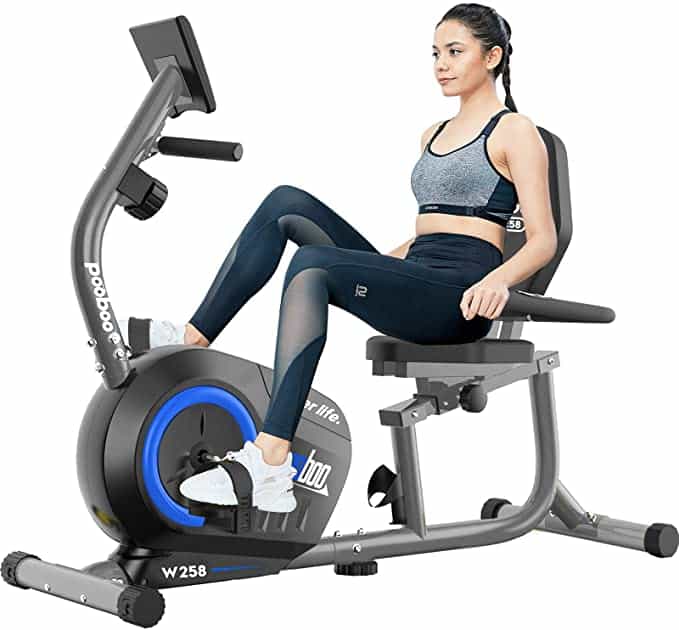 Resistance type: Magnetic
Weight limit: 330 lbs
Resistance levels: 8
Warranty: 1 year
We genuinely love everything that Pooboo recumbent exercise bike has to offer to its older customers who are looking for some sort of physical activity in their lives. First, there's a super-thick adjustable seat where you can change the height and conform to your natural posture while exercising.
This bike also uses a magnetic resistance system that allows 8 levels of adjustments to change your preferences and challenge yourself in the process. The comfortable seat is padded with high-density foam and covered so that you won't overheat or sweat yourself while exercising.
The maximal weight is 330 lbs. However, the manufacturer advises that it's the best to use this exercise bike if you weigh under 220 lbs because of the durability of the design. Nevertheless, given the step-through design and heavy-duty construction, it's inevitable that you'll enjoy using the recumbent bike for years.
It also consists of a large LCD computer screen, which is larger and more versatile compared to the aforementioned version, so adjusting different exercising information will be easier for you to control.
There's also a rotary tension knob that helps adjust your workout and ensure that you're also feeling comfortable while exercising. It lastly comes with one wheel that allows you to transport it easily with you on the go.
Editor's notes: This option comes with fewer features, and it's also more expensive. It comes with only one warranty year. Additionally, it may be more difficult to transfer this bike to another location without anyone's help. Unlike our best overall option, this runner-up comes only with one transport wheel that makes the transport easier.
Best Budget: Marcy Recumbent Exercise Bike with Magnetic Resistance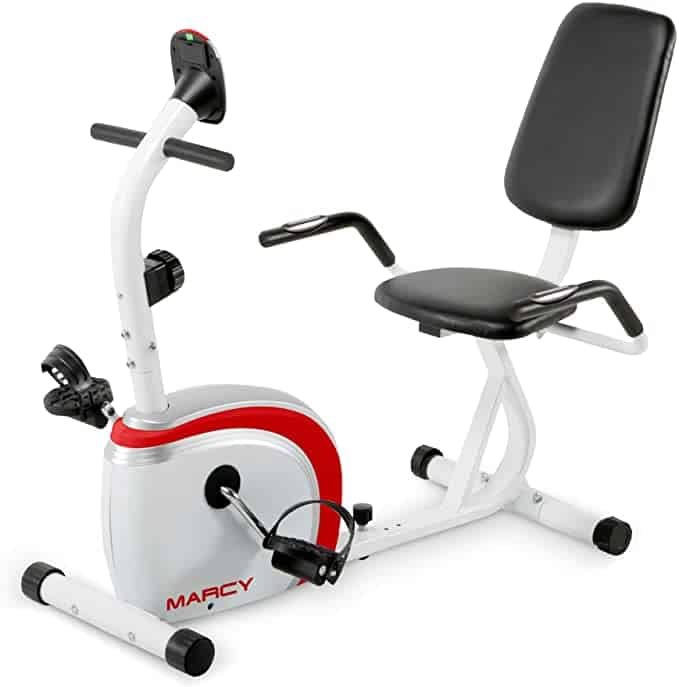 Resistance type: Magnetic
Weight limit: 300 lbs
Resistance levels: 8
Warranty: 2 years
A good quality exercising equipment for seniors doesn't have to be too expensive, especially if there are frequent discounts like on premium Macy's recumbent bike that is made out of sturdy and durable steel alloy and comes with a plethora of features that will improve your exercise style.
It is made so that all fitness enthusiasts can enjoy it, but its ergonomics and adjustable seat are the most suitable for seniors who want to keep in shape and exercise regularly.
It is equipped with a manual magnetic mechanism for resistance and 8 levels of resistance so that you can both have a simple and laid-back exercise, but also challenge yourself with different levels.
It comes with a laid-back and comfortable seat that is also equipped with a backrest which will help you relax your back and lumbar region and still exercise to your full potential.
If you want to have a better view of your exercising routine and how far you've come in your sessions, you can simply take a look at a large and vibrant LCD that will help you track your progress.
An additional feature worth mentioning is the counterweighted pedal setting that allows you to easily exercise without putting too much strain on your feet, toes, and joints.
Editor's notes: The exerciser might sound a little louder, and be a little harder to transfer as wheels are not positioned as well as with some other options.
Best Corded Electric Recumbent Bike: Nautilus Recumbent Bike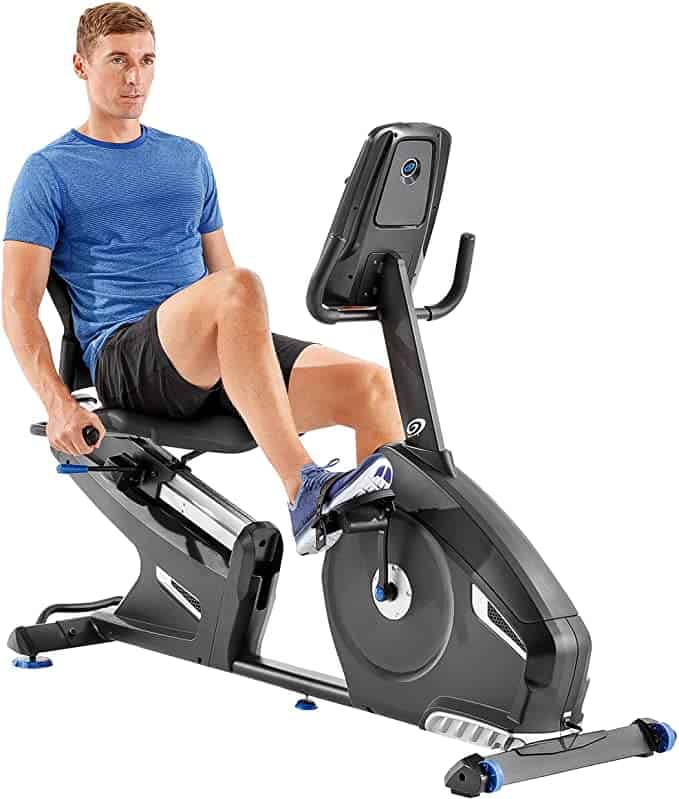 Resistance type: Corded Electric
Weight limit: 300 lbs
Resistance levels: 25
Warranty: 10 years frame, 2 years mechanical parts
If you want to cash in a powerhouse of a machine, you'll naturally have to spend more money, but that money can definitely be worth it if you're looking for a machine that will help you virtually see the world and become your best self physically.
This is an ideal investment for older people who have problems with joints and knees. It boasts a total 300lbs weight limit, but even if you cross that, it's a sturdy machine that comes with a myriad of features. One of such features is the stunning Bluetooth connectivity that allows you to connect popular fitness apps that can aid you throughout the process.
It also comes with its Access the Explore the World app that allows you to digitally dive into your voyage and ride the bike as if you're traveling around the globe. It comes with DualTrack blue backlight LCD that is rich with 29 customizable workout programs, which will help you make your workout less boring and more exciting for you and your family.
There's also a padded seat with ventilated back which is a clever feature that many other manufacturers didn't think of. These seats are padded with memory foam which is known to trap heat and make exercising harder. That's why ventilated back helps address the sweating problem and overall makes your workout experience much more comfortable.
Editor's notes: The fans and the LCD can occasionally emit a strange metallic smell, or as if something is burning when it first arrives. It takes some time before the smell dissipates in its entirety. Also, even though it's quite rich in features, this recumbent bike is more expensive than other options in the market.
Most Versatile Recumbent Bike: SNODE Magnetic Recumbent Exercise Bike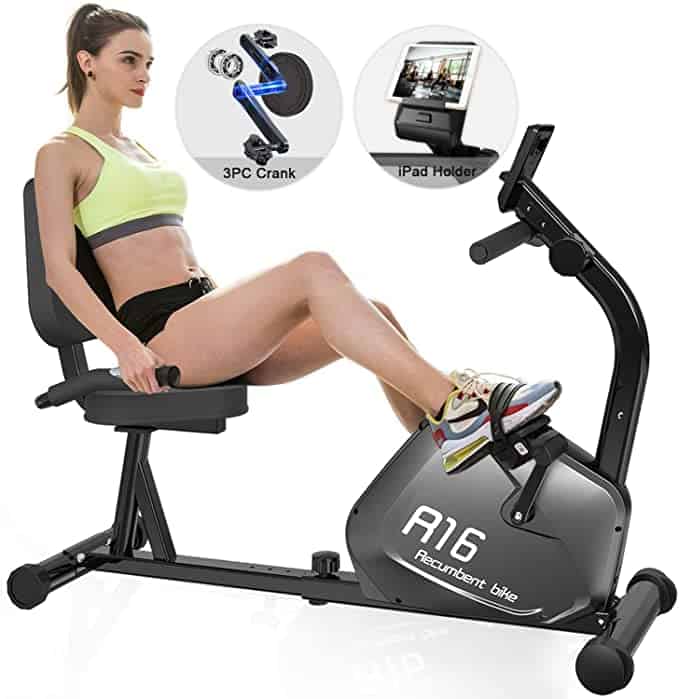 Resistance type: Magnetic
Weight limit: 300 lbs
Resistance levels: 8
Warranty: 1 year
Magnetic recumbent bikes are more versatile than electric ones. However, we found special comfort and security when riding with SNODE Magnetic recumbent exercise bike. It was designed for everyone who wants to achieve their top form while exercising at home. Still, seniors also deserve to be at the top of their form.
The magnetic resistance control allows 8 different profiles, which is more than enough to experiment with different options and challenges that this silent and durable machine offers. As we said, it's pretty silent and smooth, so it won't make problems for other family members who would appreciate some peace while you're exercising.
Its weight limit is 300 lbs, but you shouldn't be concerned with what it because its 3PC crank design allows it to take even more than its max weight. There are also large and adjustable pedals with ridges that will help people with swollen or simply bigger feet.
It also comes with a digital LCD monitor that allows you to easily plan your exercises and adjust them according to your needs and capabilities. It displays distance, calories, time, pulse, and other perks of exercising. The device is also pretty portable so you'll be able to move it around with ease.
Editor's notes: We're just a little disappointed that the warranty lasts only one year. Still, we're pretty impressed with the design and performance of this device.
Other Products You Can Also Consider
Although these didn't make it to our top five, they're worth seeing and trying out if you're looking to see more options of recumbent bikes.
HARISON Magnetic Recumbent Exercise Bike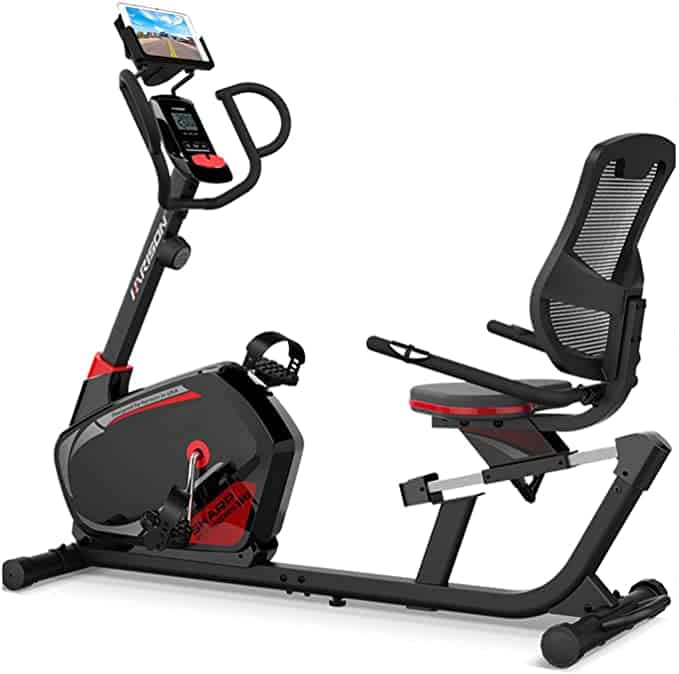 Resistance type: Magnetic
Weight limit: 350 lbs
Resistance levels: 14
Warranty: 1 year
This is an ideal exercise bike for heavier people who are looking to lose weight. It also sports a ventilated ergonomic seat that doesn't compromise comfort but provides solid construction made out of stainless steel. It has magnetically managed resistance, that comes with 14 levels which are plenty of exercise level experimenting.
It comes with a one-year warranty, but the company assists assembly with its technical team that will come to your aid. It has a weight limit of 350lbs, but will normally support even heavier people. Additionally, it comes with transport wheels which make it a more portable option and allow you to transfer it where you need it.
Lastly, it's equipped with a  multi-function LCD that will help you manage your workout sessions, distance passed, calories burned, and much more.
Editor's notes: It is a little louder compared to other exercise bikes. Also, it only comes with one year warranty, despite its higher price.
 SCHWINN A20 Recumbent Bike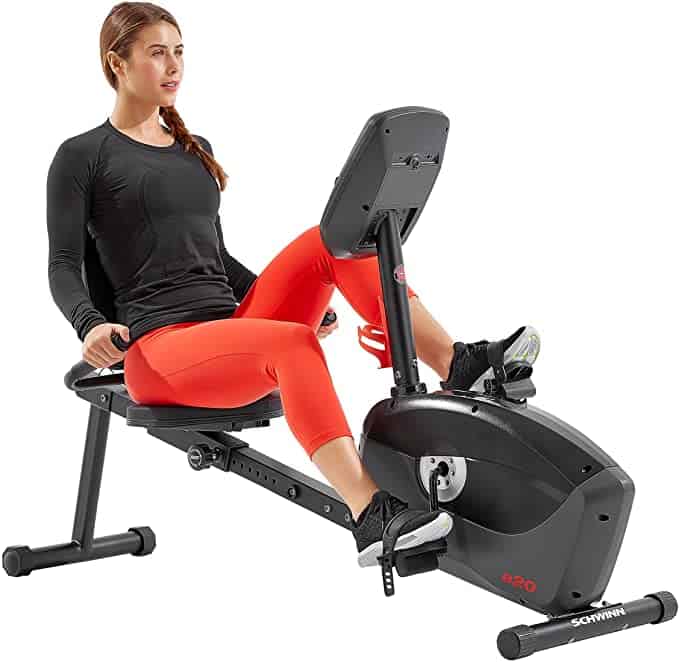 Resistance type: Corded Electric
Weight limit: 270 lbs
Resistance levels: 8
Warranty: 1 year
Schwinn A20 is a great option for those looking for a large screen and plenty of profiles to exercise from. It has a comfortable padded seat that has contours that allow more comfortable use and ride.
The LCD console screen helps track the speed that you're riding at, the distance, RPM, calories, and heart rate to ensure that your body is performing optimally. It also comes with 7 preset programs that you can exchange and combine to get better results. One is made for the quick start option, while the other has a reserve for 6 different profiles.
Lastly, it has a comfortably placed heart rate sensor to read your heart rate properly. Also, it comes with comfortable wheels that will allow you to transfer it appropriately.
Editor's notes: It has a lower weight limit compared to other options that we reviewed.
MaxKare Recumbent Exercise Bike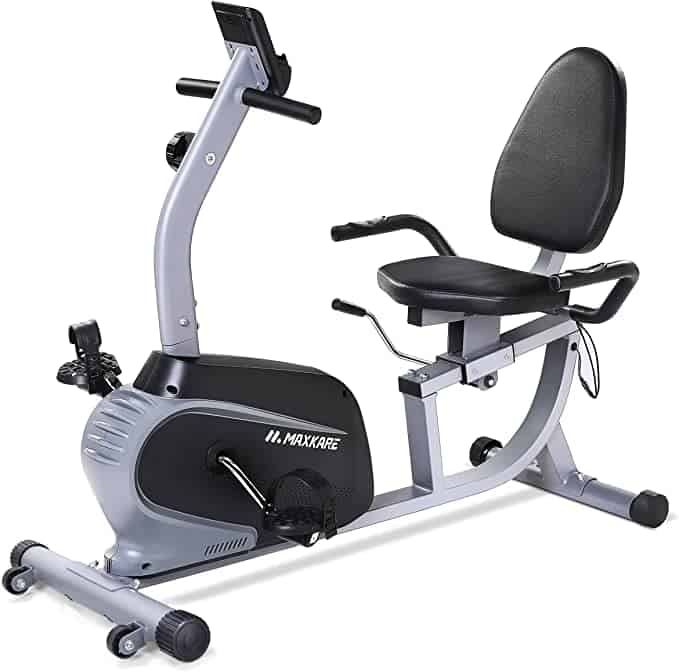 Resistance type: Magnetic
Weight limit: 300 lbs
Resistance levels: 8
Warranty: 1 year
MaxKare recumbent exercise bike is everything a family would need from a bike. When we say family, we also mean that this option is totally adjustable to all family members, including the seniors with difficulties moving and exercising.
With 8-level magnetic resistance, you can try out different difficulty levels to challenge yourself and see your endurance. There's a 300 lbs weight limit, which means that this option is suitable for both heavier and lighter people.
The seat uses a high-density sponge that allows more lumbar support and comfort. There's also an adjustable lever that allows you to change the positioning of the seat and get the most quality that you can. There's also an LCD monitor that helps you track your progress. Additionally, there's an iPad holder that helps you place an iPad comfortably and use it during your exercising routine.
You can also move it with ease thanks to the wheels that are built so that you can move the heavy object if you ever wish to exercise at a different location.
Editor's notes: The customer service is a little slow at replying to your queries, so it demands an extra level of patience. There's also only one year of warranty, which may discourage many people from buying this option when combined with slow customer service.