\It's no secret that showers can be extremely slippery. As we get older, it's harder to stay balanced and carry all our mass as we used to in the past. Bones become more fragile and constantly crack as we walk, and our muscles struggle to execute some actions that we performed with ease in the past. Going to the bathroom in old age rather looks like a battle for balance, where one wrong move could result in you on the floor, injured.
If you thought that the middle age crisis is the worst thing that can happen to you throughout life, you likely aren't old enough.
When you're senior, it can become increasingly difficult to move, due to poor weight management or chronic diseases related to the heart. That's why bathroom grab bars seem like a seamless solution that prevents severe falls, at least in the bathroom.
Best Bathroom Grab Bars For Elderly: Quick Summary
Best Overall: Moen LR2356DCH Home Care – Moen is a well-known brand that provides seamless bathroom equipment. This option is quite stylish and offers all the support you may need.
Runner Up: Delta Faucet 41624-SS – The runner up option has a larger option, and it can also support more weight on it.
Best Budget: Vive Metal Grab Bar – if you're looking for an affordable option with a sturdy design Vive Metal is worth checking out.
According to the Center for Disease Control and Prevention, every year millions of people fall, especially in the bathroom, thanks to the water, linoleum, or some other cause. Unfortunately, only half of the people who fell will tell the doctor about their venture.
What's more, one fall increases the probability of falling again if no adequate measurements were taken to make bathroom stays more comfortable for the seniors.
Every year, one in four seniors falls in the bathroom. Also, one out of five falls can result in a serious injury related to the head (traumatic brain injury) or hip fractures. Fall injuries can cause over 3 million seniors, 65 years or older to be treated at the emergency departments of different hospitals.
While bathroom grab bars do not fix the problem in their entirety – you may not grab the bar in time to protect yourself and prevent falling, they indeed help and take the weight off your back while taking a shower or bath, which helps prevent serious falls.
That's why we conducted in-depth research of what are the best bathroom grab bars and where can you find them without breaking the bank.
Things to Consider Before Buying A Bathroom Grab Bar As Senior
But, before we dig into the detailed and helpful reviews of the best bathroom grab bars for the elderly, let's take a look at the most important features, brands, pros and cons, and other things you should be cautious about when shopping for a bathroom grab bar as a senior.
Keep in mind that seniors need something that will make their movement easier, something that they can rely on and benefit from without getting injured. The options you pick, must provide security and be reliable in sense that it won't worsen their already-existing problems or cause new injuries.
Weight Limit
Older people may face difficulties when trying to stand up in the bathroom or enter, or exit a shower. That can be the result of a variety of undergoing health conditions that are associated with old age. Oftentimes, such conditions require seniors to rely on some object and push the force of their weight on it.
That's why there are bathroom grab bars, especially those ergonomically designed for the elderly. But, there's a trick. Even though many bathroom grab bars are designed to take on more weight and deal with the pressure of movement associated with older people, not all of them have the same weight capacity.
With that in mind, always check what's the max weight limit when purchasing a bathroom grab bar. Usually, they can take a little more than the max weight specified in the label. Still, it costs nothing to be more cautious, especially if the bar doesn't have an invasive mount style. More about that later.
Do: Install the bar properly so that you can apply more weight to it.

Avoid: Don't push yourself on suction bars too much, as applying the whole weight may make it fall off.
Material
Bathroom grab bars are made of a variety of materials. The material you'll choose is up to your preferences, needs, and of course budget. However, it's important to know that these grab bars need to be extremely robust, durable, and sturdy. They need to be able to withstand rough pressure and beating, especially if the senior person who uses them is disabled in any form and needs assistance when sitting or standing up from the toilet seat, or during baths and showers.
Most common materials include:
Stainless steel
Aluminum
Brass
Plastic
Galvanised tubing
If you plan to use the grab bar in the bathroom, or another area that is high in moisture, ensure to use a material that doesn't rust such as stainless steel or aluminum.
It's important to have a waterproof material because the elderly aren't always prepared to react promptly to slipping and may also have nerve damage from arthritis or diabetes, so it's important to ensure reliability.
Do: Go for a waterproof and anti-rust material that will allow you to get the most out of its lifespan.

Avoid: Don't go for some cheap material that will eventually rust and leave you with a useless and potentially risky bathroom bar.
Mount Style
There are two main types of mounts for bathroom grab bars:
Stud-mounted metal bar
Suction-cup mounted bar
If you're looking for more support, you are disabled in moving on your own, or have difficulties entering or exiting the shower, it's best to consider the stud-mounted metal bar because it's tightly screwed and tightened into the wall. On the other hand, suction grab bars are adjustable, but they offer less support than the wall-mounted options.
What's good about them, however, is that you can move them wherever you go. If you're an avid traveler, you can completely rely on carrying this one anywhere you want, granted you don't need as much support and grip.
Keep in mind that the suction-mounted option won't allow you to use your whole weight on it, so this may be a bad option for the elderly who suffer from some handicap.
Do: Get the bar type that you can benefit from the most. If you don't relocate too much, use a stud-mounted bar. If you travel too often, you can get a suction-cup.

Avoid: Applying your entire weight on the suction bar. Also avoid using suction cup bars if you have difficulties balancing yourself and have handicap of any sort.
Ease Of Installation
Besides considering the mount style, it's also important to consider different options when it comes to installation. While suction cup bars are quite easy to install, the same can't be said for the wall-mounted options.
For starters, it's just important to make sure that the suction cup bars are installed properly, on a dry area that doesn't have pores growing out of it. Make sure that the area is smooth, and that no place is left open for the air to escape and unglue your bar. Given they're made out of plastic at times, it's a good thing to check them for mold or something else that could disrupt how they're installed.
Other than that, they're nothing more than plug and play.
When it comes to stud-mounted bars, the whole process is a little more difficult. You will likely need to drill into the wall, or tiles, and use adequate screws to install the bar. Some drills may not work with all tiles, and some tiles could be too hard for some basic style drills.
Always ensure that you're using the right equipment and screws to ensure that the bar is installed correctly. Most of such grab bars come with a manual and instructions that will make the installation easier. If it's a more popular brand, chances are, someone already tested them online and posted a video on YouTube that you can watch and see for yourself.
Lastly, if you feel like you're not able to utilize most of its installation, ask someone to do it for you. It won't cost much, while health is priceless. Poorly installed bars can lead to even more severe injuries than not having one, so make sure to be careful and cautious.
Do: Ask for help when installing, so you don't injure yourself.

Avoid: Taking the risk of using hardware and tools that could cause you an injury if you're inexperienced with bar installation.
Grip Style
Bathroom grab bars come in two main grab styles – there is a straight bar and wavy bar that have various other ergonomic options that may be easier to use.
Straight bars are basic and pretty self-explanatory. It's placed in a straight position and you can rotate it according to your wishes.
The wavy bar comes in different shapes that add the twist to the design, while also adding more aesthetic to your bathroom. Some may find them more ergonomic, while for some, a straight bar will suffice all their needs.
Type
Besides the ordinary straight or wavy bar that you can commonly see in the bathroom, there are other grab bars that you might want to consider:
The soap holder grab bar will make it particularly easier for you to reach out for the shampoo, soap, shower gel, and other necessities such as toilet paper and even toothbrushes.
Flip-Up bars are super helpful for toilets because they help you sit down and stand up with ease. They have an ergonomic shape and allow you to move them along according to your needs.
Angled grab bars are helpful for people who have difficulties moving in small spaces.
Corner grab bars attach to two walls which makes showering and sitting in a bath much easier.
Floor to ceiling bars is ideal for people who want to change multiple positions while showering.
Do: Choose the bar style that will make you benefit from it the most, especially if you have a certain condition that will limit your movement in some sense.

Avoid: Don't get a bar that is not compatible with the design of your bathroom, tub or shower.
Shower Size
Shower grab bars are usually available in different lengths such as 12, 16, 24, and 30 inches. When choosing your grab bar, make sure to measure your shower cabin or bathtub wall and see if you can accommodate one shower bar to help you maintain and balance yourself.
Do: If the bar is too large for your shower cabin, mount it vertically or horizontally to save the space.

Avoid: Don't take too large bars before measuring the space in your bathroom.
Is It Anti-Slippery?
As we mentioned before, grab bars for the bathroom are made out of aluminum or stainless steel, plastic, and many other materials. However, in a bathroom which is a moist area in the house, objects made of metal can do more harm than good because they're slippery.
To prevent that, you should aim for bars that come with coatings or completely waterproof. Stainless steel is the least slippery option to consider, but you can also go with mild steel covered in nylon, as well as epoxy-coated aluminum that will ensure that you won't slip and injure yourself.
Alternative materials also include ABS plastic or vinyl-coated plastic and metal.
Do: Use textured or coated options if you're worried about slipping in the bathroom or not having reflexes fast enough to stop yourself from falling.

Avoid: Getting an option that will compromise your safety and make you slip.
Editor's notes: Keep in mind that if you're limited in moving seamlessly, having a bathroom grab bar, even if sturdy and durable, is not enough. To additionally protect yourself, use waterproof bathroom floor mats that have good traction and won't let you slip and get injured.
You can also add stickers to the floor and walls, or even put mads inside the shower cabin. Your shower may become uncomfortable, but at least it'll add more safety.
Also Read:
Best Bathroom Grab Bars For Elderly
Now that we looked at all the factors that decide whether your bathroom grab is good for your bathroom, let's take a look at the best bathroom grab bar reviews on the market and find the perfect and most secure bar for you or you're senior loved one.
Best Overall: Moen LR2356DCH Home Care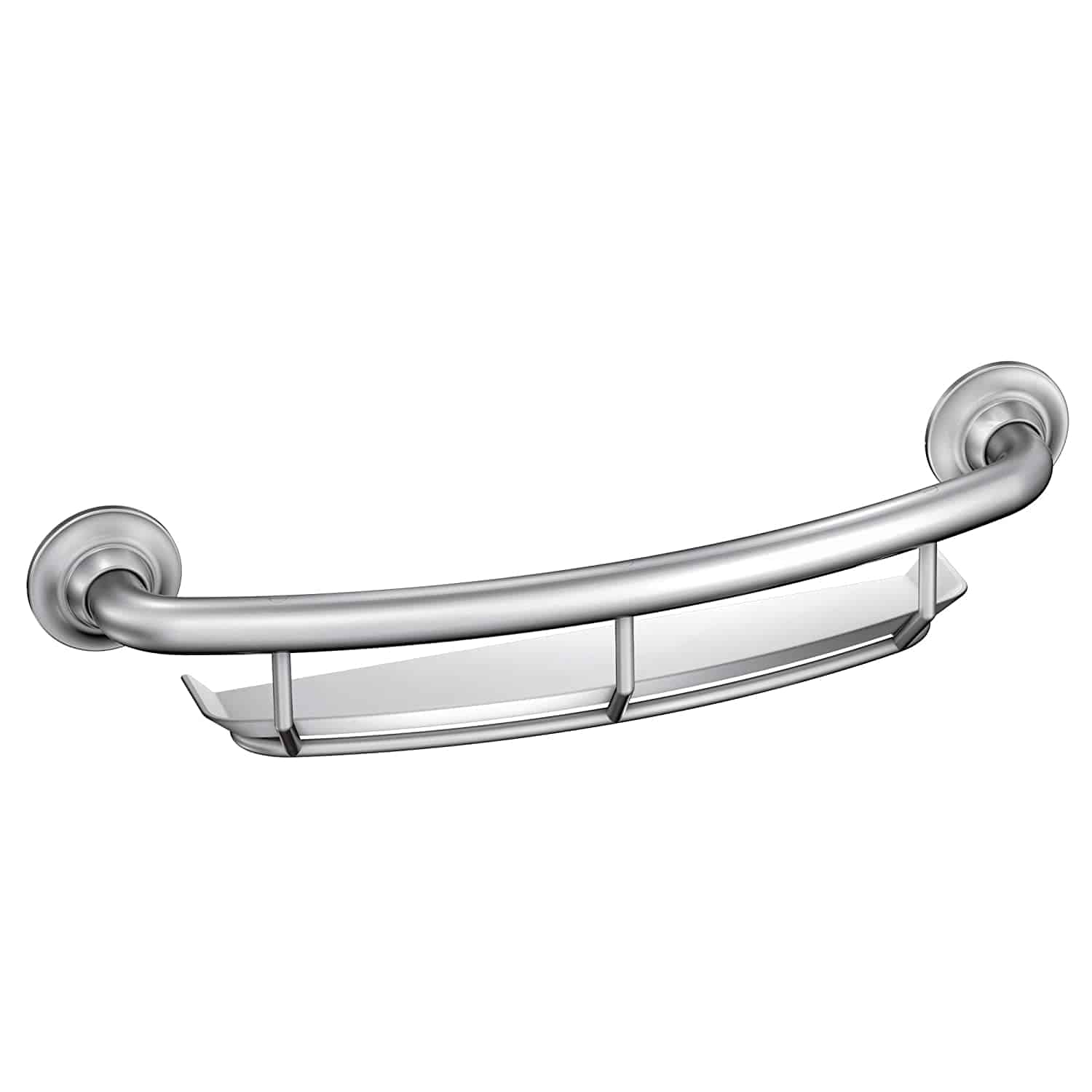 Mount Style: Stud-mounted
Length: 16-inch
Material: Steel with chrome finish
Weight capacity: 250 lbs
Nowadays, it's not easy to find a bathroom grab bar that will give you all – security, stability, durability, style, and be practical in the process. This 16-inch bar is ideal for helping you enter the bathtub or even the shower cabin. Moreover, it's built with mini bars that allow you to conveniently store soap, shower gel, or shampoo while you're taking a shower.
It is made out of durable stainless steel with a chrome finish that will add to its style, but also sturdiness and durability. As you may know, stainless steel is resistant to corrosion and will make sure that you're enjoying its performance.
It is equipped with a popular SecureMount design, which means that it's surprisingly easy to install compared to other grab bars on the market. You can install it at any angle, as long as you keep it horizontally, to make sure that you can use the best of the storage rack for yourself.
Editor's notes: Even though it uses the secure mount option, it may be a little difficult to install, which is why you should get someone to do it for you if you find it too difficult.
Runner Up: Delta Faucet 41624-SS

Mount Style: Stud-mounted
Length: 24-inch
Material: Stainless metal
Weight capacity: 500 lbs
People who have large bathrooms, as well as large bathtubs face a lot of difficulties when it comes to picking the right bathroom grab bar. However, this 24-inch option will make it super convenient for you to enter and exit the showers, and bathtubs because it's sturdy, durable, and stable.
It comes with multiple finishes like bronze, stainless, chrome, and others to add more style and luxurious touch to your bathroom walls. Although it doesn't come with a sack for you to place your shampoos, it's still stylish enough to accompany your towels and give you more space in the bathroom.
According to the manufacturers, once it's installed, it can provide a lot of support and add support to up to 500 pounds, which is ideal for heavier, older people who are struggling with entering and exiting the bathtub, due to joints and other factors that affect their mobility.
It uses the concealed mounting style, and it also includes the hardware you need to install it properly, along with the manual.
Editor's notes: The hardware that comes with the Delta Faucet is not as durable and reliable, so you'll probably need to find something of your own unless you can make do. Also, it's difficult to fit it in the smaller shower cabins.
Best Budget: Vive Metal Grab Bar
Mount Style: Stud-mounted
Length: 12-inch
Material: Stainless steel
Weight capacity: 500 lbs
The older, handicapped, or disabled should not suffer because of the high bathroom grab bar prices and lesser qualities. It's good to know that a good quality grab doesn't have to cost extremely expensive and break your bank in the process. Vive Metal grab bar is secure, reliable, and is made so that it can improve the overall safety in your bathroom.
Vive Metal bar is versatile so that you can place it horizontally, vertically, and even diagonally to suit your needs in the bathroom, and of course wherever you want to position it. It has several easy installation options because of the hardware that it includes. It's also available in multiple options when it comes to finish so you can style accordingly to your bathroom.
Don't worry about the installation process damaging your tile walls. The hardware is designed so that it can safely mount the bar without damaging anything surrounding it at all. The stainless steel is stable, durable, doesn't corrode, and can take a high weight limit which makes it suitable for both lighter and heavier uses.
Editor's notes: Sometimes it's slippery to use so either add some coating or install something additional like mats on the bathroom floors.
Best Flip-Up: Moen R8960FD 30-Inch Flip-Up Screw-In Bathroom Grab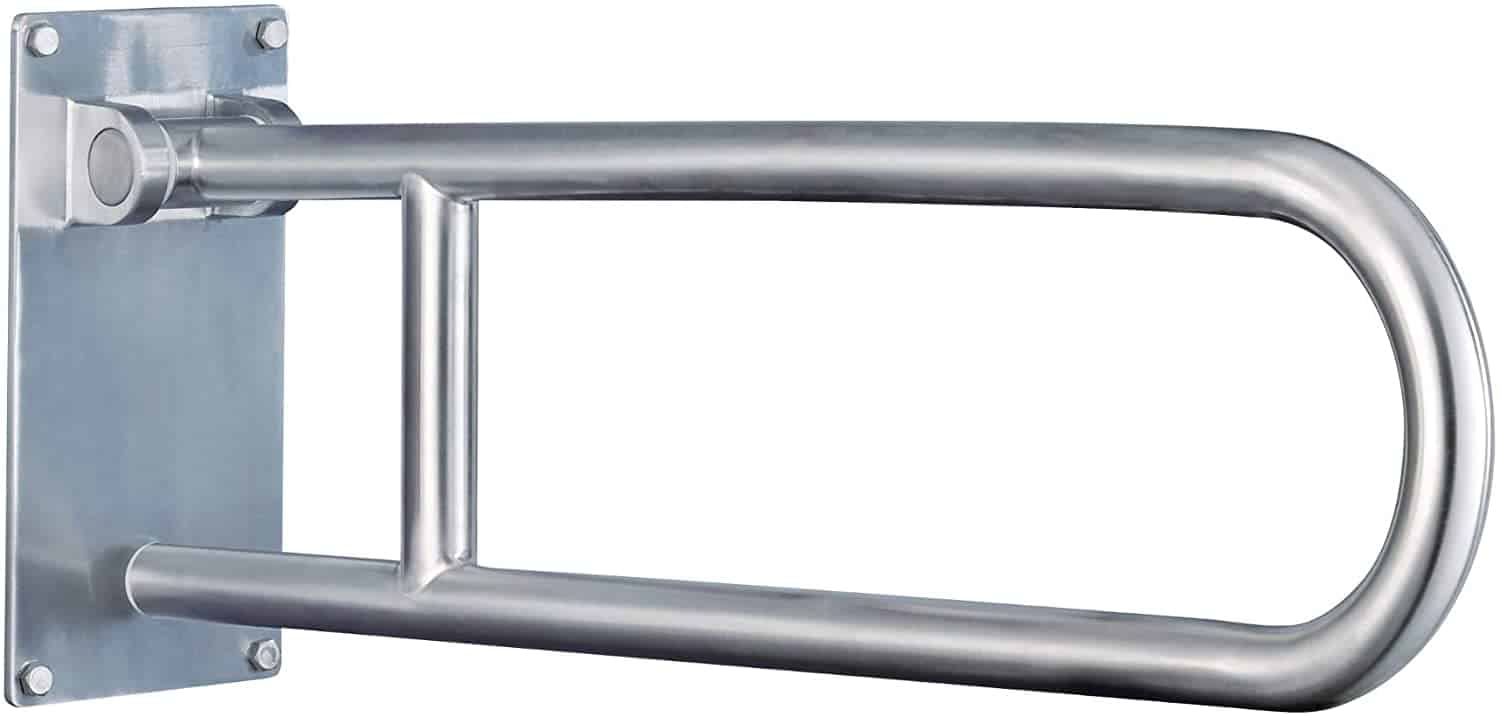 Mount Style: Stud-mounted
Length: 30-inch
Material: Stainless steel
Weight capacity: 300 lbs
Flip-up and flip-down bathroom grab bars can most commonly be found in the handicapped bathrooms and toilets, where they're used to assist the elderly and disabled in getting on and off the toilet. Nevertheless, they come in handy when it comes to showers and baths too because of their bars and versatile construction.
Moen's model is made out of stainless steel. It's textured, so it ensures the anti-slip technology that will ensure safety in your bathroom. The polished mirror-like look will also add additional style and luxury to your bathroom if the decoration is something that you care about.
It has a supportive design, whether you completely rely on it to aid you through the bathroom, or just use it for support, it can support up to 300 lbs. That means that even if you're heavier, you can safely rely on it, without worrying if it'll break.
It is 30-inches long and comes with a 1.25-inch diameter which makes it a good option for larger showers, and larger bathrooms in particular.
If you're looking at this bathroom grab bar for a particular reason, where the user is disabled, you'll be thrilled to know that this model is ADA compliant – meaning it's compatible with the specifications and standards intended for Americans with Disabilities Act (ADA.) Additionally, it comes with a lifetime warranty, meaning that the company is confident in its construction to last a long time.
Editor's notes: Even though it comes with a completely textured design, it's still advisable to install bath mats to ensure the max safety in the bathroom.
Best Suction Bathroom Grab Bar: Changing Lifestyles Safe-er-Grip

Mount Style: Suction-mounted
Length: 16-inch
Material: Plastic
Weight capacity: 200 lbs
Who says that the seniors don't travel? They can move and travel a lot and have their own suction-mounted bathroom grab bar that will make them feel safe and secure while taking a shower or visiting the bathroom.
If you're looking for a suction-mounted bar for safety, then we'll allow ourselves to recommend the Safe-er-Grip with impeccable construction and features that will help you feel at top form in the bathroom.
It'll serve you greatly and reliably, as long as you can attach it to a smooth and flat surface that is also non-porous. It's best if you apply them to the 4×4 tiles. It'll look great in any bathroom, and provide support to visit the toilet, bathtub, and showers.
Even though the weight limit is 200 lbs, this device can still support you even if you weigh more, of course, as long as you can position it properly. Bathrooms are usually moist areas, but if you can find a non-porous area, it'll serve you perfectly.
Editor's notes: Even though it says that it's durable and reliable, you should not apply your entire weight to it. This can prove problematic for people who are handicapped and need something to rely on in entirety
We Also Reviewed
If you're interested in seeing some more options, make sure to drop by below.
Keeney GB2023-24BN Wave Grab Bar
Mount Style: Stud-mounted
Length: 24-inch
Material: Stainless steel
Weight capacity: NA
Some grab bars for the elderly allow you to add a stylish finish to your bathroom, without seeming that you're using the bar for personal needs. This option is completely safe and secure, as well as reliable, and it'll look nice in your bathroom. That's because besides the stylish design it also comes in different finish colors that will improve how your bathroom looks like.
Besides the 24-inch option, you can also shop for the 16-inch design, as well as the 36-inch design suitable for larger bathrooms. It's also important to note that this design is suitable for ADA (Americans with Disabilities Act) because of its clever and sturdy design.
Besides that, you can also install it vertically, horizontally, and diagonally to meet the demands that you have.
Editor's notes: We also have to note that this design is incredibly difficult to install and it doesn't come with additional hardware that will make the installation easier. Nevertheless, multiple manuals should make the process much easier.
HealthSmart Grab Bar

Mount Style: Stud-mounted
Length: 16-inch
Material: Stainless steel
Weight capacity: NA
This 16-inch option is perfect for someone who is looking for a vertical bar to assist them when going to the toilet or into the bathroom. It has a 1-bar diameter which gives a tight and comfortable grip. It is covered in a stainless steel finish that adds to the style and trendy look of your bathroom while making up for a safe and reliable environment.
It also extends about 3.5-inches away from the wall so you can hang a towel or something else when you're not using it to propel yourself into the bathtub, granted that you're placing it horizontally.
What's another great thing about the product is that it comes with a limited lifetime warranty. The manufacturers are secure in its durability is ensure and that it'll stably provide the support you need in the bathroom. In addition to that, there are mounting screws, gaskets, and other hardware provided necessary for the proper installation of the grab bar.
Editor's notes: Something that we don't feel comfortable knowing the weight limit of this product. We know that it's sturdy and durable and that it also comes with a lifetime warranty, but there's no weight limit on the label.
FLG Bathroom Shower Bath Grab Bar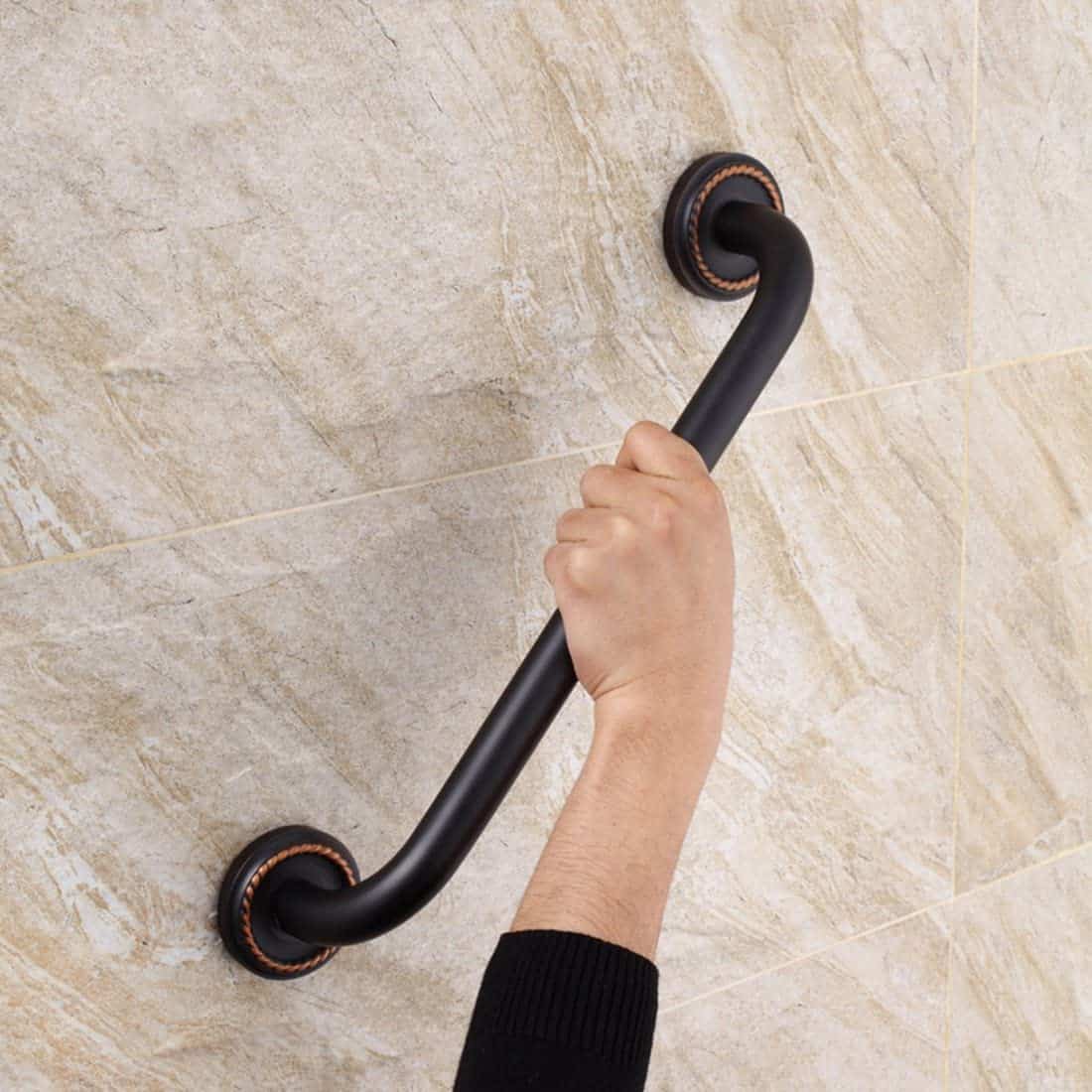 Mount Style: Stud-mounted
Length: 19.5-inch
Material: Brass
Weight capacity: 300 lbs
A black bathroom grab bar may not be the most attractive option to everyone, but you'd be surprised to know how sturdy, reliable and durable this option is. It's one of those heavy-duty grab bars made with a reliable black oiled bronze finish to ensure the best quality.
Despite its unusual style, we believe it'd be a welcome addition to a bathroom with a different color distribution. What's for sure is that it's durable and sturdy and will bring assistance in baths, showers, and toilets to people with disabilities, handicaps, as well as older people with damaged knees and other joints.
It uses a brass construction to ensure that it's completely safe for your bathroom trips and can take your entire weight. The company also takes pride in having great customer service so they'll be happy to answer any questions that you may have while looking to purchase this option.
Editor's notes: What we didn't like about this option is that it doesn't come with a texture that will completely prevent slipping and falling. Our advice is to pick a bathroom mat or sticker if you want to go on with this option.