As our body grows older, it loses its flexibility and balance. Lack of balance is a huge issue when walking over a floor that is potentially slippery, such as your bathroom's floor after you've taken a bath or a shower. Wet surfaces are risky for older people, whose balance and coordination are reduced.
That's where non-slip shower mats come into play. You can walk on them and they'll give you a much easier grip compared to a naked floor. You can get out of the shower or bath without risking falling. Safety is important for the elder, because falling when your body is weak puts you at greater risk of injury compared to a young and healthy individual.
In this article, I am going to list the best non-slip shower mat for the elderly, and give you a list of reason that makes them so good. Don't get fooled: even if they are targeted specifically towards the elderly, they are a great addition for any home. Just because you are young it doesn't mean you are immune to falls. A moment of carelessness can make you slip just as easily.
Whether you are trying to make your bathroom safer for you or for a loved one, you will find the perfect product for you. Keep reading the article.
The 3 Best Non-slip Shower Mats for the Elderly: Quick Summary
1) Best Overall—SlipX Solutions Large Square Mat: great price, versatility, and it works exactly as advertised. You couldn't ask for more when it comes to shower mats.

2) Best Comfort—Luxor Linens Memory Foam Mat: walking on this mat is a joy. That's all you need to know.

3) Best Sustainability—HANKEY C02 Bamboo Mat: great if you want to help the environment by avoiding plastic products.
What Factors to Consider when Shopping for a Non-slip Shower Mat
What should you consider before purchasing a shower mat? It might seem that just about any mat will work fine, after all it's a relatively simple product, right?
Not really.
There are many different mats on the market, but only some of them have the right specifics that make them worth buying.
Let's see them.
Does the Mat have a Tight Grip on the Ground?
Since you are buying the mat specifically to not slip on your bathroom's wet floor, the first thing to do is making sure you are actually buying a mat that will not move at all, even with all the water and soap around.
This is why you can't just use any random towel as a shower mat: they don't make it any easier for the elderly to keep their balance on them, as they can be as slippery as the floor itself.
Some mats use suction cups, other use specific materials that don't slip that easily even when surrounded by water and soap. All mats on this list fulfill this requirement.
Does the Mat Fit my Floor?
Not all mats are created equal. For example, some mats can't go on textured or tiled surfaces because of how they're designed.
Always make sure the mat can function properly with your bathroom setup. Buying one that doesn't work with your floor is pointless.
In fact, it's even riskier than not having one at all.
Is the Mat Comfortable?
We all have our own preferences when it comes to comfort. Some people don't care at all and just want something that prevents them from falling, while others may be looking for something a little softer.
I'll also slip in a stealth suggestion in here: get one that looks good in your bathroom. The material it's made of affects how it looks, which is why I put this suggestion in this point. Some bathrooms look better with certain types of mats, so assess which one would best fit your environment.
Is the Mat Protected against Mold?
Where there's water, there's mold. And where there's mold, there are health risks. Doubly so for the elder. Mold is associated with respiratory issues, and some people are allergic to it. Since mold is a fungus, staying in close contact with it increases risks of getting a fungal infection on your feet.
What's worse is that mold grows right inside the mat, making it basically impossible to clean. Always dry up your mat after use, to prevent mold from forming.
Is the Mat of the Right Size for my Bath/Shower?
Every bathroom is different, and picking one that fits your bath/shower is important. It must be big enough to let you comfortably move around without any risk of slipping.
However, this point isn't necessarily as important as others, since you can easily buy more of the smaller mats, even though the costs will start ramping up.
Mats also come in many different shapes, because some bathrooms have more of a tight and long form, while others offer more space to move around.
How Should I Wash my Mat?
Before purchasing your mat, make sure you can wash it easily. Some mats can be washed with a washing machine, while others require to be hand washed. The product's page should always specify how you can wash the mat.
Naturally, you can still hand wash mats that can be put in a washing machine, so the issue is mostly with mats that can only be hand washed. It depends on your situation, so I can't comment on which type is best for you.
The Best Non-Slip Shower Mats for the Elderly: Detailed Reviews
Since I recommended to get both an internal and an external mat for your home, I included both types in this list. I made it easy to see which ones are internal and which ones are external, so you can purchase the perfect one for you.
There are a million different shower mats available on the market, so making this list was harder than I envisioned. I weighted all factors I talked about in the previous section, and I used them to prepare a list that is all exhaustive as possible.
You'll find mats that suit anyone on this list. Whether you need a mat for a bath, a shower, or for your bathroom's floor, you'll find what you need. If you see a mat that piques your interest, read its description carefully though, as I give specific information about where it can be placed, and in what cases it doesn't work. Safety is crucial when you purchase a non-slip mat for the elderly.
1. SlipX Solutions Large Square Mat
Size: 27" x 27"
Type: internal
Material: plastic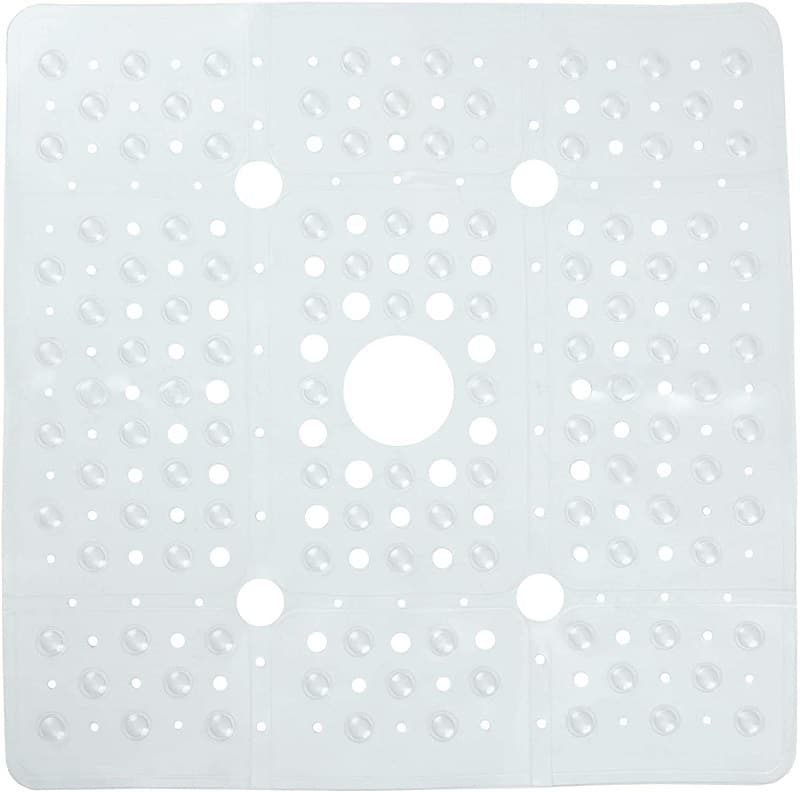 For a square mat, this product is quite large, which is very welcome when it comes to shower mats. The drainage system is very smartly designed, and you won't have any issue of water overflowing.
The anti-slippery of the mat is guaranteed by the over 100 suction cups on the back side of the mat, and it's also quite pleasant to walk on.
Another thing we loved about the SlipX Soltuions mat is how easy it is to fold and let dry. The holes that help with the drainage also make drying the product a breeze. Plus, it's machine washable, and it comes in many colors!
This mat is the definition of an excellent product. Get one already if you want to secure your shower against slipperiness.
Warning: do NOT purchase this if you have a textured or uneven surface. The product won't guarantee your safety if not placed on a smoot surface.
2. FRMMY Non-Slip Floor Mat: Excellent Mat that is Easy to Maintain
Size: 25" x 16"
Type: internal
Material: plastic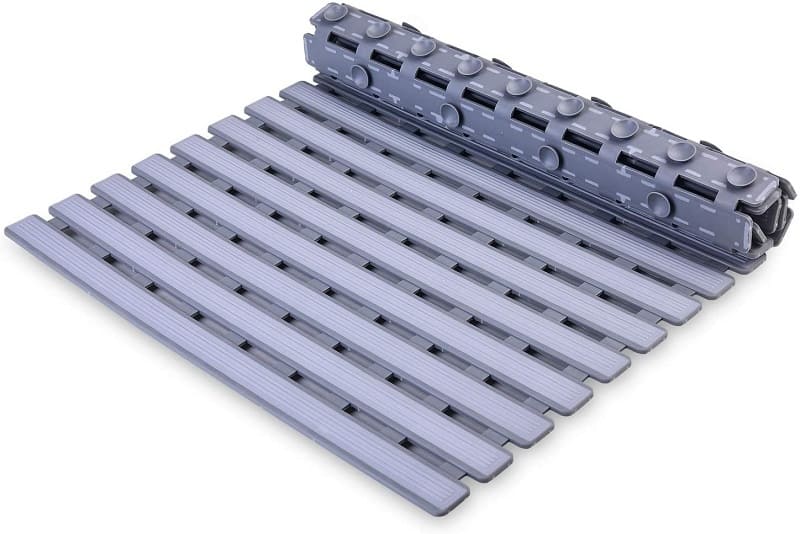 The FRMMY non-slip floor mat is a wonderful product. It's very sturdy, it has a tight grip on the floor thanks to the 122 suction cup found on its back, and it's easily foldable.
Being foldable is what separates this mat from most others. It's so much easier to dry up thanks to this feature. Regular shower mats take a lot more time and effort to dry, because you need to let one side dry then turn them upside down to let the other side dry.
This doesn't happen with the FRMMY Non-Slip Floor Mat, since you can fold it up and place it on the side to let both sides easily dry at once.
The way it's constructed and the foldability comes with the price of having to hand wash it, which might be a deal breaker for some people.
3. OTHWAY Non-Slip Bathtub Mat: Excellent Solution for Bathtubs and Floors
Size: 31.5" x 15.7"
Type: internal & external
Material: natural rubber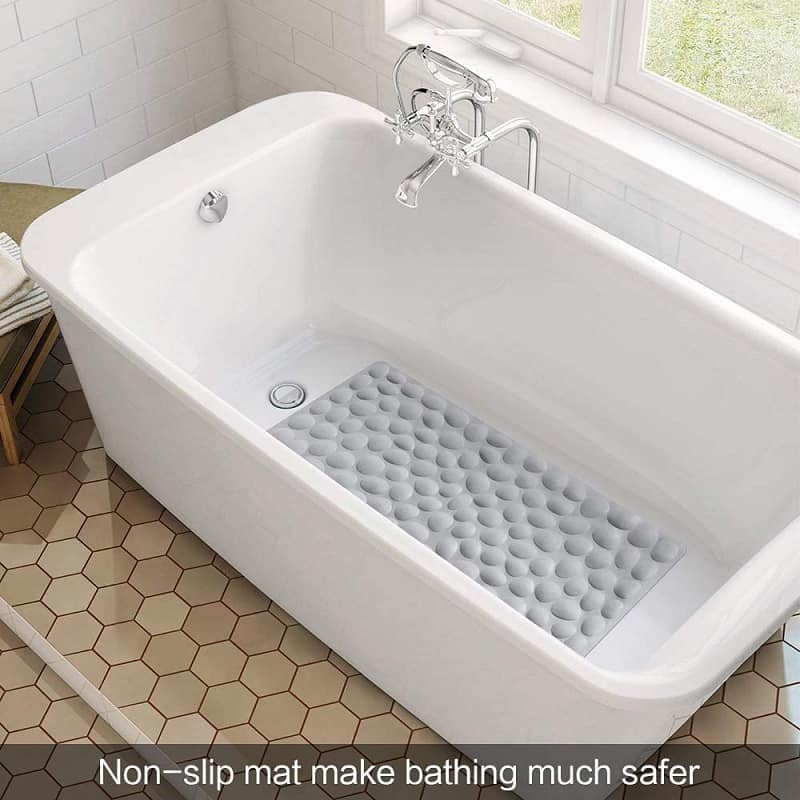 The OTHWAY Non-Slip Bathtub Mat is a great purchase if you're looking for a way to turn your bathtub less slippery.
It has an elongated form and a design that makes it work fine both as an internal and external mat. The cobblestones on its surface offer a pleasant foot massage, and the suction cups offer a tight grip, they won't slip or lift easily. The surface's texture gives additional safety against slipping.
Another thing we love about this product is how versatile it is. Thanks to the design and colors, you can use it both for internal and external use, and it won't look out of place.
It's also very easy to dry up, since you can hang it up like you'd hang up your clothes. Let it air dry after each use, and you'll prevent mold from forming inside the mat.
Due to its size and form, it won't fit into a shower. Since that is this product's main weakness, I think we found a winner. The company doesn't specify whether you can wash it in a washing machine or you must hand wash it.
Overall, the OTHWAY Non-Slip Bathtub Mat is an excellent purchase for the elderly.
4. Luxor Linens Memory Foam Bath Mat: Lovely and Stylish way of Making your Bathroom's Floor Safe
Size: 25" x 17"
Type: external
Material: memory foam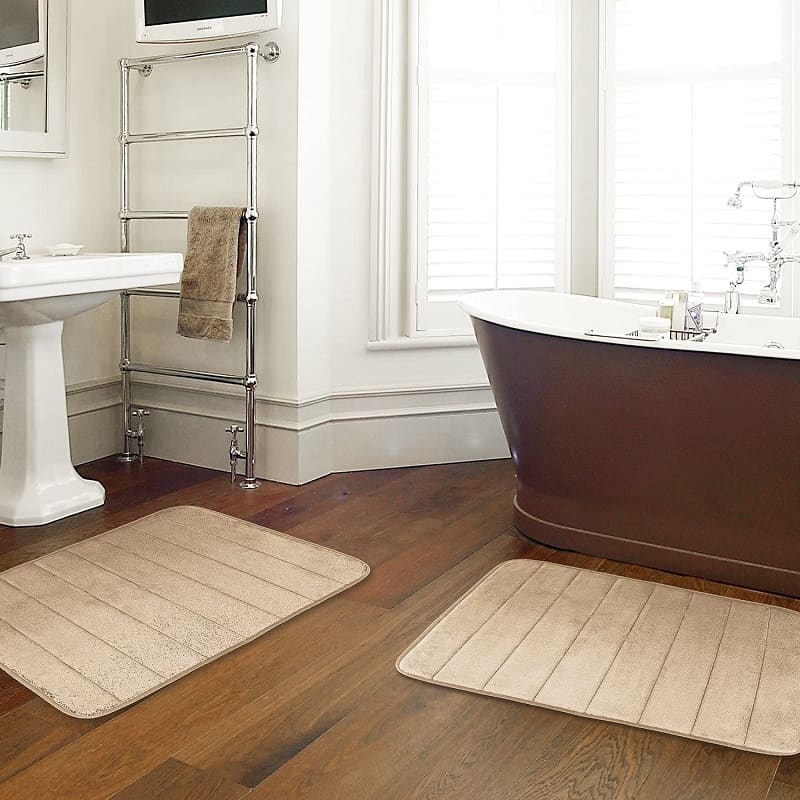 The Luxor Linens is the first external mat on this list. It's an excellent mat to place outside your bath/shower, as it both prevents slipping thanks to its backside, and is also fluffy on the feet.
The rubber on the back guarantees it won't slip away while you walk on it, and the memory foam on the front offers both a comfortable surface to place your feet on, as well as good moisture absorption.
It comes in many different colors and is pretty. It will look fine in most bathrooms. Plus, it can be machine-washed, so it's very easy to keep clean. As always, don't forget to dry it up after use. Moisture is fertile grounds for mold.
5. Gorilla Grip Original Patented Mat: A Tight Grip for Maximum Safety
Size: 35″ x 16″
Type: internal & external
Material: plastic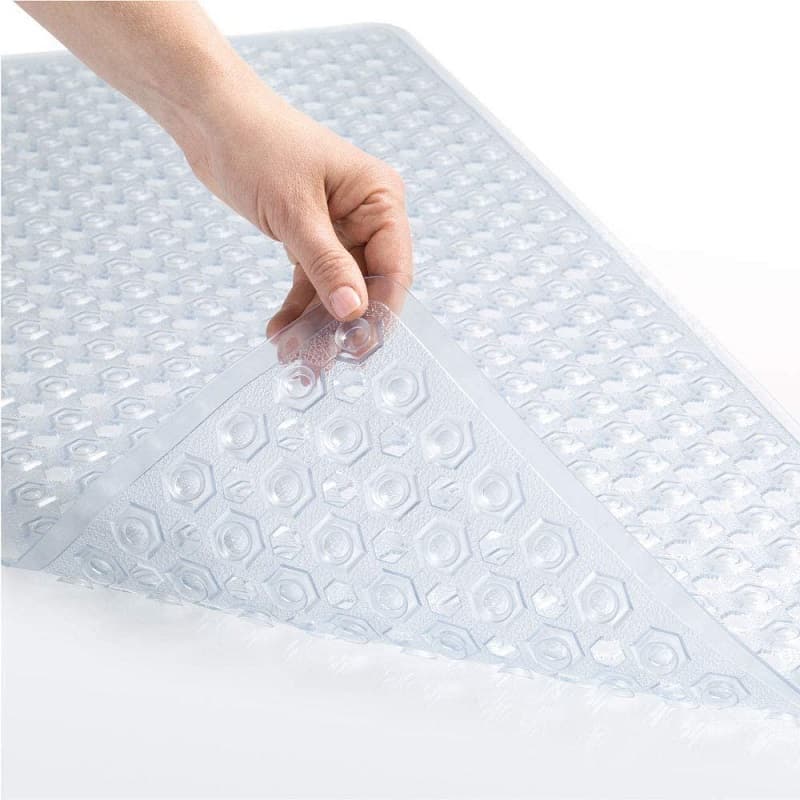 This is the ultimate mat for people who care about their mat having a tight grip above everything else. With its 300 suction cups, you can move freely on it and be sure it won't move at all.
Gorilla Grip comes in 23 different colors. It's drainage holes make it easy to wash and dry. It's also machine-washable. What's there not to love?
The only thing I'm not a fan of is using it as an external mat. Not because it doesn't work, but because doesn't look that good compared to memory foam mats. Still, that's such a minor detail that most people won't care about it.
This mat is an excellent purchase for just about everyone. It's safe, affordable, and reliable.
6. Yimobra Memory Foam Mat: Large and Comfortable Mat
Size: 31.5" x 19.8"
Type: external
Material: memory foam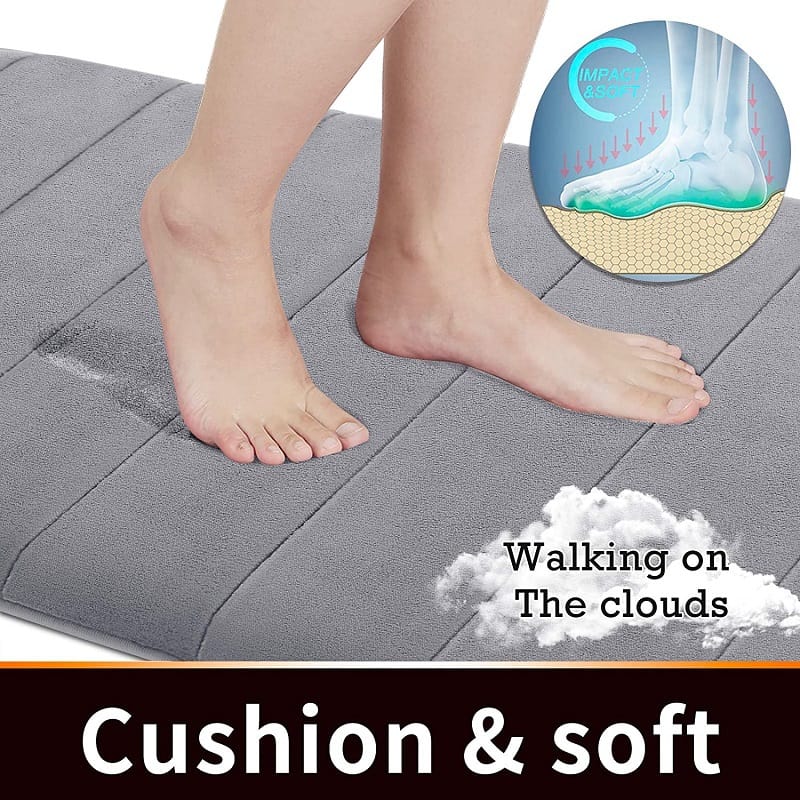 This Yimobra memory foam mat is a solid purchase if you're looking for an affordable and comfortable external mat.
It is very thick and absorbs water quickly, two characteristics that denote high-quality. It's also big and it can be machine washed. Walking on it is a pleasure, and thanks to its shape it will easily fit in most bathrooms, covering a sizable area.
The product's biggest weakness is how long it takes to dry up, but that's to be expected with a mat that is so thick.
If you are an elder who is scared of slipping after getting out of the shower, this mat can be a literal lifesaver for you.
7. HANKEY C02 Bamboo Mat: A Nice Touch for your Bathroom
Size: 23.6" x 16"
Type: internal & external (don't use it in a bath tub)
Material: bamboo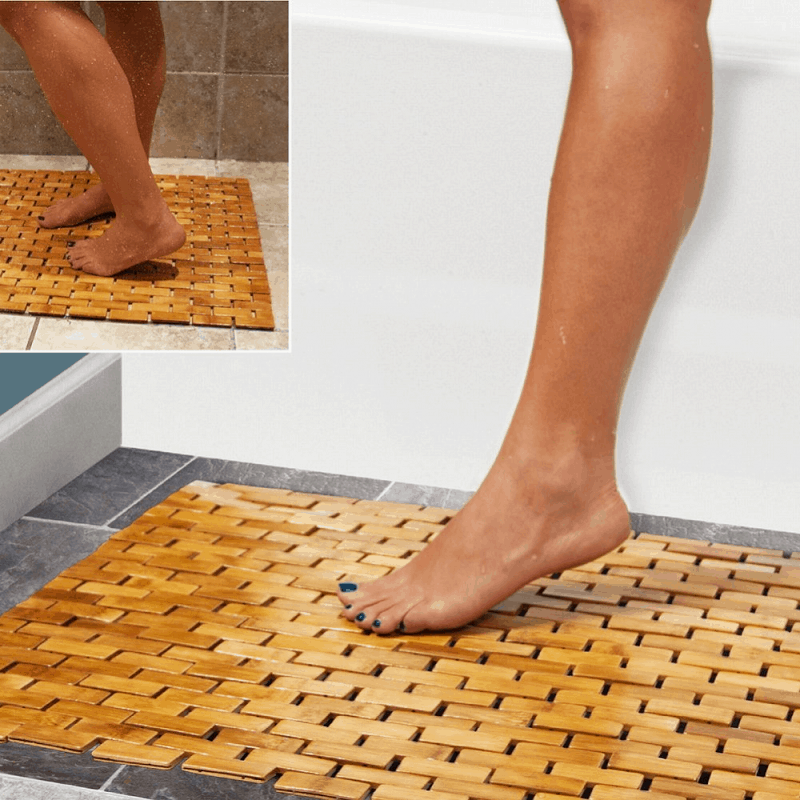 Bamboo is a great material: it is sustainable and ecologic while being very sturdy. If you're looking for something that looks a little more stylish than the typical rubber or plastic mats, the HANKEY C02 is a great choice. Plus, it's foldable, meaning that you can easily store it away.
Unfortunately, it's not as versatile as other mats on this list, since it can't be used in a bath tub. Be very careful about this.
This mat looks gorgeous, and it can be a very stylish way of solving the slippery issue in your bathroom.
I recommend getting this if it particularly suits your bathroom's style, and if you care about the environment. Plus, it's way healthier than plastic will ever be.
8. iDesign Pebblz Mat: Stylish and Useful
Size: 22" x 22"
Type: internal
Material: vinyl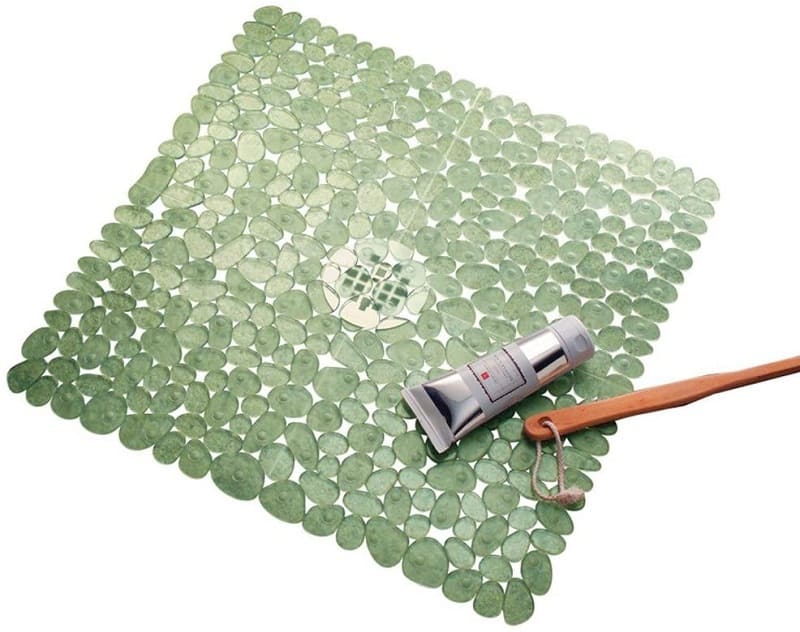 The iDesign Pebblz Mat is great if you're looking for a mat that fits into every shower and is more high-end than what I've suggested you so far on this list.
The suction cups on the back side of the mat guarantee it won't slip away while you stand on it, and the design gives water ample room to drip down and go into the drain. It's a bit on the small size, but not everyone needs a large mat, and we were lacking a tiny mat on this list. You can easily purchase 2 or 3 of the same mat, if you really need to cover more space.
What made me place this mat so low on this list is the smell issues. Vinyl is a bit of a hazard when it comes to smell, and multiple people report the product smelling horribly. To avoid this issue, it's best to leave a new mat outside for a couple of days before first use.
We didn't have the issue ourselves, but since it seems to be a somewhat common complaint, we are warning you.
Still, the product is of very high quality. It's a bit more expensive than other mats on the list, but it's absolutely worth it.
Should I Buy an Internal or an External Mat?
You should get both: an internal one inside the shower/bath, and an external one for when you're finished cleaning yourself.
You are probably wondering why even make such a distinction: generally, external mats look better and are made of different materials than internal ones. You can obviously still use two internal mats if you don't care, but you'll achieve better looks by using an internal and an external mat.
The inside of your shower isn't as slippery as the floor outside usually, but still, you have water and soap running around, so it's hard for example to clean your legs and feet without losing balance. Most bathrooms have a tiled floor, which becomes very slippery with all the water.
Plus, bathroom floors are also slightly uncomfortable to walk on even if you ignore their slipperiness, so placing an external mat will also increase your comfort.
Conclusions
All mats on this list are excellent purchases if you are looking for a non-slip shower mat for elderly people. They ensure you won't slip because of all the water and soap around your bathroom when you clean yourself.
The #1 concern when it comes to purchasing this type of product is safety, so when I compiled it, I made sure all products adhered to standards of safety, especially when it comes to their grip on the floor. It's no good buying a shower mat that risks slipping.
Remember: you should always get two mats, one to place inside your tub/shower, and one for when you come outside. The reason is that these are the most dangerous moment, when you lift your leg to get in/out of your tub/shower, since you won't be balancing yourself on both feet.
What are you waiting for? Purchase your non-slip shower mat today, and make bath time fun again!