It might seem like watches have turned more into style accessories than useful tools to tell time. Well, yes, and no. While it's true that most people rely on their smartphones to read the time, there are significant benefits to be enjoyed by carrying a regular watch around your wrist.
Not everyone wants/needs a smartphone. That is usually the case with older people who don't really care about all the bells and whistle that come with smartphones. Watches are a way simpler tool, and they get the job done just fine.
The watch industry has innovated relentlessly to meet customers' demands over time, and we have now accessed to smartwatches, which is quite the technological marvel. They can do everything a watch could and much more, like keeping your health in check. However, they are beyond what a senior needs: a device that simply tells him what time it is.
Is your sight not as good as it used to be? Are you looking for a gift for your grandpa? The watches on this list are specifically made for people with poor eyesight. Anyone could check the time and read it quickly after a quick look at them.
The 3 Best Watches for Seniors
1) Best overall—Timex Easy reader, for a very reasonable price, a stylish leather strap watch with big numbers and a backlight.

2) Best digital display—Beeasy Digital Watch, a cheap and feature-packed watch with an enormous display.

3) Best talking watch – TimeChant Atomic Talking Watch, this watch can tell you the time with the press of a button. Great for people with terrible eyesight.
What Makes a Watch Good for Seniors?
All watches on the list are easy to read for anyone, even people with poor eyesight. Naturally, that's not the only factor we considered when making the list.
And how we determined whether a watch was easy to read?
There is a very simple test to determine it. Ask someone with poor eyesight to wear the watch, and have them read the time within a couple of seconds after checking the watch. You ever notice how some people check their wrist phones, squeeze their eyes, and take their sweet time to read the time?
That's exactly what happens when it's hard for the person to read the time displayed on the watch.
Here are the criteria we used to rank the watches on this list:
Numbers Readability
If you've ever shopped for watches, you have noticed that some watch makers put a lot of effort into fancy designs for their displays. However, these weird designs go against readability.
If you read the numbers on the display (3, 6, 9, 12) you'll easily be able to tell the time. When companies replace these numbers with weird symbols, or even worse, nothing, you are forced to think about how to convert what you're seeing into the actual time.
Think how annoying it is for a senior. Get a watch that clearly displays the numbers.
Precision
While no watch is ever perfectly precise (atomic clocks are, but that's another story), there are some watches that are more precise than others. It is normal to "lose" a second or two over various months, but some watches just can't keep up.
Every watch on this list is precise. Or it will keep measuring time precisely enough for it to not matter. Losing the occasional second here and there is okay. However, some watches get minutes behind suddenly, and you wonder what went wrong.
It's already hard enough as seniors to read the time on a watch, even with those wonderful displays, having to recalibrate it often is a deal breaker.
Contrast and Lighting
Another big factor that makes numbers easy to read is contrast: having notable contrast between numbers and background color is crucial to improve readability. Nothing beats white numbers on a dark background, or black numbers on a light background. Avoid weird color combinations.
Some watches come with a backlight that makes reading them easier at night. The light eats into battery life, and might not be needed by the senior (for example, they might only use their watch during the day), so consider if it's actually needed.
Water Resistance
Virtually every watch made for the elders is water resistant, but still be careful. The reason water resistance is such an important feature of watches is that they are a little forgetful, so they might forget to remove their watches before taking a shower or a bath.
If the watch they are wearing while they clean themselves is not water resistant, they risk damaging it.
Extra Features
Since we are talking about seniors, this is one of the few cases where having little or no extra features is a strength of the product. Older people tend to not care about all the extra bells and whistles, and just want something that reliably tells them what time it is.
Therefore, we avoided watches that give you extra information such as date or temperature. These features, while neat, risk to make reading the time confusing.
Plus, a watch with fewer features has a longer-lasting battery life, and fewer buttons. Simplicity is always preferable for seniors.
The Best Easy to Read Watches for Seniors List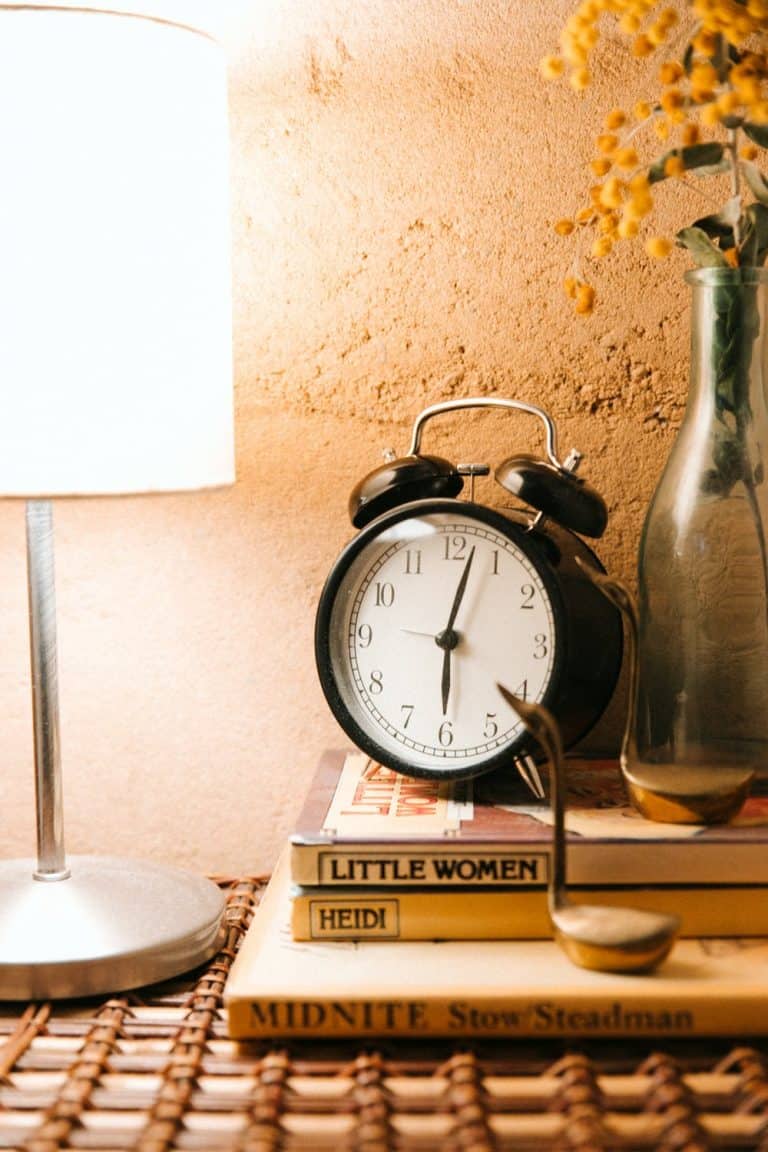 Here is the list of the best easy to read watches for seniors. When making this list, I considered all the features I talked about in the previous section, and weighted them carefully to prepare a list that is as inclusive and useful as possible.
You will find watches for anyone on this list. All products are affordable, simple to use, and have displays that are easy to read. You won't be disappointed by purchasing any of the watches on this list, although it depends on your needs and what you like.
Let's dive right into the list!
Beeasy Digital Watch: Features-Packed, yet Simple to Use Digital Watch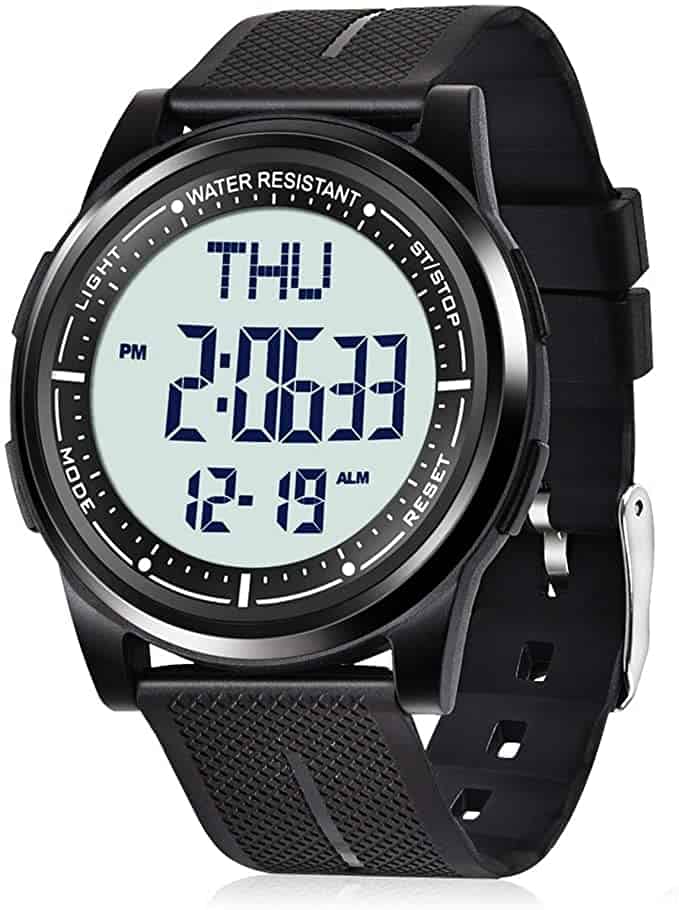 Display type: digital
Display size: 44mm
Strap type: polyurethane
Backlight: yes
Water resistant: up to 164 feet
Beeasy made an excellent product, props to them. This watch has everything a senior needs, and then some. The time is simple to read thanks to the big numbers on a digital display. The watch displays the date, and also comes with a powerful backlight, so you can read it whenever you wish.
It also comes with an alarm mode, and a stopwatch. These features aren't strictly necessary, but they are still useful and you can ignore them easily. The presence of these features doesn't make the watch harder to use, which is why it's still a great option for seniors.
Despite all of this, the watch is still super simple to set up and use. You can easily ignore the extra functions and keep it as a typical watch. It's also super thing, which is always a plus. Big watches are cumbersome and risk hitting other people or, worse, cars in small parking lots.
This product's major flaws are the big display size, and the extra features that can confuse a senior. The "sporty" look also might look bizarre on older people, but that's more a matter of personal style. The Beeasy Digital Watch is an outstanding product that most seniors will love.
Timex Easy Reader: Best Analog Watch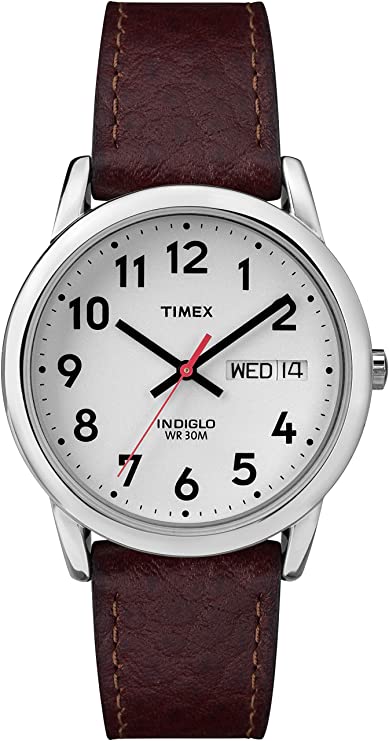 Display type: analog
Display size: 35mm
Strap type: leather
Backlight: yes
Water resistant: up to 100 feet
Timex nailed it with this watch, it's the perfect product for a senior. Pure Simplicity. No Frills. Big numbers. It even tells you the date. What's there not to love?
The watch comes with an Indiglo light you turn off by pushing the setting's crown, making it easy to read the time at night. Plus, the product is water resistant up to 100ft, so even if you are old and forget to take it off when you take a bath/shower, you won't damage it.
Perfection doesn't exist unfortunately, and choosing this watch comes with a limitation: it's only available in one color. If you don't like how this product looks, you'll have to pick a different watch.
Aside from this minor issue, this is the perfect watch for the elder: it's in the perfect size (there are watches that are too big and cumbersome to carry around), the leather strap adds a nice vintage touch, and has a backlight. It doesn't get much better than that.

Casio Easy to Read Quartz: As Simple as it Gets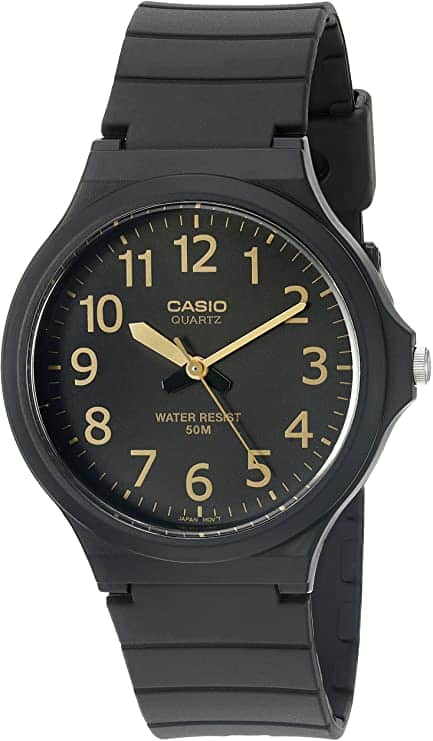 Display type: analog
Display size: 44mm
Strap type: plastic
Backlight: no
Water resistant: up to 164 feet
When Casio made this watch, they knew what they were after: the seniors who have poor eyesight and who don't want to spend hours learning the ins and outs of a fancy watch.
Mission accomplished. The Easy to Read Quartz by Casio is a watch that does what a watch is supposed to do: it tells you the time of the day. It can't get any simpler than this.
You'll be able to read the time at a quick glance thanks to the big number combined with the high contrast between the numbers and the background.
A big plus of this watch is how stylish it looks. The gold numbers look very good on the black background.
Also, if you're like my grandma, who tends to forget about her watch when she goes for a shower, you'll appreciate this product's water resistance up to 164 feet.

Armitron Sport: Big Numbers Coupled with Simplicity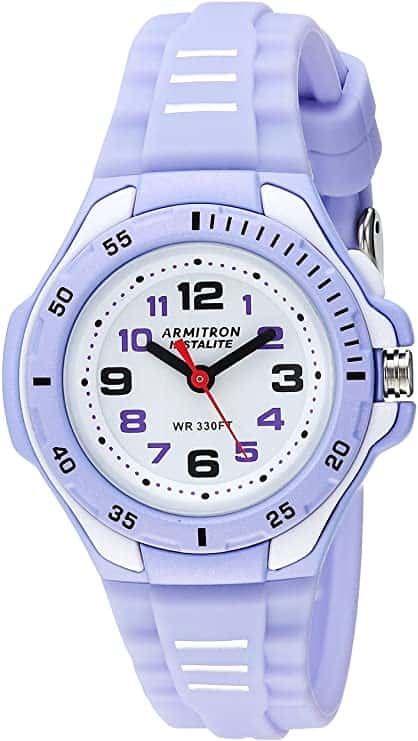 Display type: analog
Display size: 32mm
Strap type: silicon
Backlight: no
Water resistant: up to 330 feet
The Armitron Sport is a great product for seniors who have issues reading the time on typical watches. Even though it has a smaller display than most other watches, it's designed in a way that makes it easy to read the time.
The numbers on the case are big, and the watch also kindly reminds us the actual time values on the outside of the display, which is a very welcome addition for those seniors who might forget about minor things like that.
The numbers painted in two different colors add a nice stylish touch without affecting readability.
So, why is this watch so low on this list?
The main reason is the display size: 32mm is quite low, and even if the numbers painted on it are big, it can still be challenging to read the time at a glance for people with lowered eyesight.

CakCity Digital Sports Watch: Excellent Digital Display Watch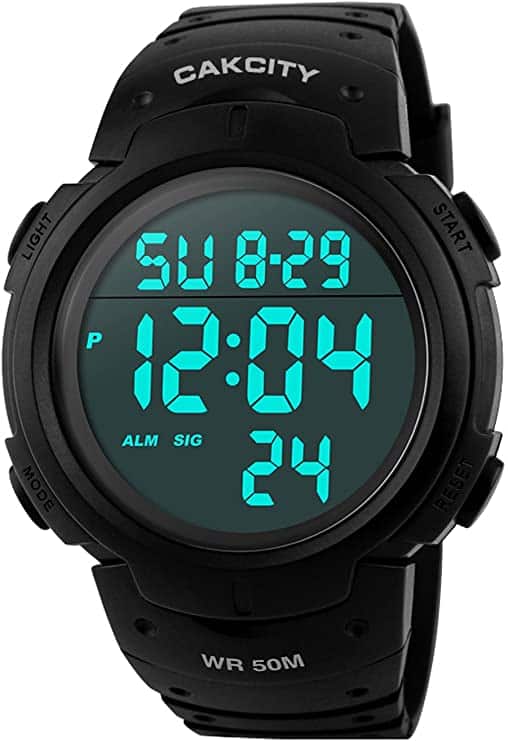 Display type: digital
Display size: 47mm
Strap type: resin
Backlight: yes
Water resistant: up to 164 feet
CakCity came up with a product that is feature-packed but still easy enough for daily use. Even if your eyesight has abandoned you, you'll find out that this watch lets you read what time it is easily.
The digital display is huge and tells you the time and date clearly. The watch also has an alarm feature.
You are probably wondering why this watch is so low on this list, since it seems to have everything someone would need in a watch.
The reason is that it's harder to use than the other watches on this list. There are 4 different buttons, and the user experience could be better. For example, you have to press the mode button 3 times to switch the format from 12h to 24h. That's a bit confusing, and could be made simpler.
Still, this watch is a great purchase for any senior looking for a watch that is easy to read.

TimeChant Atomic Talking Watch: A Watch that Tells you the Time…Literally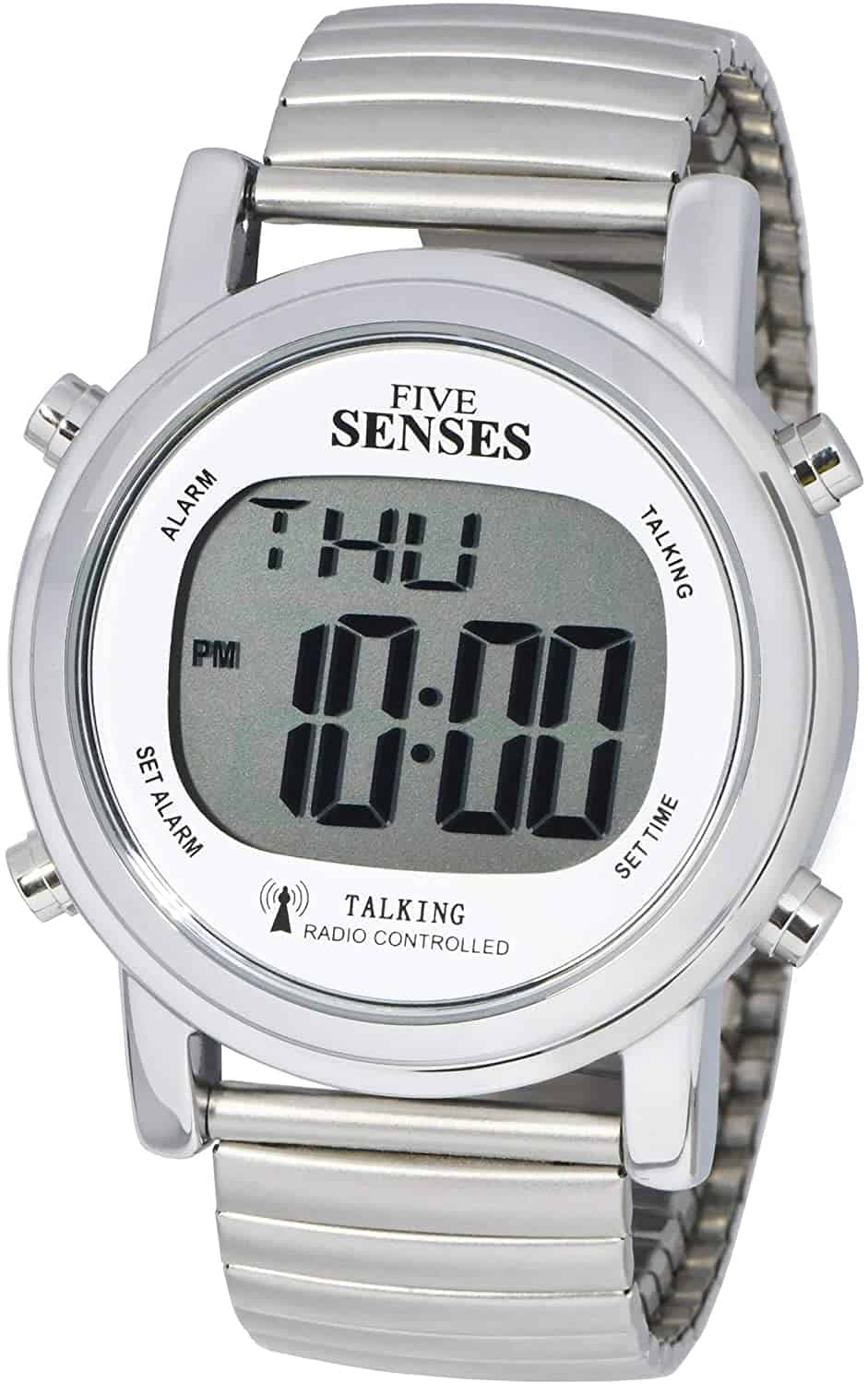 Display type: digital
Display size: 40mm
Strap type: stainless steel
Backlight: yes
Water resistant: no
Talking watches are a great purchase for those who have, unfortunately, so poor of an eyesight they can't reliably read the time on their watch. The watch will tell you what time it is with the press of a button. It doesn't get any easier than that.
The large LCD display makes reading the time very easy, and it also tells you what day of the week it is. However, having black numbers on a dark grey background doesn't offer the best readability.
Other interesting features of this watch include the possibility to set an alarm, and to put it in sleep mode to save battery life. It can also set the time itself, which is a welcome feature for seniors.
Speaking of battery, it is this product's biggest weakness. If you use the talking function a lot, the battery will deplete quickly and will need to be replaced somewhat often. That's why the watch's sleep mode is so important.
Another big issue is the lack of water resistance. If the person using it has a tendency to forget things, they will bring it with them under the shower and risk damaging it. Last, the watch is big and heavy, which might or might not be a problem, depending on the person wearing it.
Unfortunately, these issues contribute to the watch being quite low on our list of the best watches.

Armitron Digital Chronograph: Readability is the Name of the Game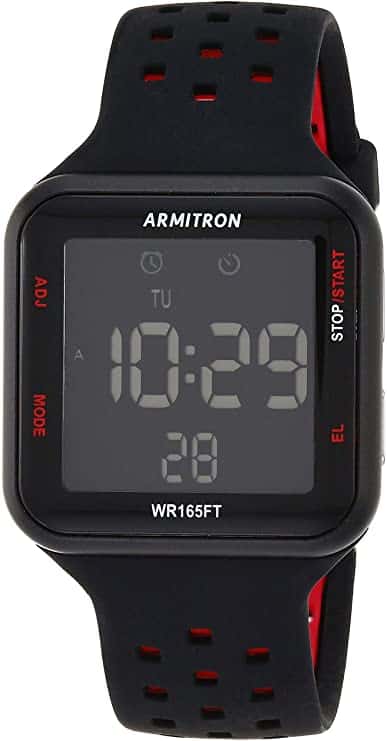 Display type: digital
Display size: 38mm
Strap type: silicone
Backlight: yes
Water resistant: up to 165ft
This is the second Armitron product on this list. The company offers a great selection of watches for everyone, and this chronograph is a product you should consider if you're looking for an easy-to-read watch for seniors.
This watch comes in many different colors, so you can easily pick the one that fits you best. The watch is barebone, which is a plus when you are shopping products for seniors. What you get with this product is a sturdy watch that can resist water, and with some pleasant features, such as a backlight, an alarm, and a chronograph.
The major factor holding this watch back is its display: numbers can be hard to read, especially in the versions with grey numbers and dark backgrounds. If they were a little brighter, this watch would be fantastic to read even in dark environments, but as it stands, the contrast is too small. But that's why back lights exist, right?
Still, you would be more than justified to purchase this watch. It's precise, has a backlight, and it's reasonably easy to use. Plus, it comes in many colors, so you can easily find one that suits your style.

Digital or Analog Watches?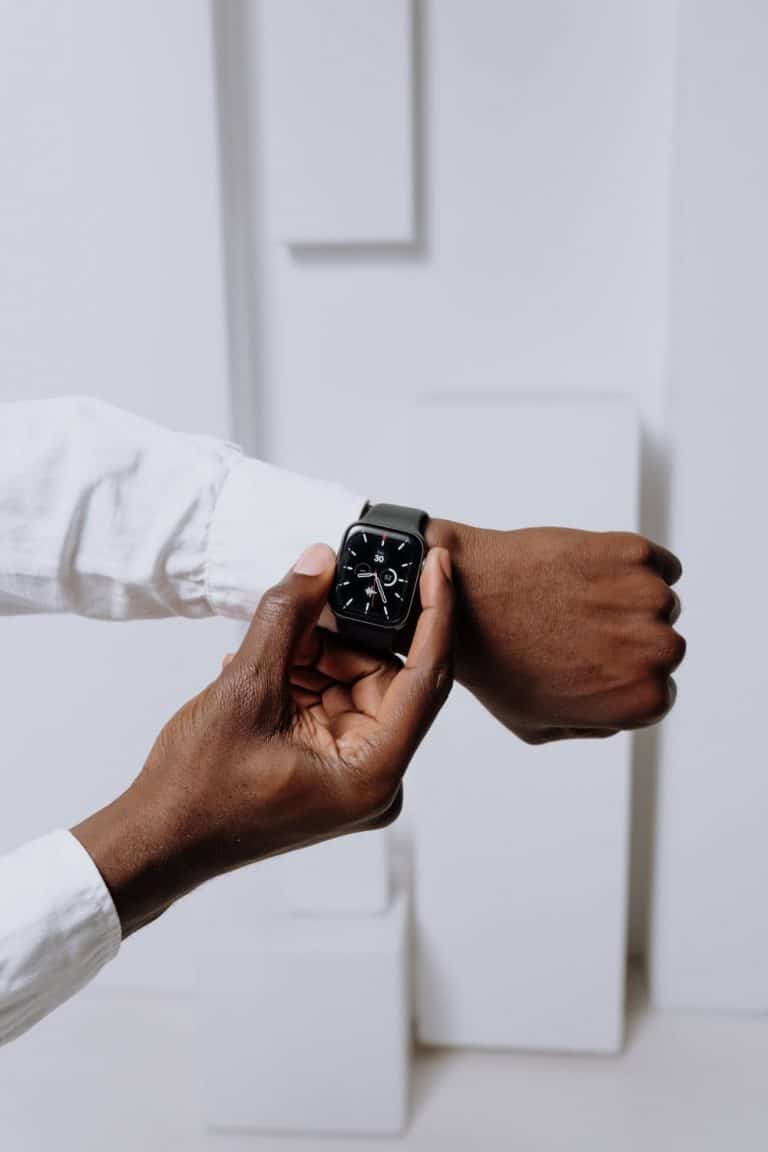 Nothing beats digital watches in readability. They show the exact time on the display. You don't have to check the display and then perform the conversion in your head.
However, seniors are likely to be more accustomed to analog watches and might prefer them. On the other hand, it can be hard to read the time on some models, even if the numbers are big.
On the other hand, digital watches are often slightly harder to use because they have many extra features that might need unnecessary for an elder person, such as a chronometer or an alarm clock. These features add buttons to the watch, which make it slightly more complicated to use.
Analog watches are simpler to use in this regard. They just have one gear to set the time and that's it. Simplicity is always better for seniors.
There's no hard rule here: it depends on the person who is going to use the watch.
Conclusions
All watches on this list are great purchases for seniors. Their displays make it easy to tell the time at a quick glance, and most of them have a backlight so you can check the time even during the night.
The way I designed the list was to have as many diverse options as possible. You'll find watches with a more vintage looks, and ones with a more modern look. You won't be disappointed by any of the watches on this list, but naturally, it all depends on your needs.
All watches on this list are reasonably durable, and most are affordable enough to not matter too much if they break in 2 or 3 years. You can easily spend more on sturdier products, but I don't think it's worth it for elders. It's easier to buy a cheap watch and accept the fact it's going to break in a couple of years than buying an expensive one and wondering if the person wearing it is treating it well.
What are you waiting for? Purchase one of these easy-to-read watches for seniors today, and enjoy being able to tell the time at a quick glance, even if your eyesight isn't what it used to be!