Dementia and Alzheimer's disease are both still non-curable diseases. These diseases are mainly characterized by gradual memory loss, which in the beginning occurs as dementia, and over the years progresses into Alzheimer's. The latter is a progressed form of dementia, where the memory loss is so significant, that people lose the ability to carry on a normal life.
People with such diseases have trouble remembering basic things about their lives, the functions of things around them, even people who are their closest relatives. Both diseases occur in people with a high-risk factor, but there can be an early onset of dementia, especially Alzheimer's in younger adults as well.
Because of the condition, it can be hard for people with dementia or Alzheimer's to use modern gadgets. However, these gadgets can be incredibly helpful, because these people often forget phone numbers, other people's names, how they look, and other important day-to-day information. So, after all, a smartphone, for example, could be life-saving for people the memory-loss diseases.
However, modern smartphones are too complicated for these people. In order to use them, you need to first unlock the phone (via password, face recognition, or fingerprint), which can be hard to remember how to do. Then, the person needs to remember how the phone work, how to call someone, message them, and other, similar actions.
So, if you're looking to get a proper phone for someone with dementia or Alzheimer's, we've got you covered. In the following paragraphs, we'll talk about the best phones specifically designed for people with memory loss diseases. So, without further ado, let's get started!
4 Best Phones For People With Alzheimer's or Dementia
1. RAZ Memory Cell Phone – A Must-Have Dementia Product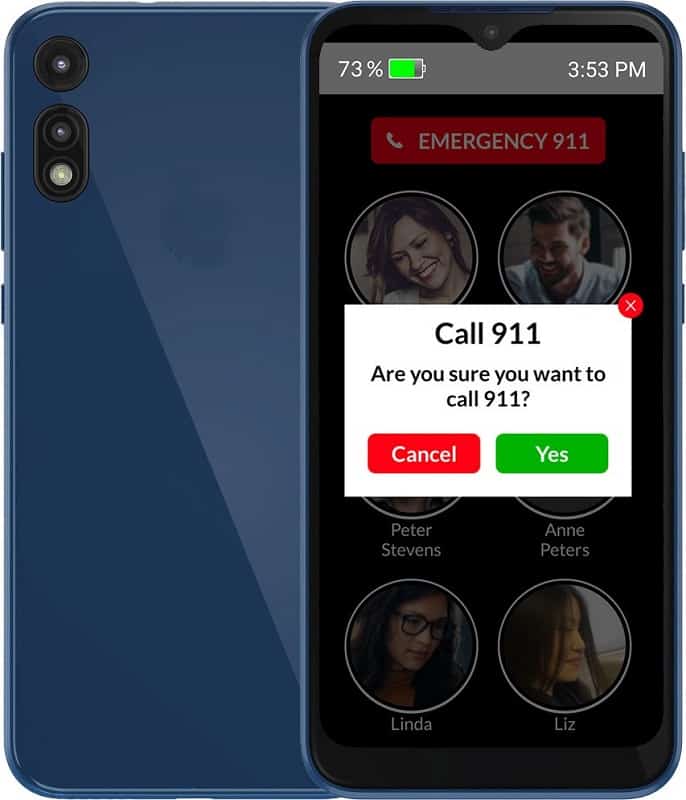 The RAZ Memory cell phone ensures individuals with dementia, Alzheimer's, and intellectual disabilities stay connected with their loved ones all the time. The phone is easier than 'easy-to-use' because it is designed without complicated features which nowadays seem perfectly normal to appear in a smartphone. With this cell phone, there are no distractions, no additional steps, and the focus is only on one screen.
The primary and the only one screen on this phone includes 4 different elements;
Pictures and names of up to 6 contacts, but there is an option to feature up to 24 contacts as well
A 911 direct call button
Alternative RAZ Emergency Service, to avoid unwanted 911 calls, but this service requires a subscription
Time, battery power/status, and signal strength
With these 4 settings only (or 3 settings if you don't subscribe to RAZ Emergency Service), the phone doesn't contain any confusing notifications, apps, and operating system updates. There are no distractions to cause confusion and fear in people who suffer memory loss. The phone is simple, straightforward, and displays essential information at all times.
Additional features of the phone include;
A home screen that is always ON; the phone is ready to use at all times
A home screen that doesn't lock or require a password to use
Press and hold buttons to prevent unwanted dialing
Location tracking system
Call-blocking from anyone other than contacts
Large button upon phone ringing; 'Answer' and 'Hang up' buttons
Contact expansion for up to 24 contacts and their pictures
One special feature of this phone deserves a more thorough insight. The RAZ Memory cell phone comes with a special feature known as The Portal.
Now, The Portal is an online feature that connects the phone, device settings, and applications to the caregiver's phone or computers. This way the caregiver can edit contacts, include pictures and limit incoming calls (especially unwanted predatory calls that target sick, elderly people). Thanks to this system the caregiver can also access the phone even if the phone's power is out.
Overall, this is an exceptional phone, specifically designed with memory loss diseases in mind. It will stay reliable and provide safety for people with dementia and Alzheimer's. Memory loss is terrifying, and this phone can mitigate the feeling and provide a sense of familiarity to people in such a condition.
2. KidsConnect KC2 4G Phone for Alzheimer's and Autism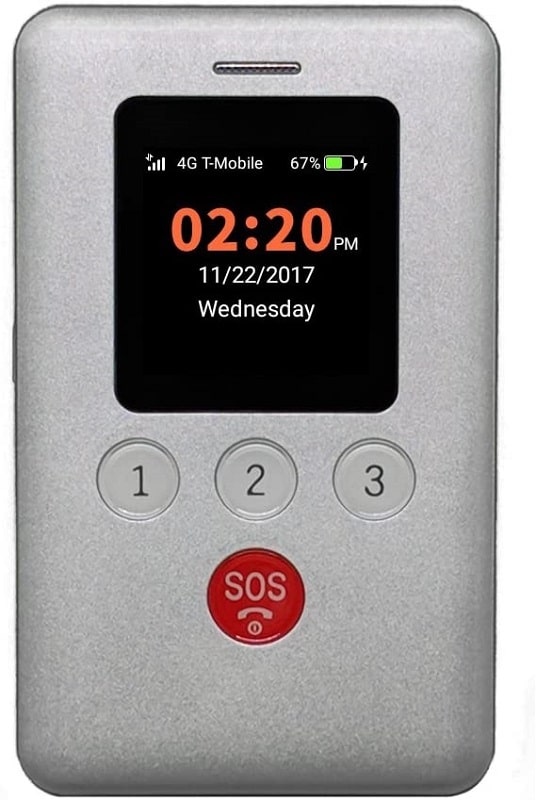 Our final recommendation comes from the KidsConnect. Their phone is designed to ensure easier use of the phone by people with dementia, Alzheimer's, or autism, regardless of age. This phone is also the world's first 4G phone of this kind.
However, it doesn't have any apps, push notifications, or other kinds of distractions. The phone has one touch screen, 4 buttons (one of them is a red SOS button), and location history or GPS.
The phone user can have up to 3 contacts, with physical speed dial buttons presented as buttons 1, 2, and 3. The touch screen allows for 12 additional contacts input and dial.
One of the disadvantages of this phone is that it doesn't have any pictures. This could be a problem for people with advanced dementia or Alzheimer's. However, if the person has irregular memory loss which hasn't progressed, this phone could be pretty useful.
Another thing worth noticing is the SOS button. The user cannot dial 911 directly, but the SOS button will call or send text messages immediately to one of the 3 main contacts. Speaking of the contacts, we have to mention that they can be managed through an online portal, just like the RAZ phone's portal.
Even though the aforementioned (lack of) features could be a deal-breaker for the majority, we still decided to include it as a final recommendation as it could be useful to elderly people with early dementia onset.
3. Swissvoice C50s Smartphone + Base Station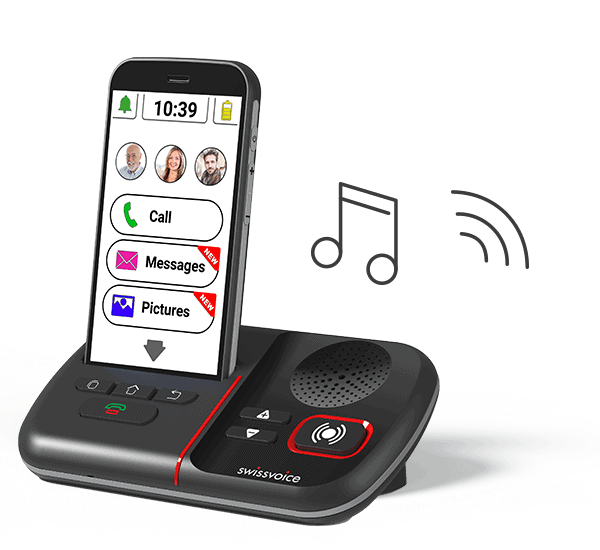 Another exceptional device meant for people with dementia and intellectual disabilities is the Swissvoice C50s smartphone. This phone will ensure people with memory loss disease stay connected to their loved ones and stay safe at any time. The phone features a charging base station, which is super useful because it doesn't require the person to handle cables and charging issues. One can just place the phone into the base, and that's it.
The primary elements of this phone include;
Comfort base station for easy charging and use at home
GPS location finder and an SOS button for emergency contacts
Extra loud ringtones and audio boost for call receiver
Compatibility with most hearing aids
SOS button to alert and contact loved ones and share location
Because of the simple and straightforward features, the phone ensures reliable communication for those with dementia. The phone features large buttons, large text options, and a simple menu. The keyboard is also extra large and the overall phone interface is stripped back and left with essential features only.
The SOS button alerts up to 5 present contacts, shares GPS or geolocation, and provides safety to demented people when they get lost, or simply don't know where they are, even if they're in their own house.
Overall, the phone is super simple to use, and the base, charging stations makes things even easier for people with dementia. Thanks to the base, the phone will always be charged and in sight, even when a person cannot remember where their phone is.
4. Geemarc Amplified Photo Telephone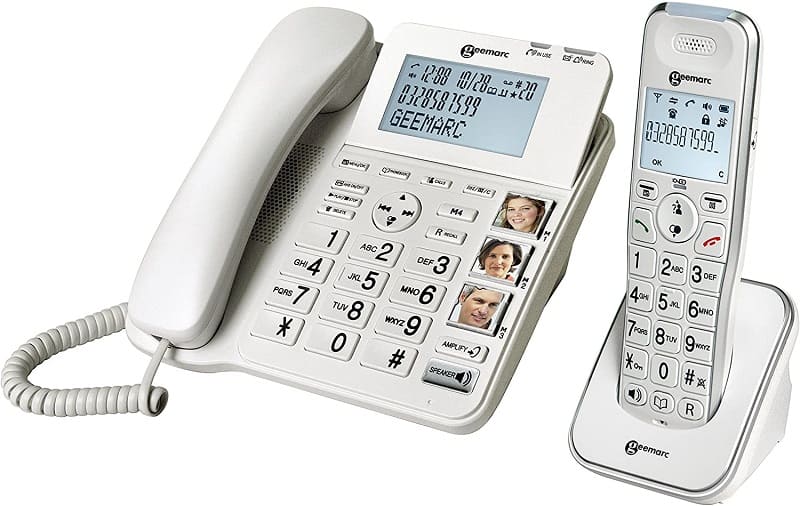 At first, this one may look like the old-school, early 2000s telephone, and you may doubt its function and reliability. However, this is one of the best phones for people with dementia, on the market. Its interface is stripped of any unnecessary and possibly distracting features. This phone does what it was always supposed to do; ensure one calls their loved ones in the easiest possible way.
The key elements of this phone comprise;
Lous and clear ringer and receiver (up to 80dB ringer, and 30dB receiver)
Large photo buttons for contacting loved ones
Quick and easy calling, with a 'pick-up' headset
Compatibility with most hearing aids
'Auto-answer' function to avoid confusion
This phone is designed to mimic old-school phones. The reason for this lies in the fact that many older people living with dementia find modern phones/smartphones difficult to use. It can be frustrating to live with memory loss, and on top of that deal with things, you have no idea how to use. A person can feel hopeless and terrified in such a state.
That is why this phone has simple numbered buttons, LED light that notifies the person of an incoming call, a physical headset, and a loud ringtone. Because of such simple, yet effective features, one can have regular phone calls with their loved ones and retain a sense of normality and reliability, in a generally chaotic world of dementia and Alzheimer's.
Tip: If you're looking for a simpler, more affordable version of this phone, make sure to check out the Memory Picture Phone for seniors suffering memory loss and intellectual disabilities. The phone features similar options and a simple design, suitable for regular conversations or emergency calls.
How To Find The Right Phone For People With Alzheimer's or Dementia?
Hundreds of smartphone options can make it difficult to find the right when for someone with dementia/Alzheimer's. To make things easier, you can consider the following features and make a good final decision;
Big buttons – opt for phones with large, soft-touch buttons. These are useful because the elderly often have vision troubles, so big buttons can make it easier for them to see what they're typing or inputting. Also, opt for phones with physical buttons/numbers, or large keyboards.
Amplified photos – it is essential the phone contains either a screen with photo contacts or physical space to slide in a photo of someone important and essential in one's life.
Photos make it easier for a person with dementia to identify the person they want to call. This can be a huge advantage because they don't have to actively try to remember the person they want to call (which can be incredibly frustrating and even terrifying).
Hearing aid compatibility – dementia patients and the elderly in general often have hearing problems. Therefore, many of them hearing aid. That is why it is essential to get a phone compatible with hearing aids.
This means that the phone speaker doesn't only output the sound of the person one talks to, but also outputs a magnetic signal representing the sound. So, look for a Hearing Aid Compatible feature to improve communication and make it easier.
Loud ringer (or visual ringer) – in case the person with dementia also has hearing problems, but refuses or forgets to wear a hearing aid, it is essential to have a phone with a loud or visual ringer. This means that the ringtone is louder than regular, and also features flashing lights or any other kind of visual indicator that the phone is ringing.
Simple design – opt for a phone that has a simple, straightforward design. Modern phones are complicated and have a multitude of buttons, apps, notifications, etc. All of these simply serve as a distraction for people with dementia. Therefore, go for a phone with a minimum of buttons and interface.
Unwanted call blocker option – with an increasing number of scammers calling random numbers in the hope someone elderly will answer, it is essential to go for a phone which blocks nuisance calls.
Pushy salespeople and scammers take advantage of the elderly and can even push them into giving away essential information (bank account number, ID number, security number, etc.). So, phones intended for the elderly or people with dementia generally block phone numbers that are not on the contacts list, for example.
Final Thoughts
We hope that our selection of phones will be informative and useful. The phones we recommended are specifically designed for dementia/Alzheimer's patients and the elderly. They vary in price and affordability, so there is something for everyone's budget. Make sure to check the phones on their respective sites and talk to your loved one about the idea of them using such a phone. It may take time for them to get comfortable with a new piece of technology, so make sure to be patients as well.