Sitting and getting up is something we do naturally for much of our lives, but our strength starts leaving us once we reach a certain age. That's when using a regular toilet turns into a challenge. Squatting to get down and then getting up becomes very hard.
Luckily, there are products specifically designed for people who have issues sitting on a typical toilet: high toilets. A tall toilet doesn't require to squat as hard to sit on it, lowering the pressure on your knee and your leg muscles. It makes the difference between requiring help to use the toiler or not.
Are you afraid you won't be able to change your current toilet? No problem. There are less intrusive solutions. You can add toilet rails. These will help you sit down by using your arms and upper body instead of relying on your legs. They are especially helpful when you need to get up, as you can use your entire body to stand, instead of having to rely completely on your legs and knees.
In this article, you are going to learn what makes a high toilet good. You'll also find a list of what are the best higher toilets for the elderly you can purchase today.
The 3 Best Higher Toilets for the Elderly
1) The best overall–Kohler K-3609-0 Comfort Height: this is the best all-around toilet. It has a reasonable price, it's WaterSense certified, and it's easy to install. It's also a little taller than the average comfort toilet by about one inch.

2) The best flushing system–Delta Faucet C01905-WH: great toilet for those looking for a toilet with a powerful flushing system that will keep itself clean.

3) The tallest toilet–Convenient Height Extra Tall Toilet: nobody else produces a 20"-tall seat, so if you are very tall or are looking for a very high toilet, this one is for you.
What you Should Consider before Purchasing a High Toilet
There are many solutions available on the market today. You may be wondering how we came to pick the products you'll find on the list below.
We considered multiple factors while making the list. Keep reading to find out what makes a high toilet good, and how to figure out which one suits your needs best.
Toilet Height
As the name suggests, higher toilets are higher than their usual counterparts. The principle is very simple: the higher the toilet, the less strain on your legs/knees when you squat to sit down on it.
While this might seem like you'd solve all of your problems by purchasing the highest possible toilet you can get, there is an issue with that line of thinking. Constipated people will find it harder to use a higher toilet, because the squatting position favors bowel movement. Short people might not enjoy going through the extra effort required to sit on them.
Most higher toilets are between 2 to 4 inches taller than their counterparts, as recommended by the Americans with Disabilities Act (ADA). That's the sweet spot between being too tall to stimulate your bowel and being too low to use for people with impaired movement. There are also even taller toilets, but these tend to be customized for specific cases.
Consider also how tall you are. If you are a very short person, then an elevated toilet risks becoming an even bigger discomfort than a regular one. Toilet rails should be more than enough in your case. If you really need a higher seat, don't exaggerate.
Ease of Installation
Ease of installation is an important factor to consider. Requiring a plumber to install your toilet will be an extra cost to add to the toilet. However, I understand you might want to pay a professional to get the job done, since this is not something you want to get wrong.
Also, many elders won't need a new toilet. Toilet rails are a solution that works just fine for a lot of people, and they can easily be installed by the elder's relatives. Toilet seat raisers are another great option if you don't need anything specific.
It all depends on your resources, and what type of solution you are looking for.
Shape of the Bowl
There are two types of shape when it comes to bowls: round and elongated.
Round bowls are typical of older bathrooms, and require a little less space. They're also less comfortable than elongated ones.
Elongated bowls are more comfortable but take up more space. A lot of bathrooms don't have the luxury of letting you install an elongated bowl. Measure how much space you got and figure out the best solution for you. I included toilets with both types of bowls on the list, just in case.
Gallons-per-Flush (GPF)
With the Energy Policy Act of 1992, the federal government established the maximum amount of water per flush for each toilet to be at 1.6 gallons.
However, some states (for example California or Texas) have even stricter requirements because of their water shortage. You can look for the WaterSense label on the product page to find out if your toilet is compliant to the 1.28 GPF standard or not.
It's preferable to get a slightly more expensive toilet with lower water consumption, as it will be cheaper in the long run. Reducing your water bill's price is always welcome. Plus, you'll be also helping the environment. Win-win!
Price
Toilets can be costly. You can spend hundreds of dollars to replace yours with a higher one. That's even more reason to make an informed choice before buying the toilet. That's why we made this list. It's easy to get scammed when you don't really know what you are looking for.
Plumbers are another extra cost associated with replacing your toilet. While some are easy to install, others required specialized knowledge. Always consult the product page to figure out if you'll need a plumber to install your new toilet.
The Best High Toilets for the Elderly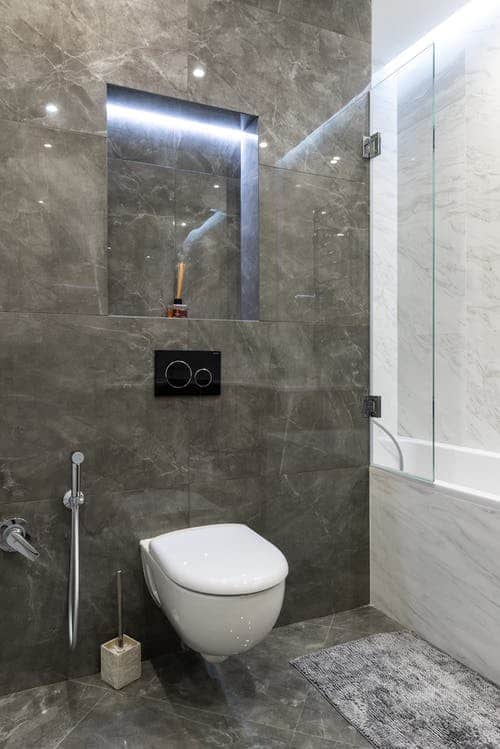 Here is our list of the best toilets for the elderly. We weighted carefully all features we talked about in the previous section when creating the list. You won't be disappointed with any item you find in here, although naturally it all depends on your needs. Some solutions will be better suited than others for your situation.
Toilets can get quite expensive, so we made sure to only pick those who would be a sound investment. Buying any of the items on this list will get you a great product that's of high quality and durable.
Let's dive right into the list!
Editor's note: the height you'll find for each toilet are measured from the floor up to the top of the bowl. The toilet seat adds about another inch to the toilet's height.
Kohler K-3609-0 Comfort Height: Best Bang for your Buck
Bowl type: elongated
Seat height: 17.62"
Toilet type: two-piece
If you're looking for a killer deal, you'll be hard pressed to find something better than the KOHLER K-3609. It's water-sensitive, adhering to the laws against wasting waters of most states, it looks good, and it's very comfortable. Plus, it's high while not being too high (17.62 inches). Shorter people will still be able to use it without issues.
Some people complain about the flushing system. We don't know if it was just bad luck or defective models. However, it's to be expected sometimes when using a gravity flush system, which this toilet uses. There are better and more modern flushing systems available, but they'd make the item more costly.
Overall, this is the best high toilet for the elderly. It's tall but not too tall, it's reasonably easy to install, and it's priced fairly.

Convenient Height Extra Tall Toilet: The Tallest Toilet You'll Find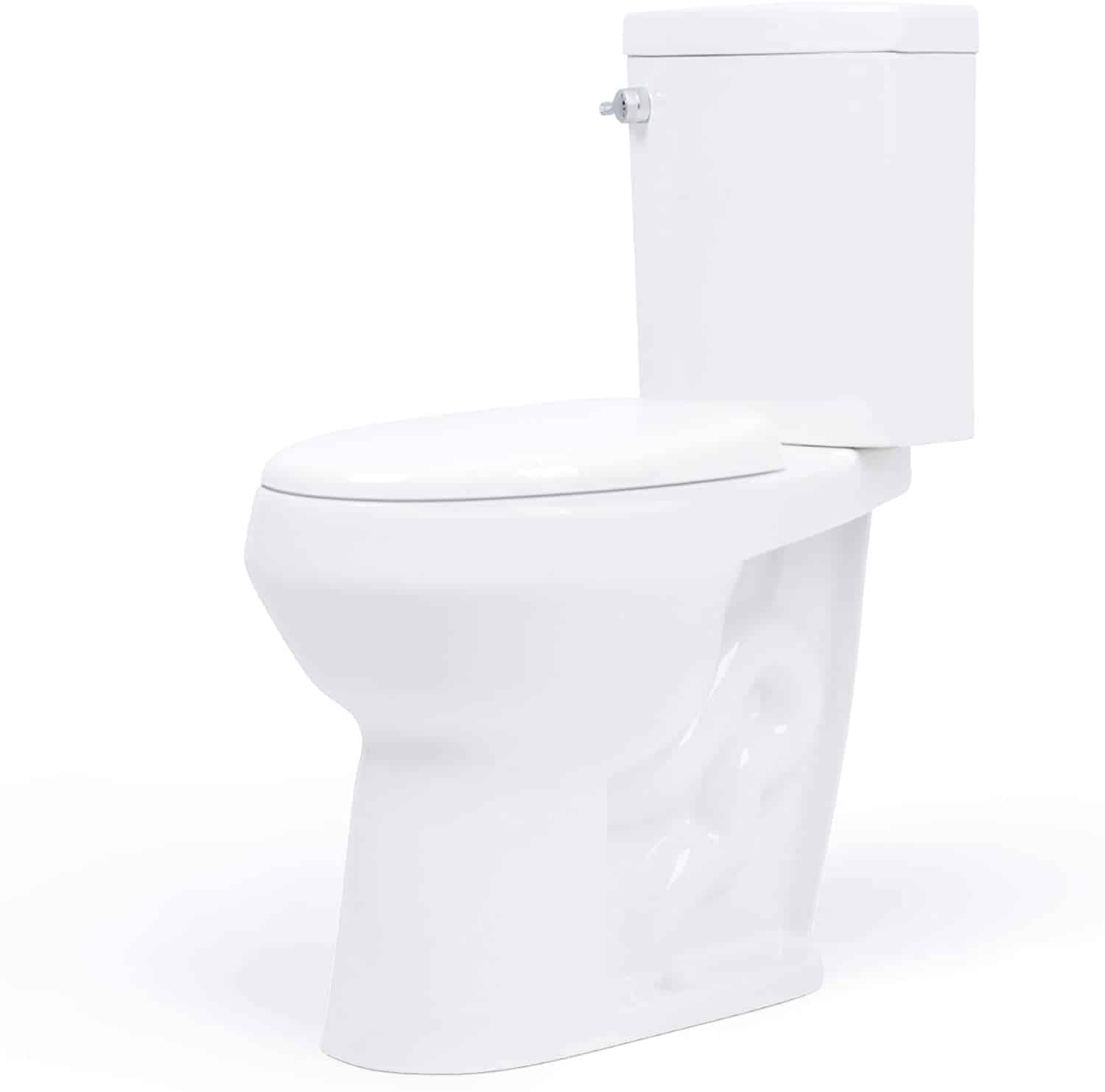 Bowl type: elongated
Seat height: 20"
Toilet type: two-piece
20 inches is even higher than what the American with Disabilities Act (ADA) suggests. The official guidelines state that a high toilet should be between 15 and 19 inches tall, but this one goes above that.
The toilet is modern, minimalistic, and doesn't consume too much water when you flush it down the drain.
While such a tall toilet is great for anyone with movement issues, it also comes with its own set of challenges. It's quite expensive, and installing it isn't that easy, you'll most likely need a plumber to get it in working order.
This product should be bought only if you are looking for something a little out of the ordinary, as no other company offers such a tall toilet. If it fits your needs and you can afford it, it's a great investment for the future, as this item will last you forever.

TOTO CST744SL#01 2-Piece Toilet: Tall & with a Powerful Flushing System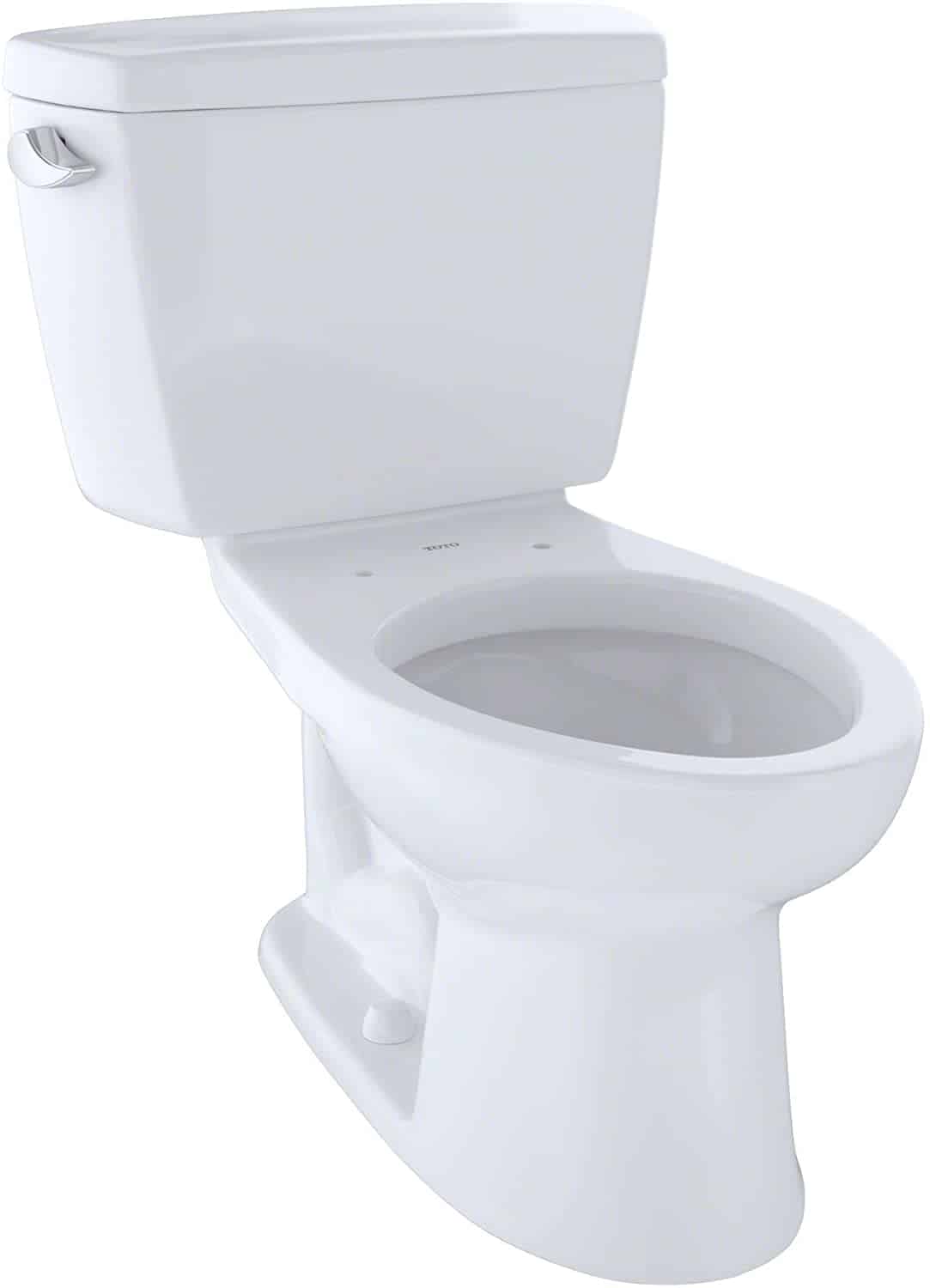 Bowl type: elongated
Seat height: 16.5"
Toilet type: two-piece
This is another high toilet for the elderly, with its height of 16.5". It's not fit for everyone though, as it uses 1.6 GPF, so check the laws of your State before getting one.
Thanks to the elongated shape and the height, most people will find it very comfortable. It's not too high for short people, but it's high enough to not cause a strain on your legs.
What separates this toilet from most other entries on this list is its extremely powerful GMAX flushing technology, that guarantees maximum cleanliness after each flush.
There is also a slightly weaker version called EMAX which only uses 1.28 GPF, but I couldn't find it on any higher toilet, only on standard ones.
Get this toilet if you're looking for something that's not too high and with a powerful flushing system.

American Standard 2886218 Dual Flush: A Great Mix of Value and Versatility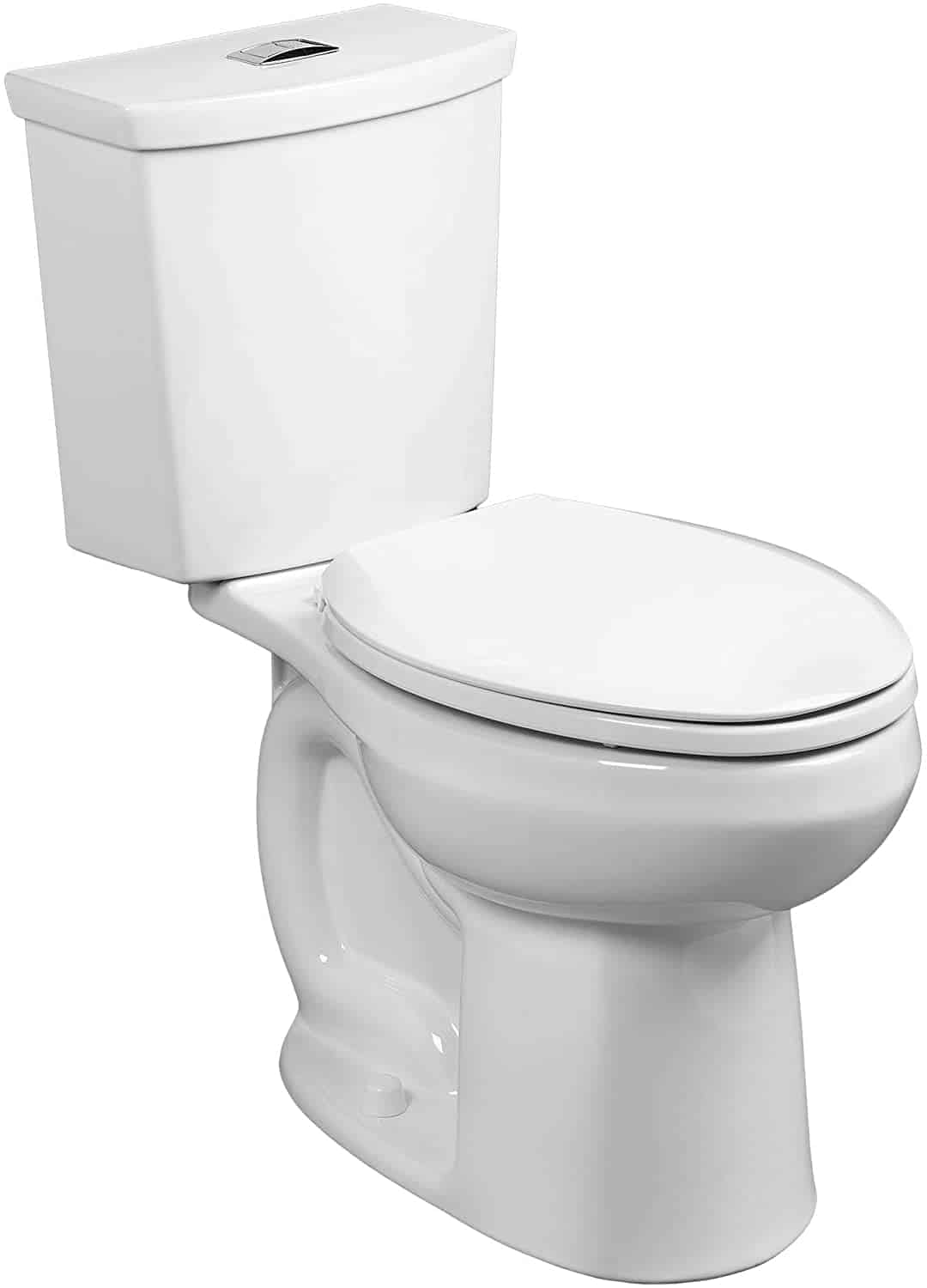 Bowl type: elongated
Seat height: 16.5"
Toilet type: one-piece
American Standard makes many great products, and this toilet is one of them. This toilet comes in both normal and right height, with the latter being the one you are looking for. Unfortunately, the right height model comes exclusively with an elongated bowl type.
What differentiates this toilet from the others on this list is its dual flush system that lets you save a lot of water. You can flush for either 0.92 or 1.28 GPF, which makes this toilet compliant to the laws in all of the United States.
Get this model if you're conscious about your water expenditure and you are looking for a durable product that is fine for both taller and shorter people looking for a higher toilet.

Delta Faucet C01905-WH: Powerful Flush with Low Water Expenditure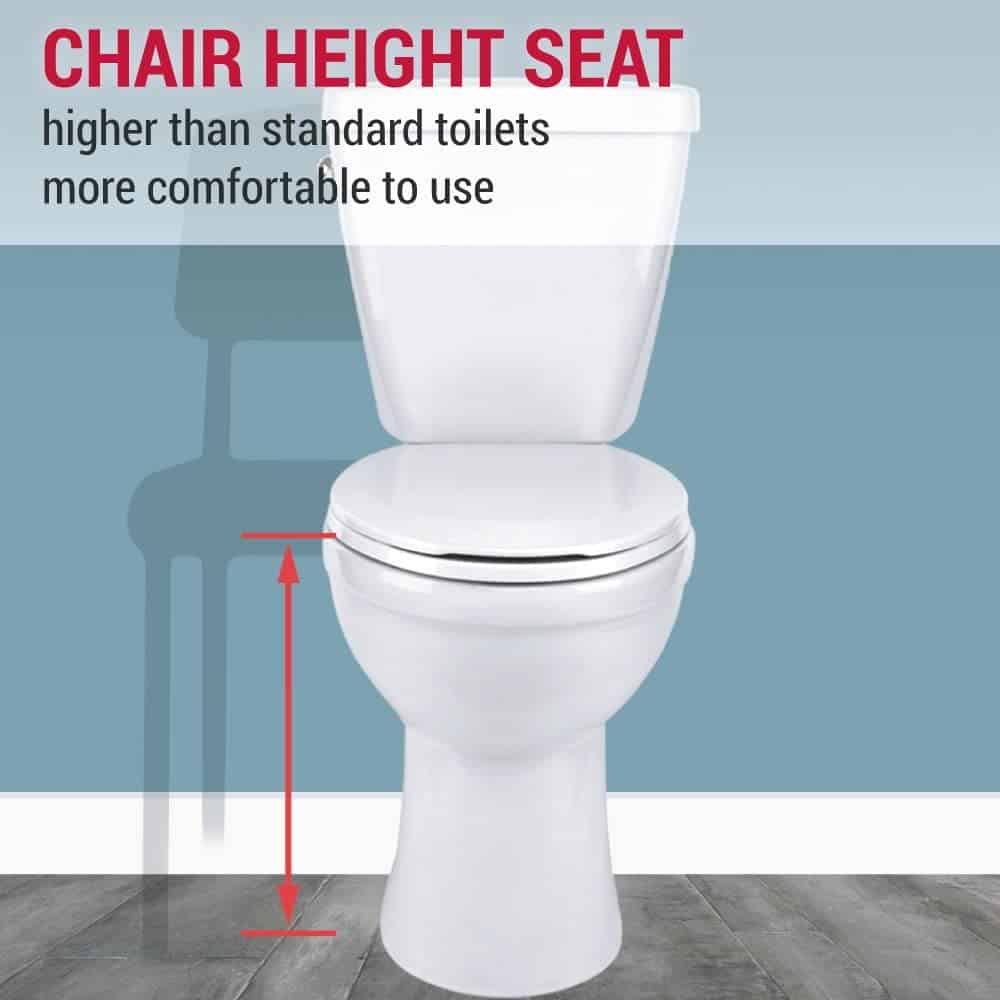 Bowl type: round
Seat height: 16.5"
Toilet type: two-piece
It took us a while to found a seat that was high enough to be ADA compliant while also being round, but here it is. The Delta Faucet is a great purchase for people who don't have enough space in their bathroom to install an elongated bowl toilet.
This toilet only uses 1.28 GPF, making it compliant to all water-usage laws, and the HydroWash system guarantees it'll stay clean longer than the average toilet.
The Delta Faucet is another excellent purchase if you're looking for a high toilet for the elderly.

TOTO MS854114ELG#01 Eco Ultra: A Clean and Modern One-Piece Toilet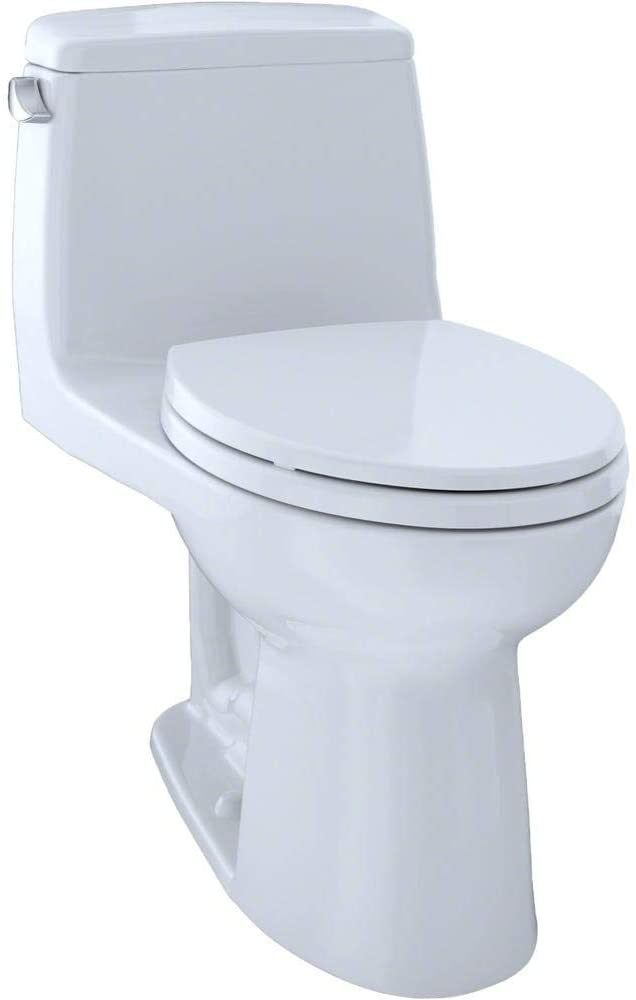 Bowl type: elongated
Seat height: 16.5"

Toilet type: one-piece
This is the second TOTO toilet that appears on this list, and for good reason. The company makes high-quality products that will stand the test of time and improve your life's quality.
Thanks to its modest water usage (1.28 GPF), it is compliant to laws in any of the States. You'll also save a hefty amount of money thanks to the low water usage. The flushing system is this toilet's main strength. It's designed in a way to prevent splashes.
Another wonderful feature of this toilet is how easy it is to install. You will be able to install it yourself. Not having to rely on a plumber will easily save you a couple hundreds of dollars.
The elongated bowl type allows for maximum comfort, and the seat's height makes it easy even for the elder to sit down and get up afterwards.
If you are looking for a hassle-free toilet that you can install yourself, look no further. The TOTO MS854114ELG#01 Eco Ultra is the perfect product for you.

Drive Medical Elevated Seat: An Easy and Inexpensive Alternative to Replacing your Toilet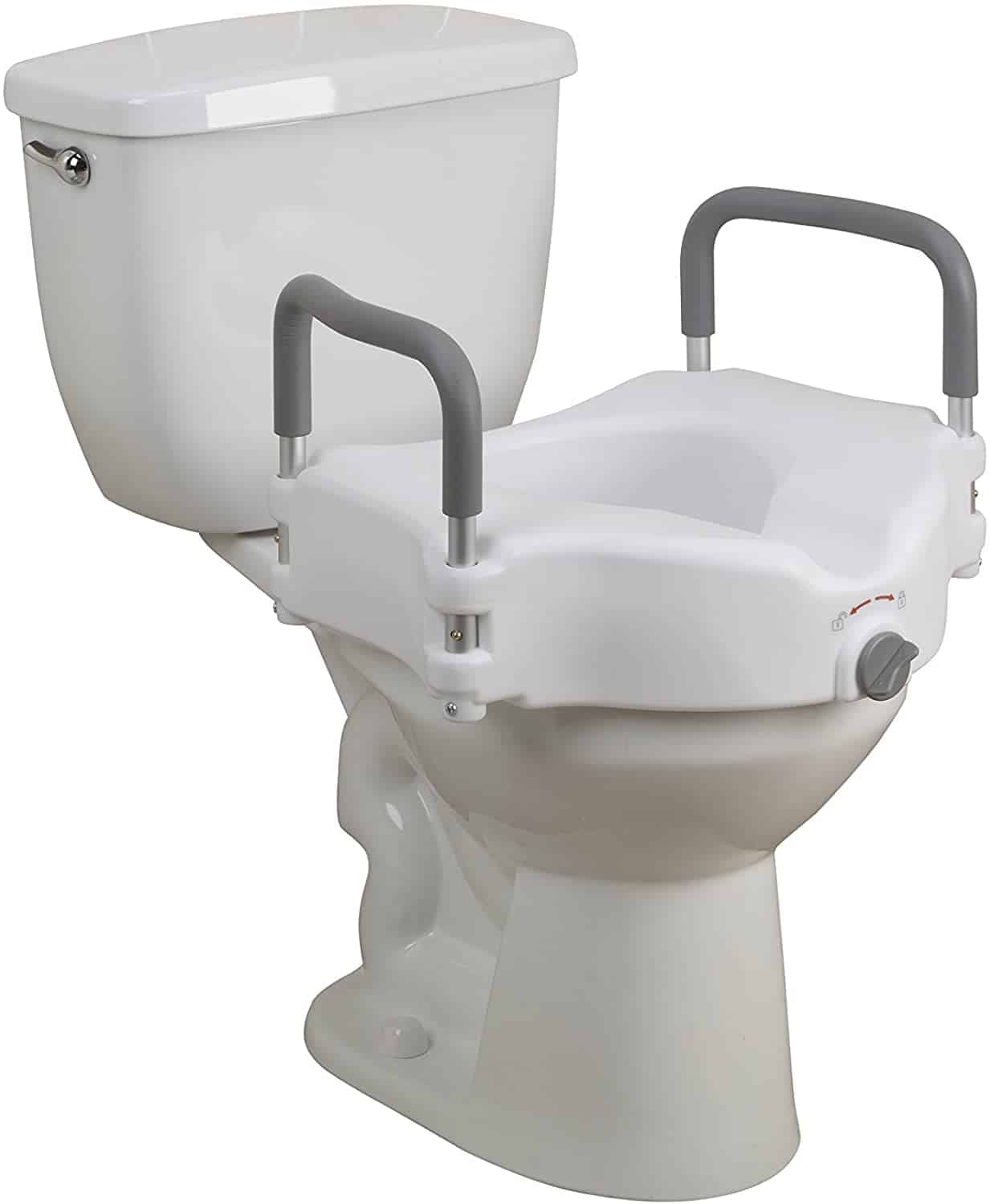 Yes, I know. This isn't technically a high toilet, but it's a great and inexpensive solution to the issue. Consider trying this out before changing your toilet.
This model adds 5 inches to the toilet seat and comes with pads to help out people with low mobility sit down and get up by using their upper body's strength. What's great about this product is how easy it is to use.
There are, obviously, some limitations compared to changing your toilet. First off, you must make sure the elevated seat fits your toilet. If it's too big or too small, you won't be able to secure it to the toilet, making it useless. The seat needs to be standing firm on your toilet.
The company claims it fits "all standard toilets and most elongated toilets". That's great, but you should still measure your own before purchasing this seat.
It only works for people up to 300 pounds. You'll need a new toilet if you weigh more than that.

The Types of Flushing Systems
There are three main types of flushing systems. Let's see them more in depth.
Gravity flush
This is the most common system and it's been popular for over a century. When you open up the flush valve water from the tank rushes down to the bowl. This system's biggest weakness is its tendency to leaking water sometimes.
Pressure assist
When you open the flush valve, the pressure tank releases all the water it's filled with. The combination of pressure and gravity flushes everything down the drain. This system's biggest flaw is how noisy it is to flush water.
Vacuum assist
A very advanced system. The vacuum tank is connected to the supply tube that connects it to the bowl. When you flush the toilet, the bowl fills quickly with water coming from the tank, while pulling air out of the trap, quickly clearing waste.
There's actually a fourth type of flush system, called dual flush, which lets you decide between doing a full flush or a partial one. This system lets you save water, since you don't always need a full flush.
One-Piece or Two-Piece Toilets?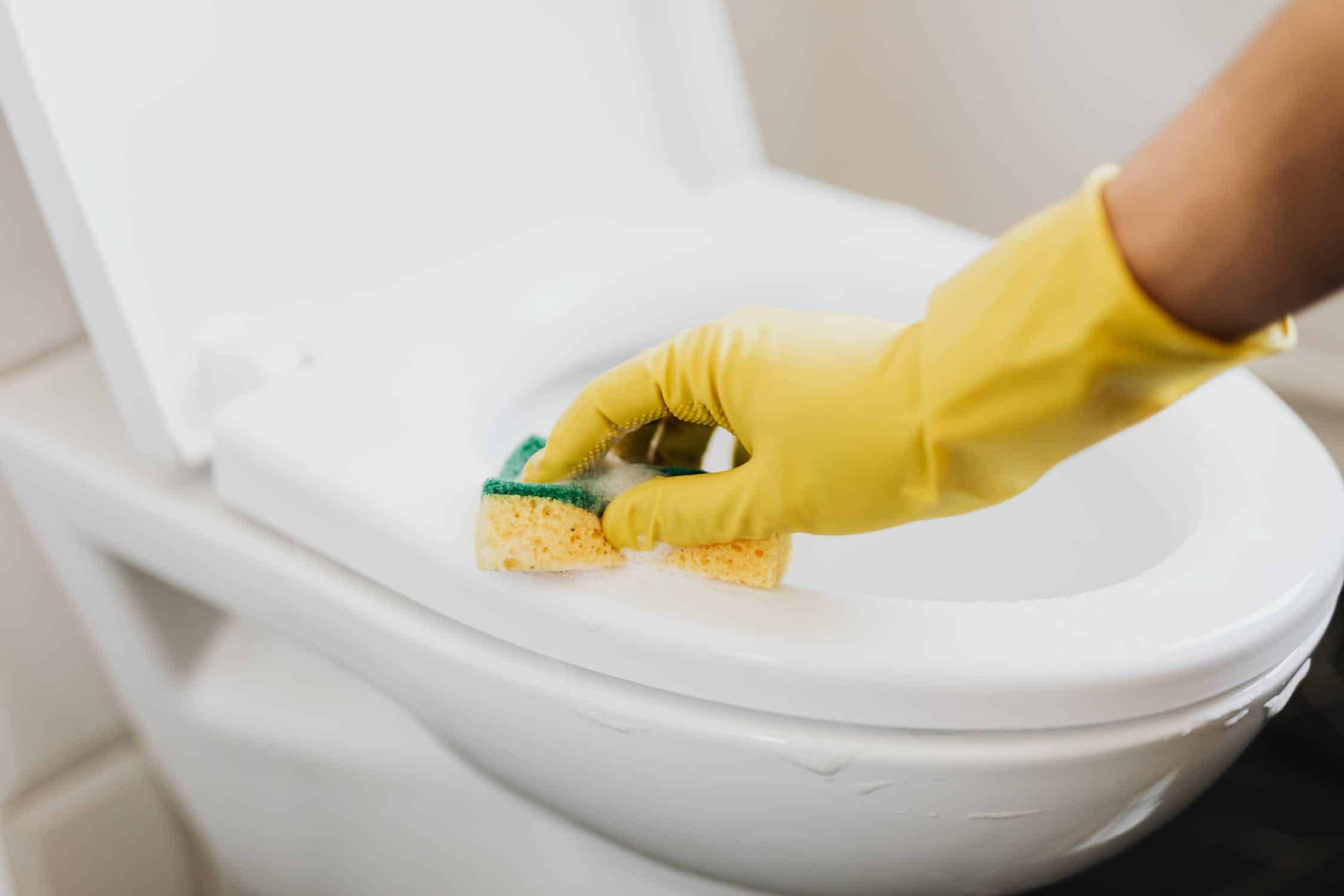 There are two types of toilets: one-piece and two-piece.
Both get the job done, but there are some differences between the two.
One-piece toilets are smaller, easier to clean, and more durable. But they are more expensive and extremely heavy, so shipping and moving them around is more challenging.
Two-piece toilets are cheaper, easier to install, and offer more versatility, since you can replace their two pieces independently. However, installing them takes longer, since you are dealing with two different pieces, and they are also more likely to break or leak.
Conclusions
Squatting is one of the most natural movements for humans, but it gets increasingly harder to do in a safe way when our motor skills start fading away. Typical toilets don't take into account the elder and have a seat height of about 14.5", which is fine for healthy people, but challenging for the elderly.
Every toilet on this list is designed specifically for people with mobility issues. It doesn't matter if you're a young lad who just got their hip surgery, or an elder whose muscles have seen better days, there is something for you on this list.
Before purchasing any toilet, remember to take appropriate measurements to see if it will fit in your bathroom. Elongated toilets take up a lot of space, but they are also the vast majority of toilets you'll find in the high category. We've included a couple of round toilets so you could easily find something that suits your needs.
What are you waiting for? Purchase a high toilet today, and stop suffering when you are going to the bathroom.
Also Read: