The golden rule about every product that you should use for an extended amount of time is that the brand won't always matter. The iPhone and Samsung Galaxy phones do a great job at delivering top-end features and performance, but there are many less heard of devices that can do nearly the same. The same goes for mountain bikes. But, when you're just starting your journey as a mountain bike rider, the reputation of some brand certainly matters.
Mountain bikes are rough vehicles, designed and manufactured to cross rough terrains that can often mean injury. That's why it's of utmost importance to ride a quality and durable bike that you can set according to your needs and preferences.
However, with hundreds of different mountain bike brands around the world, it sounds nearly impossible to choose the most credible and reliable one. Many mountain bike brands are worth the hassle. However, beginners are not eager to spend hundreds, if not thousands of dollars to ride the quality.
The balance between affordable and premium is certainly the best, but that balance is often hard to find. Let's start with what to avoid. In this article, you'll learn everything about mountain bike brands and their respective models that are not worth the money.
Some of them just have a ridiculously high prices and no features to offer, while with other ones it's better to save the money and buy something better. You'll learn how to make a difference between a bad and a reputable mountain bike brand. Finally, there's a compelling FAQ section with brands you should totally consider.
Let's dig in!
Things to Avoid With Mountain Bike Brands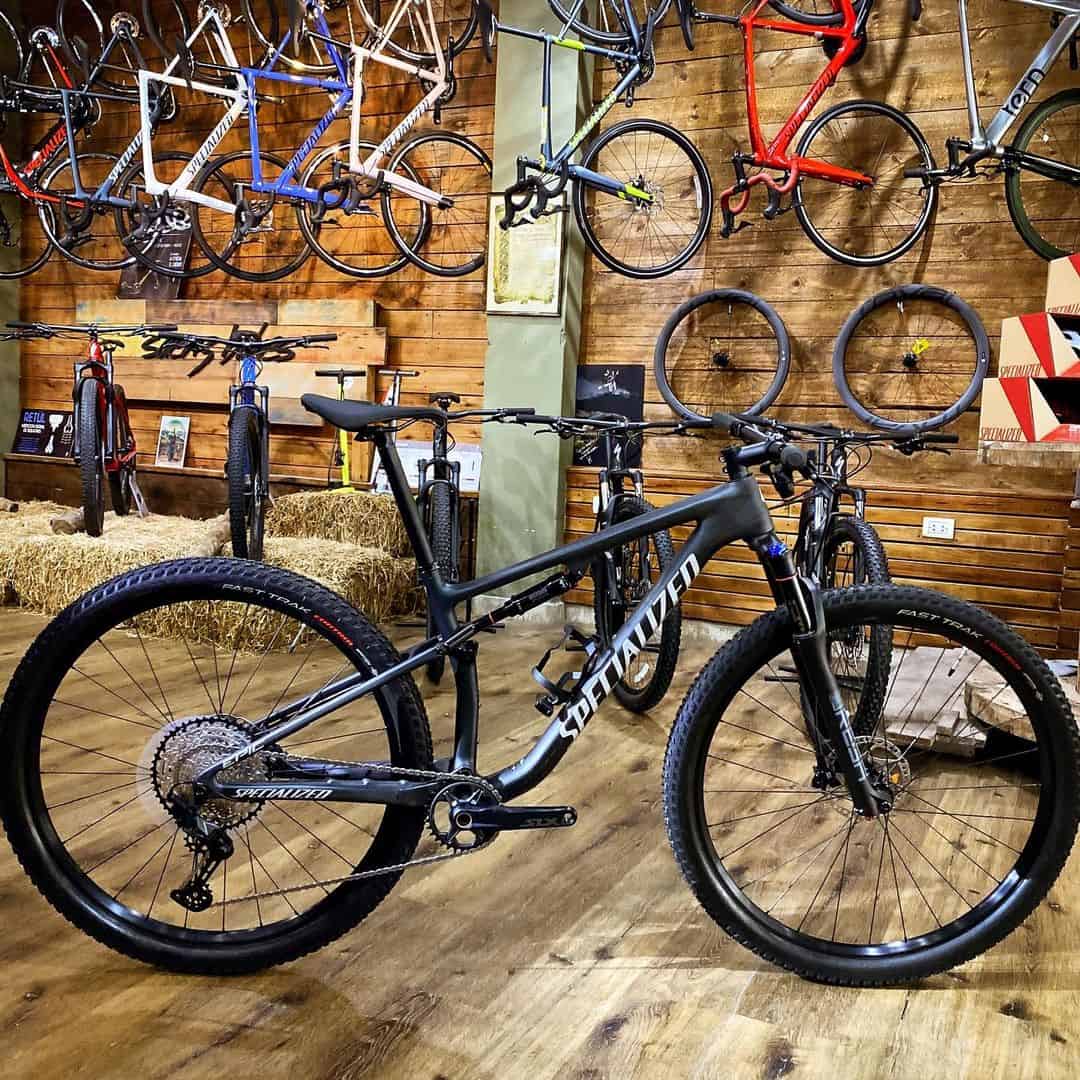 With every brand, especially an online brand that operates only with Amazon or Walmart, it's important to look into it carefully and see whether they offer a nice run for the buck, or in this case, a ride. Here are a few things that you need to be aware of when choosing from a variety of different mountain bike brands.
Non-Reputable Brands
What we know for sure is that you don't want to find yourself buying from a brand that has no reputation, or good reputation for that matter. Brands that you find on Amazon at an affordable price may not be as reputable brands as those where you spend a higher amount of money. Then again, the higher price is not the guarantee of good quality either, but more on that later.
Customer reviews, as well as reviews and explanations that are present on different forums, are more than helpful in assessing your situation with the brand you want to shop from. If the customer reviews and other types of reviews are negative, chances are that it's not a good brand.
You should also see if there are studies or news articles that warn about a certain aspect that the brand you're buying from is suspicious of anything.
Materials
When it comes to materials, they should be extremely strong and durable. That's because mountain bikes take a lot of beating and ride on rough terrains and hills and a flimsy material could easily be bent and broken. The same goes for the tier quality, maneuvering, and much more.
That being said, it'd be best if your bike was made out of strong materials such as stainless steel. Even better, you'd ensure a futureproofed bike if there was a combination of other alloys and materials together with the stainless steel. Another thing is to go for solid frames instead of those tubular ones.
If you notice that the collection of materials used to make these bikes is not satisfactory, it'd be best to avoid getting that bike. Looking at the construction of the entire bike can also be difficult, although we know that can be quite difficult to tell from pictures.
Poor Suspension Design
No one size fits all when it comes to the suspension design. However, some more reputable brands provide great value for the price when it comes to suspension designs. Unfortunately, some manufacturers still design bikes with inefficient suspension designs, which give a lot of pressure when braking and simply drain the energy of the rider.
Too Cheap or Too Expensive
Balancing the right price for the mountain bike can be extremely difficult if you're a beginner. As mentioned earlier, what appears to look cheap or has an inexpensive price tag is probably not that good. Then again, if you're just a hobbyist and not exactly someone who wants to spend time riding all the time, getting an overly expensive mountain bike from $1500-$3000 may seem a little unreasonable.
Some brands overestimate their pricing models and charge for some parts that can be gotten for less money without compromising the quality. If you're getting into mountain biking it's super-important to consider what are your options and what your long-term plans are.
Then again, if the mountain bike has a low price tag, chances are that it may come with faulty parts or non-warranted parts that might not last so long. That's why you need to play it smart when deciding your budget for the mountain bike and lay all the options on the table.
Short Warranty
When there is a relatively complex product being sold, such as a mountain bike, a warranty applies for different parts of the product.
That said, a frame may have a certain warranty, brakes may be warranted for some other period of time while other parts may also be protected for a certain amount of time that differs compared to the other options.
The general rule of the thumb of most reputable brands that sell mountain bikes is that the mountain bike should be warranted for 10 years. Some options offer a longer warranty, while some other companies give a lifetime warranty.
The absolute bare minimum is 5 years, but then again, given how rough and bumpy the terrain for mountain bikes is, not even that could be enough.
Poor Quality Threads
Pedals in the bikes use special threads that reinforce the entire bike. However, cheap companies want to save up on material and use some less solid material alloy to design the threads. Such companies should be avoided and at all costs should you read the label that mentions the materials and pedals. Always aim for pedals with solid steel threads.
They Use Rim Brakes
You can never go wrong with choosing a bike that comes with disc brakes as they're more reliable overall. If you're trying to save on the budget, you'll likely go for rim brakes. Here's why you shouldn't do it.
Although brands save money which leads to more affordable price-tag, they can wear off pretty fast, causing the wheel to get bent and broken eventually which is a red flag for your safety. You don't want to spend additional money to swap your wheels now and then, especially if you're an avid rider who enjoys the mountain environment and adrenaline-infusing terrain.
More importantly, rim brakes decay faster when exposed to muddy and wet terrains. It's no secret that mountains and hills, in general, have inconsistent climates. What seemed like the perfect weather broadcast can easily turn into a storm and compromise your ride. If this is a concern for you, definitely avoid shopping with brands that are trying to cash on with the rim brakes.
Irresponsive Customer Service
A lot of customers allow their drivers to have the first tuning free of charge. Many others offer a discount on tuning and annual maintenance. Unfortunately not all of them.
Even if they do, poor customer service that doesn't answer calls and emails, or know the right information about the maintenance process. Always make sure that the customer service is responsive and that you'll get everything that you pay for. Otherwise, avoid that brand, especially if it falsely advertises itself.
5 Worst Mountain Bike Brands to Avoid
With all these things to be considered, we researched, tested, and concluded the five worst mountain bike brands when it comes to performance, customer satisfaction, and customer service. Continue reading to learn which brands won't live up to your expectations if you want a mountain bike that will serve your needs.
Disclaimer: This article is purely informational and based on thorough research of customer satisfaction and the aforementioned features. We don't intend to shame or defame any brand or company. Our readers are still encouraged to shop from these brands, although they may not be as satisfied as with some other, recommended brands.
Huffy (26-inch Hardtail Mountain Bike)
We earn a commission if you make a purchase, at no additional cost to you.
Huffy has always been a reputable brand, serving adrenaline mountain bikers great quality across all their favorite trails. The same can't be said for its 26-inch hard trail mountain bike. It's advertised as the outdoor prodigy when it comes to rough terrains, despite it being specifically designed for trails.
It's ideal for anyone past the age of 13, but as you progressively use it, you'll see that it's merely an annoyance.  It comes with the best lifetime warranty, as well as an extended warranty for other parts other than the frame. Its suspension fork is also doing a great job at handling bumps and uncomfortable terrain.
What is so bad about it then, that makes it an annoyance? Even though it's advertised to be made of steel, its chain is constantly coming off the bike.
Moreover, the handlebar which is critical for every bumpy ride often comes loose, leaving the riders worried about their own safety. Several customers complained that the bike is not worth the money, and customer service is not particularly responsive about the matter.
Cannondale
Why Avoid it: Some of their bikes may feel a bit comfortable because they're forward-set. Occasionally, the frame bends.
Warranty: Lifetime Warranty
Customer Service: Could be better
A lot of people may be surprised because this model appeared on our list, but the truth is that this company has a history of manufacturing bikes that later had to be discontinued because of the poor materials that were causing the bikes to bend easily.
Today it's one of the best brands, but many customers are still being skeptical about the products they're getting. The mountain brand is known for producing steel-alloy as well as carbon frames that are now much more durable than they used to be. Still, the seats may not be as adjustable as with other companies that deal with these bikes.
Also, some of its models have brakes that are too sensitive, stopping the bike too fast and insensibly. This could eventually lead to tears in the chain and other components of the bike. Limited lifetime warranty applies to the bike frames, while other components have a warranty that lasts anywhere from 1 to 5 years.
All in all, it's a decent brand, but some of the customers may be annoyed with the wear and tear that also comes with it. Also, comfort is of utmost importance for every mountain bike, especially if you ride it for an extended time. With this one, that may not be the case.
 KHS
Why Avoid it: For some riders, it may be too heavy to use, and cause troubles when going uphill. Problems with a suspension system.
Warranty: From 1 to 10 years for frames
Customer Service: Could be better
KHS is a very widespread company when it comes to manufacturing mountain, as well as other types of bikes. They have affordable professional bikes ranging from $300 to $6000 depending on the model, as well as the construction. Generally, customers are satisfied with the use of bikes. However, one of the things that have been annoying for many users is the weight and suspense system.
Generally speaking, the poor suspense system in combination with hefty weight will lead to a lot of customers having problems maneuvering on rough and bumpy terrains. More importantly, it will cause difficulties with going down and up the hill.
The bikes that experience these problems can be vastly improved with upgrades, but those upgrades can be quite expensive and your bike will still remain quite heavy.
NEXT
Why Avoid it: For some riders, it may be too heavy to use, and cause troubles when going uphill. Problems with a suspension system.
Warranty: Lifetime warranty
Customer Service: Poor
NEXT bikes are manufactured for the budget-friendly customers who want to explore a new hobby and gradually increase their biking skills. They offer an all-around selection of bikes, but the mountain bikes have been in the center of the attention over the poorly designed suspension systems and overly sensitive brakes.
What many customers also find annoying is that the NEXT bikes come with only 18 speeds, which may not be enough to pull off all the weight coming from the steel frames. This disappointed a lot of customers, and even the upgrades remain the bikes feeling very heavy for the bumpy trails.
Going on trails that involve a lot of hills can also make you exhausted as the old-fashioned suspension system simply doesn't perform properly on all the models. It's still worth noting that there still are some good models of NEXT bikes, but finding what works for you may take a lot of time and exploration.
Hiland (Aluminum Mountain Bike)
We earn a commission if you make a purchase, at no additional cost to you.
Hiland is a great entry-brand for beginners who won't use trails that are too bumpy and don't meet the expectations of experts It comes with a light aluminum frame. However, it doesn't come with any extraordinary tech that will make your riding experience seamless.
It has 24 speeds, which is pretty impressive for this kind of bike, but the brakes may not respond quickly, which is likely because of their odd location on the backside. Going downhill can be faster than you'd expect it to be for your taste. However, it's easy to assembly which makes a lot of things much easier.
Some riders who don't welcome the competition and won't use this bike for a learning experience may mind that the seat feels too narrow. After some time, you can get used to it, although for some people it's simply not their cup of tea.
The frame comes with a limited lifetime warranty, but a lot of customers reported that it deteriorates fast and it can be hard to reach out for customer service to assist with the replacement.
Things to Know About Reputable Mountain Bike Brands
After highlighting 5 brands that we don't fully encourage when getting a mountain bike, let's discuss the traits and property of reputable and trustworthy brands and manufacturers. Every good mountain bike maker should:
Have an Intuitive Product Label – Bike features can be quite difficult to read if they're not properly loaded. With sleek and responsive websites, many customers can carefully read about the features, components, and warranty to learn more about what they're doing to buy.
Durable Materials – Using materials like light aluminum, steel without making it too heavy, and carbon fiber that is exceedingly growing in popularity. Making the balance in these materials is super-important because otherwise, the bike may be too heavy for some riders.
Lifetime Warranty – Most customer services offer a lifetime warranty for their products, but not all of them. Even if they do, keep in mind that the lifetime warranty mostly applies only to the frame, while other components have a shorter warranty.
Responsive Customer Service – When it comes to customer service, many companies state that they are available at all times. However, the only mails you get is annoying and spammy newsletter. Every premium brand will offer great help from skilled customer support.
Frequently Asked Questions About Mountain Bike Brands
There are a lot of questions going on when it comes to choosing the best mountain bike brand, as well as the worst one. We tried answering some of your questions below. Keep reading.
What is The Worst Mountain Bike Brand?
We don't favor or demonize any of the aforementioned brands above. They all have good properties, as well as numerous flaws which is exactly why they should be avoided. KHS is known for its heavy build and poor suspense system, which will make a lot of people turn their heads back and choose some other option.
What Are Some Reputable Mountain Bike Brands?
There are so many mountain bike brands that you should consider. Dozens of them offer great value for the price and are consistently coming up with newer technologies and features. Some of them are Trek, which delivers outstanding performance on both easy and hard trails. Trek's bikes are made out of durable and premium materials that will last much longer than those on average bikes.
An alternative that also stands out compared to the rest is Giant. It's also a reputable brand that offers a range of both affordable and professional mountain bikes made of the most solid and sturdy materials. Despite being affordable, their entry-level bikes rock.
How Much Should You Spend On a Mountain Bike?
Many factors affect this, but one of the most important ones is what's your skill, and how often do you go to ride. Many people spend thousands of dollars on a bike without having the intention to ever ride it actively.
Many times, an affordable, but durable and reliable mountain bike may be a dream come true for both novices and professionals. That said, there's no answer. If you're a beginner and not consistent, not even a $5,000 bike will help you achieve the greatness that you strive for without the initiative.